If you've been cooped up at home and you're itching to get in a little exercise, I totally feel you. Until we started the quarantine, I had never previously done a streaming workout online before—but in a matter of a week, I've managed to try almost every top-rated free streaming fitness class available.
From OBÉ Fitness and barre workouts to dance cardio videos I found on YouTube, below is a list of all the streaming classes, apps, and videos that I've tried so far. Also: here's a list of the most supportive sports bras ever, in case you're in the market.
Next on my list is finding a Barre3 class video, which is one of my favorite workouts when I'm not quarantined. I'm also going to look into workout videos on Amazon Prime and I'm curious if Netflix has workout videos as well. (Does anyone know?!)
As a reminder, everything included here is FREE! And most (if not all) can be done with your own body weight. In some cases, hand weights are optional, but since I don't own any, I've been using bottles of wine instead 😉
Also: I just wanted to acknowledge if you're having trouble finding motivation to do something active, I totally get it. It's really challenging to peel yourself away from the news right now when there are new developments happening every 30 seconds.
I'm not a die-hard fitness guru that goes to the gym 5 days a week… I'm just a regular girl who takes fitness classes here and there, and I started to feel like a lazy, depressed slob after sitting on the couch for so long at home. The way I motivated myself was by starting small.
The first class I took was like 24 minutes—not much!—but it made me feel GOOD, and also made me realize that doing something active a few times a week is SO EASY. Like…you don't even have to go anywhere! Or worry about embarrassing yourself in front of other people! Doesn't get much better than that.
We have no idea how long we're going to be in this situation for…so we might as well start some kind of routine now. I find that it's harder to get started the longer you go without working out.
So do what I did—commit to doing one super short class. Even if it's just a 15 minute abs class where you can lay on the floor the entire time (I like those lol). You'll feel better that you actually did *something* and likely more motivated to try it again the next day… maybe for a bit longer.
Hope you find this list helpful! And if you have anything to add, or anything that you think I should try, leave your suggestions in the comments below!
---
The Best (Free!) Streaming Workout Classes Online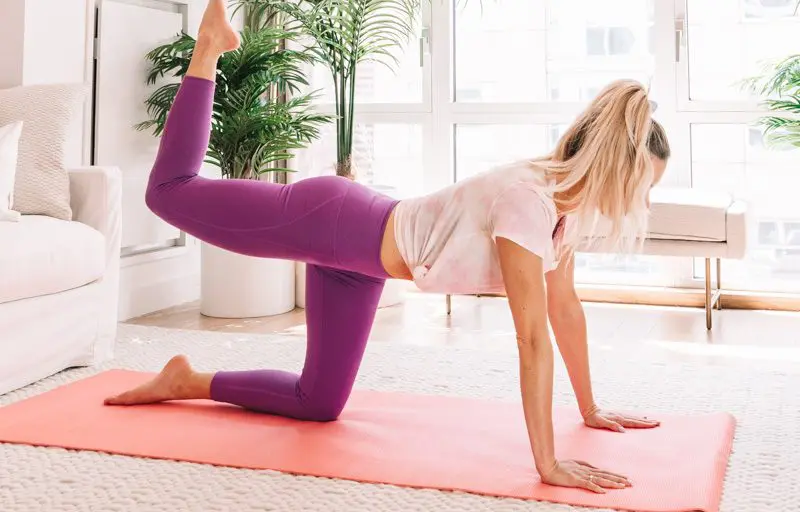 Isaac Boots Torch'd
One of my absolute favorite new workouts. Isaac Calpito is a former Broadway dancer, SoulCycle instructor, and celebrity choreographer who streams his "Torch'd" workouts every single day at 11amEST on Instagram Live. He has an incredible DJ that plays mixes throughout the work out, so the music is amazing.
The workouts are primarily strength-based exercises and can be done with your own body weight, however he uses ankle weights and resistance bands, which are optional.
Freeletics
Freeletics is an app that users can download to create a customized workout plan based on their specific goals, time, and abilities. I've personally tested it over the course of several weeks and have enjoyed my experience so far.
Though Freeletics does have a paid subscription model, the free version offers a ton of great exercises that are easy to follow—particularly for people who struggle with form. I have a super in-depth review of Freeletics that goes into more detail if you're curious!
This was probably one of the most recommended at-home fitness apps among my followers, and it's currently available for free, so I decided to give it a shot! The classes are available via the Tone it Up app, and they're all between 10-40 minutes.
There's a huge variety to choose from—everything from pre-natal to pilates, arms, abs, yoga, booty and more.
What I Liked: I like how easy the app is to navigate, and that the classes make you feel like you're *doing something* but aren't going to kill you. Today I took "Manhattan Beach Booty"—which you don't need any equipment for—and I really enjoyed it. It was only 26 minutes and went by really fast. I think this would be a great intro class for people who are just getting started with at-home workouts.
What I Didn't Like: I wish you could stream the classes on your laptop! As far as I can tell, there's no way to do that. Watching the moves on a tiny screen was a bit challenging.
---
Body by Simone
I have been dying to take one of Simone de la Rue's classes for years, but I've never had the opportunity, so when I was browsing YouTube for new classes to try, I was thrilled when this one came up. (If you're not familiar Simone is the celebrity trainer responsible for some of the most well-known abs and bodies in Hollywood.)
She has workout videos available for purchase on her website, but quite frankly, since there's so much free content available that I'm testing, I didn't see the point in paying for a class just yet.
You can find a couple of her videos on YouTube if you just search her name! This is the one that I took.
What I Liked: I liked that it was a quick 25-minute dance workout with easy-to-follow moves that focus on toning.
What I Didn't Like: I wish there was better (louder) music! In this video in particular, the music is just a faint beat in the background, so it doesn't feel as high intensity as I wished it would.
---
Ok, so this isn't really a full-blown workout video—it's basically just a 4 minute cardio dance routine to Lizzo's Truth Hurts. He has a ton of other fun (and super quick) routines, so technically you could do a bunch of them and call it a "class." But I wanted to include it anyway, because it was fun and he's hilarious.
What I Liked: The instructor Caleb Marshall is v entertaining and extremely extra. Also…the music is obviously amazing.
What I Didn't Like: It went by too fast! I wish he made the videos longer and broke down the moves a bit slower.
---
An app and website that has scheduled streaming classes daily. I took this sculpt class (using wine bottles as weights, of course) and this dance HIIT class. They also have "on demand" classes you can take at any time.
What I Liked: The fact that there's a set schedule made me feel more committed to actually doing it at a certain time. I also liked the pretty, bright colored box that the classes take place in lol (see below)
CODE: They offer a 7 day free trial butttt I DM'd them to see if there was a code for a month and they gave me one! Use "ATHOME" for a free month.

---
305 Fitness
High intensity cardio dance. This was really fun and a great workout.
What I Liked: The class I took was only 30 minutes and I didn't need to sign up for anything – I just found it on YouTube. I also heard that they're now streaming live classes twice a day, at 12pm & 6pm EST.
---
Dance Body
Also available via YouTube. I did the 30 minute dance class and 13 minute abs class.
What I Liked: These classes gave me the best workout in the shortest amount of time. I was sweating profusely by the end, and sore the next day!