Located just under two hours from Calgary, Banff National Park is—without question—one of the most picturesque destinations in North America. It also happens to be a place that's beautiful no matter what time of year you choose to visit. Whether you're looking for things to do in Banff in winter or summer, this guide to the best of Banff and Lake Louise has you covered.
Below, a few important things to know before you go.
---
Banff vs. Lake Louise: What's the Difference?
I'll be honest—before I visited for the first time, I didn't know the difference between Banff and Lake Louise. But now that I've been, I can tell you that each place is completely unique in its own right.
The confusion, however, is understandable. The village of Lake Louise and the town of Banff are both located within Banff National Park—but they're 45 minutes apart. (Banff National Park spans 2,564-square-miles, most of which is uninhabited.)
Lake Louise is a small hamlet that's ideal for anyone looking to escape and immerse themselves in nature. You know the iconic photo of the emerald green lake you've seen all over Pinterest and Instagram? That's Lake Louise. There is only one hotel located directly on the lake—the Fairmont Chateau Lake Louise—it is spectacular. (More on that later!)
You won't find bars, museums, shopping, or night life in Lake Louise. You won't even find a "downtown" area. It is extremely isolated—and that's the beauty of it.
Head to Lake Louise in the summer and you can expect kayaking, hiking, and biking; in the winter, there's skiing, snowshoeing, and ice skating, among other outdoor activities.
Banff is a separate (and much larger) town located 45 minutes east of Lake Louise. It has the feel of a classic ski resort, with a quaint downtown and "Main Street" (aka Banff Avenue).
Here, you'll find museums, shopping, bars, restaurants, and even a brewery.
You'll also find more hotel options, though I'm partial to Fairmont Banff Springs, where I stayed. It's known as Canada's "Castle in the Rockies."
Similar to Lake Louise, the things to do in Banff during summer and winter are virtually endless. Whether you're into hiking, rock climbing, fishing, skiing, or simply checking into a spa and doing absolutely nothing—you'll be VERY satisfied in Banff.
[On a personal note, I can confirm that even if you don't consider yourself an "outdoorsy" person, you will still LOVE it here.]
If you have the time, I would highly recommend visiting both places, since they're only a 45 minute drive from one another and offer totally different experiences.
---
Where to Stay in Banff & Lake Louise
Lake Louise: As I mentioned previously, hotel options in Lake Louise are limited. You'll find a few inns (like Deer Lodge, The Mountaineer Lodge, and the Lake Louise Lodge) but truly the crown jewel of the region is the Fairmont Chateau Lake Louise.
The Chateau is a piece of the area's history. Built in the late 19th century by the Canadian Pacific Railway, it was originally intended to be an alpine getaway for wealthy travelers exploring the west via train.
Now, the hotel functions as an all-season resort, with seven restaurants, a spa, shopping, activities for children, an ice rink and ice bar in the winter, and some of the most breathtaking views in the area.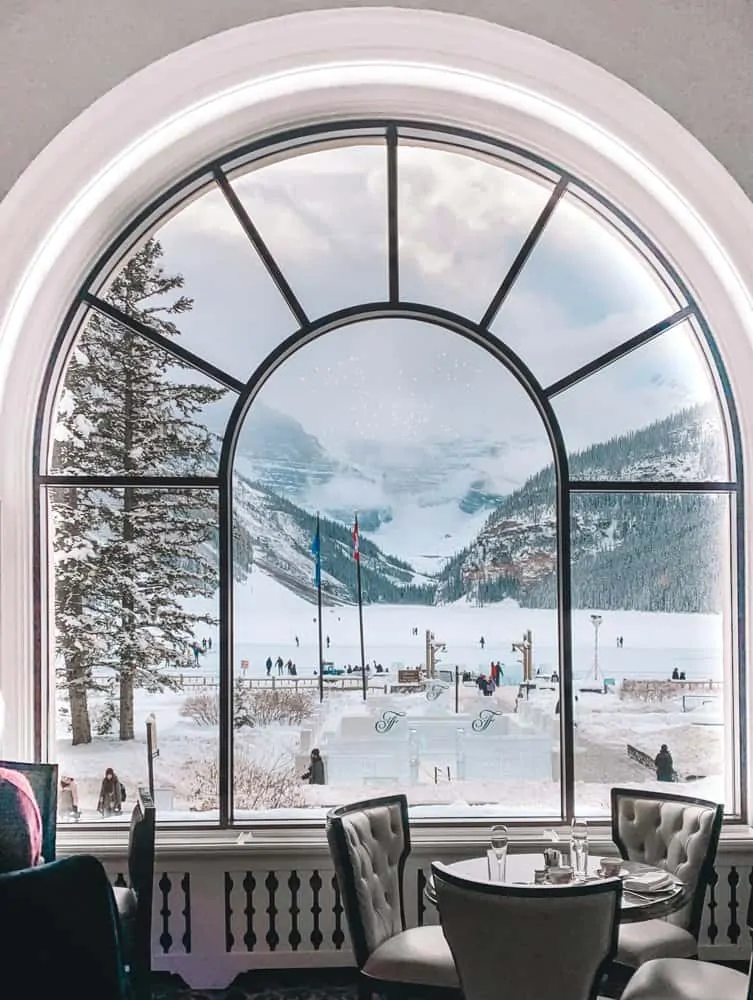 Banff: Similar to Lake Louise, the accommodations in Banff skew mostly toward small inns and lodges, save for the iconic Fairmont Banff Springs. Originally built in 1888 (also by the Canadian Pacific Railway) the hotel has welcomed everyone from royals to celebrities over the course of its 132 year tenure.
Known as Canada's "Castle in the Rockies," its architecture is decidedly castle-like—yet inside, the hotel has all the modern amenities you could hope for from a luxury resort.
You'll find a slew of restaurants, tennis courts, a swimming pool, a golf course, and even a bowling alley. The stand-out spa is not to be missed (book a massage and be sure to request Paul as your therapist.)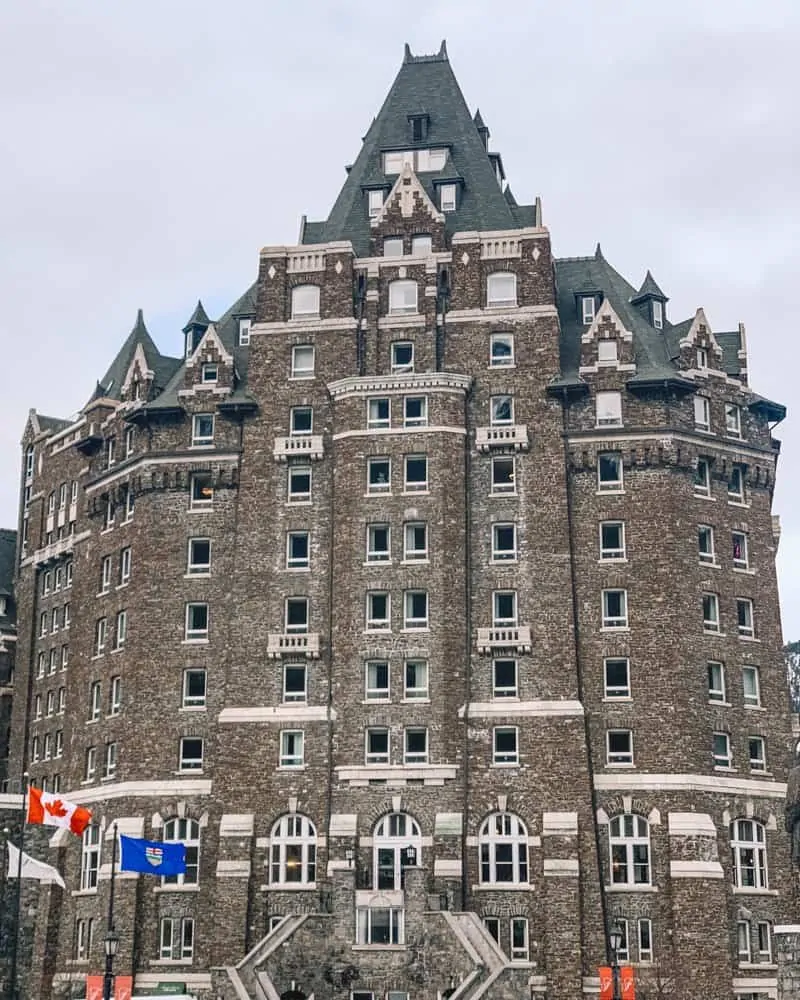 ---
The Best Things to Do in Banff
Whether you're looking for things to do in Banff with kids, adventures for solo travel, or romantic activities for couples, this list has it all.
1. Go for a dip in Banff's Upper Hot Springs.
Located directly in Banff, these springs have been around since 1883. Soak in the steamy hot mineral water (kept at a toasty 100°F year-round) and come in the morning to avoid crowds.
2. Take a ride with Banff Gondola.
Riding in the Banff Gondola is a must. Enjoy beautiful views of the valley on your way up to Sulphur mountain and take a stroll along the boardwalk or dine at Sky Bistro.
3. Relax at Kananaskis Nordic Spa.
This relaxing spa is an hour outside of Banff and worth the drive. Not only do you get an all-around panorama view of the mountains on the drive there, but also access to a modern alpine sanctuary with soothing massages. Day access costs around $65 USD.
4. Take in the view from Surprise Corner.
Just a 25 minute walk from town, you'll find a truly magnificent vantage point known by locals as "Surprise Corner." It's a great place to stop for a photo overlooking the Bow River, Sulphur Mountain, and the Fairmont Banff Springs. Go in the morning or just before sunset when the light is at its best.
A self-guided crawl around nine of the best cafes and restaurants in Banff. Each place has its own unique twist on the hot drink. Sign me up.
6. Go Snowmobiling.
What would a winter holiday be without a snow adventure? If you're looking for more adrenaline than massages and floating around in mineral hot springs can provide, look into a snowmobiling tour. You won't regret it.
7. Hike in Johnston Canyon.
Only a 30-minute drive from Banff, Johnston Canyon is a gorgeous national park with plenty of hiking trails and bridges to waterfalls and ridges.
8. Hike Tunnel Mountain Trail.
A great option for those who are hesitant to commit an entire day to hiking, Tunnel Mountain Trail is a short hike that's easily accessible from downtown Banff.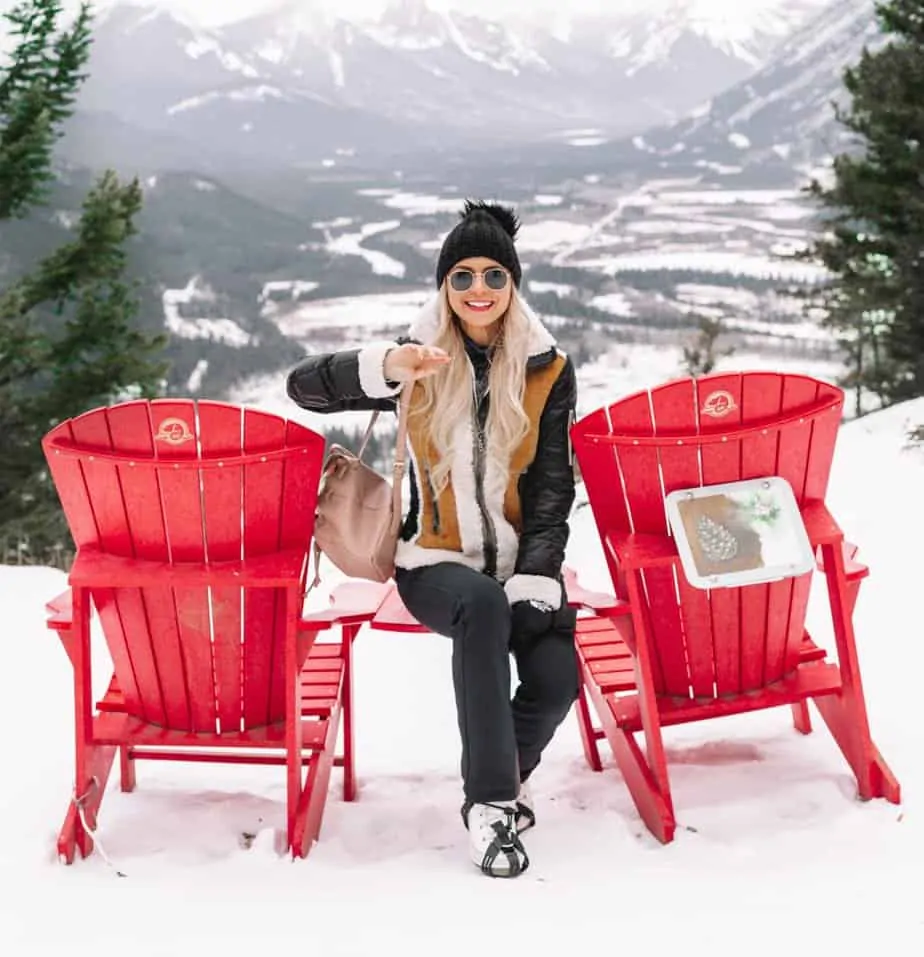 Reach the top and you'll be treated to sweeping mountain and river views. It's great as both a winter and summer hike, and it can be done in about 2 hours, depending on your pace.
For equally impressive scenery (minus the physical activity) you can navigate Tunnel Mountain Drive by car instead. The route has a number of photo-worthy sightseeing spots along the way.
9. Take a Athabasca Glacier Tour.
Halfway between Jasper and Banff lays this glacier. It's part of the Columbia Icefield, which is the largest in the Rocky Mountains. Make it a point to visit before it's all melted – how often can you say you've walked on (and explored) a glacier? Exactly.
10. Visit Jasper.
While Banff is great, most tourists don't just visit the area for Banff alone. Jasper is a 3.5 hour car ride away and just as breathtaking as Banff (if not more!)
11. Visit Abraham Lake's winter phenomenon.
Serving as Alberta's largest reservoir, this unique and artificial lake is a mesmerising blue color with pearl-like bubbles trapped between layers of eyes.
12. See the Northern lights at Lake Minnewanka.
Head out to Lake Minnewanka on a clear day to spot the Northern Lights. If you haven't seen them before, I highly recommend you make it a priority. Download the Aurora app to track weather and your best chances to see them, bundle up and wait.
13. Tick off dog sledding from your bucket list.
Dog sledding should be on everyone's bucket list and Kingmik dog sledding at Lake Louise is just the place to do that.
14. Take a helicopter ride in Canmore.
Feeling fancy? Marvel at the stunning views of Canada's Rocky Mountain's from above with a helicopter ride.
15. Roast marshmallows at the Fairmont Banff Springs.
Guests who visit the hotel in the winter shouldn't miss the classic evening campfire, complete with marshmallows, hot chocolate and panoramic views.
---
The Best Restaurants & Bars in Banff
RESTAURANTS
Grizzly House ****

Iconic fondue restaurant that used to be a swingers club – they still have phones at each table.

Bison Restaurant ****

Seasonal Canadian cuisine prepared in an open kitchen, plus a terrace with mountain views.

Tooloulous

Cajun seafood & burgers join Louisiana libations on red-checkered tablecloths amid brick walls.

Bear Street Tavern

Rustic, laid-back hangout offering thin-crust pizza, Canadian pub grub, craft beer on tap & a patio.

Nourish Bistro Banff

Quirky eatery featuring inventive vegan & vegetarian dishes, plus cocktails, live music & arts.

Earls Kitchen and Bar

Sleek, upscale chain serving gourmet burgers, global comfort food, cocktails, wines & beers.

Joe Btfsplk's Diner

Cute diner, good for breakfast.

Eddie Burger Bar

Creative burgers are served at this casual nook, which also offers poutine, craft beers & shakes.

Order the shaft on draft.

Balkan restaurant

Upbeat mainstay featuring traditional fare such as moussaka & gyros, plus weekly Greek dance nights.

Chuck's Steakhouse

Classy bar/eatery with a casual vibe offering locally sourced, refined steak entrees & global wines.
**** = highly recommended
BARS
Looking for things to do in Banff at night? Check out these bars, pubs, and distilleries.
Block Kitchen + Bar ****

Eclectic small plates with Asian flair, wine & cocktails served in a hip, convivial atmosphere.

Good for cocktails.

Park Distillery Restaurant and Bar

****

Mesquite-grilled meats, gourmet comfort eats & small-batch spirits in a hip & rustic space.

Try their espresso martinis.

Grapes **

Cozy haunt specializing in wine, cheese & charcuterie in a quaint interior with mountain views inside Fairmont Banff Springs.

Try their charcuterie.

The Waldhaus Pub & Patio

Relaxed venue at the Fairmont offering Bavarian grub, beer & a patio with mountain panoramas.

Rimrock Hotel Lounge

Rundle Bar

Stylish hotel bar for handcrafted cocktails plus beer & wine to go with scenic views & live music inside Fairmont Banff Springs.
---
The Best Things to Do in Lake Louise
1. Go snow-shoeing with a Mountain Adventure Guide.
This was one of the best things to do in Lake Louise in the winter? Snow-shoeing. The Fairmont Chateau Lake Louise set my group up with Bob, an incredibly knowledgable local guide, who took us on a scenic tour of the surrounding mountains.
He not only made the experience entertaining, but also offered a lot of interesting intel along the way. (And he even brought mint hot chocolate to warm us up at the end of our adventure!)
2. Visit Moraine Lake.
Not to be confused with it's equally stunning counterpart Lake Louise, Moraine Lake—located 10 miles outside of Lake Louise—is open from mid-May through mid-October.
Daily shuttles are available from the Lake Louise lakeshore, departing every 20 minutes from 8:40 a.m. to 4:00 p.m., with shuttles returning to the Lake Louise Park and Ride. Reservations are required. For more information, click here.
3. Canoeing on Lake Louise.
One great thing to do with families in Banff National Park is to take a canoe out on Lake Louise. This can be arranged by the Fairmont Chateau Lake Louise for both hotel guests and non-hotel guests. More information can be found here.
In addition to canoeing, there are a number of things in Lake Louise during the summer. From horseback riding and private helicopter tours, to ATV-ing and white water rafting, I'd recommend booking through Fairmont Chateau Lake Louise, as they offer services for both hotel guests and non-hotel guests.
5. Go ice skating on Lake Louise, then have a drink at the Fairmont's ice bar.
Once the lake is completely frozen over, which often happens in December, you can go ice skating on its surface—both during the day and even at night.
The best way to warm up afterward? Head to the Fairmont's famed ice bar for a cocktail or cup of hot chocolate.
---
The Best Time to Visit Banff & Lake Louise
Though Banff is beautiful year-round, one could argue that the best time of year to visit is either in the summer (June – August) or in the winter (December – March.) However, be prepared to pay higher rates at hotels during these peak periods.
As an alternative, many locals will tell you that October is actually the best time of year to visit Banff.
In fact, it's often referred to as "secret season." (In Lake Louise, the lake is still emerald green, so you can kayak, bike, and hike surrounded by snow-capped mountains.)
Other things to note:
Temperatures in June are mild, need long sleeves and rain jacket.

You'll get the best hotel rates in October and November.

In the winter, expect temperatures ranging from 25 degrees to 7 degrees farhenheit.

Smoke from forest fires in August can occur, leading to poor air quality
---
Have you ever visited Banff or Lake Louise? Do you have recommendations to share? Leave them in the comments below!
Pin this post for later: