A good friend of mine from NYC recently moved to Charlottesville, Virginia, and she'd been raving about how incredible of a city it was.
I was intrigued, but truthfully didn't know much about the area. I posted on Instagram mentioning that I was thinking about planning a trip to Charlottesville, and suddenly found myself flooded with messages from people who all shared my girlfriend's sentiment: IT IS AMAZING! YOU WILL LOVE IT! THERE ARE SO MANY THINGS TO DO IN CHARLOTTESVILLE!
Fast-forward a few months, and I can now confirm: it is every bit as awesome as people had promised.
Whether you're a wine lover, a foodie, a golfer, an outdoorsy person, an art enthusiast, a craft beer fanatic, or an antique connoisseur, Charlottesville is the kind of place where there is truly something for everyone.
The region has 60 wineries located within a 45 minute radius, incredible restaurants, and a handful of chic hotels—not to mention, the picturesque rolling hills and breathtaking mountain views.
Similar to Middleburg (which I would also recommend!) it's an ideal place for a quick weekend getaway—particularly for people on the East Coast. I'd recommend it for a girls trip, a guys trip, a mother/daughter getaway, or a romantic escape with a significant other.
It's also great for families, as well as people with dogs—the wineries and restaurants are extremely pet-friendly.
I spent a long weekend in Charlottesville this past October, and took advantage of EVERYTHING (and I mean everything) the area has to offer.
I'm so excited to share my three day itinerary with you, which highlights all of the best things to do in Charlottesville.
NOTE: My itinerary is very wine-focused, but you could easily swap out one of two of the wineries for a different activity, like a brewery tour, a hike, or golf, depending on the season.
Things to Do in Charlottesville: Sample 3 Day Itinerary
Day One
MORNING: Fly to Charlottesville. You'll want to fly into either Charlottesville Airport (which is centrally-located but has limited flights) or Richmond, which is about an hour and 15 minutes away but has significantly more flight options. [Check out my best travel hacks here!]
---
KESWICK HALL
After recently completing a multi-million dollar renovation, the iconic Keswick Hall re-opened in October 2021. It is the most luxurious hotel in the area, and staying here is a truly an experience in and of itself.
The property has actually been around for over 100 years, and when its new owners took over, their goal was to create a tranquil five-star retreat, while still preserving and paying homage to Keswick Hall's storied history.
Situated 15 minutes outside of downtown Charlottesville, the hotel feels like a slice of Americana—from the stunning countryside backdrop, to the cozy wood-burning fireplaces located throughout.
You could easily spend your entire trip without ever leaving the property—there are tennis courts, a sprawling infinity pool, a golf course, a cozy library, a game room, a soon-to-open spa, a fabulous bar, and an even more fabulous restaurant (more on that later.)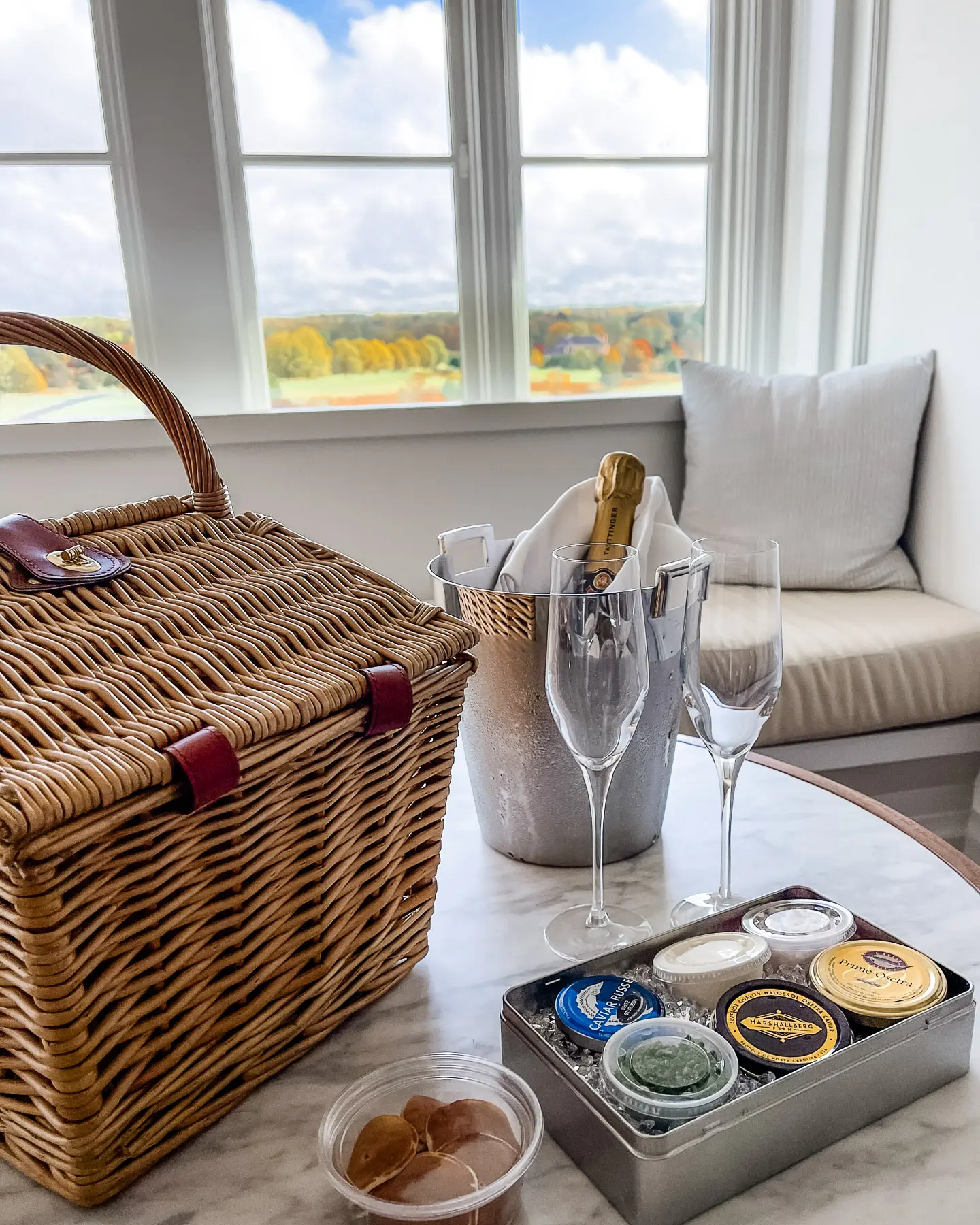 Keswick Hall feels intimate and private but not at all stuffy—it's no wonder that Bill & Hillary Clinton were among the first guests to check in when the hotel first opened.
The rooms themselves are gorgeous as well, and the staff was absolutely top-notch.
All of this, of course, comes at a price: rooms start at $995/night.
Note: even if you don't stay here, it is absolutely worth a visit to the property for dinner or a drink!
---
MERRIE MILL FARM & VINEYARD
We absolutely loved Merrie Mill Farm & Vineyard.
It's a newly-opened tasting room located in Keswick (close to Keswick Hall), owned by a husband-wife team who wanted to create a space that felt decidedly more fun and funky, compared to some of the other buttoned-up tasting rooms and vineyards in the area.
The owner, Guy Pelly, described it to me as "Alice in Wonderland-inspired" and well… he's not wrong.
Inside the tasting room, you'll find the quirkiest, most eccentric decor—like a 150-year-old taxidermy sea lion hanging from the ceiling. We had the most amazing afternoon here.
You can grab a spot inside the tasting room, upstairs on the veranda, or outside at one of the tables that sit just beside the vines.
The tasting flights were reasonably priced and delicious, as were the light bites (cheese and charcuterie) that we enjoyed alongside them.
---
MARIGOLD BY JEAN-GEORGES
You might not expect to find a Jean-Georges restaurant in Charlottesville, Virginia, but honestly that's part of its charm. The food here was next level.
When I tell you that this was one of the best meals I've had in a very long time, that is not an exaggeration. And the ambiance is just as standout as the food.
Ingredients are all sourced from a nearby farm, and the freshness comes through in every single bite. I would recommend ordering the following:
Crispy sushi
Avocado pizza or Truffle Fontina pizza
Broccoli kale salad
Roasted Main Lobster
---
Day Two
MORNING: Breakfast at the hotel. (Or grab a bagel at Bodo's Bagels)
PIPPIN HILL
Out of all the Charlottesville recommendations I received from friends & followers, Pippin Hill was one that consistently kept coming up—and it did not disappoint.
We thoroughly enjoyed our tour and tasting with Carolyn, Pippin Hill's wine educator. (I'd recommend requesting her if you can!)
The vineyard, gardens, and restaurant were gorgeous—and the Cab Franc was so good that we bought a bottle to bring home with us.
---
LATE AFTERNOON: Stroll Downtown Charlottesville & explore the Downtown Mall
DOWNTOWN CHARLOTTESVILLE
Here you'll find more than 120 shops, as well as 30 restaurants, set along a historic cobblestone pedestrian walkway. I loved that there were no chains in sight—only cute, independent boutiques.
See the full list of shops & places to eat here.
---
QUIRK ROOFTOP
Part art gallery, part hotel, Quirk is a fab option for anyone looking to stay within walking distance of downtown Charlottesville. They also have a chic rooftop bar, which is great for cocktails, that overlooks the city.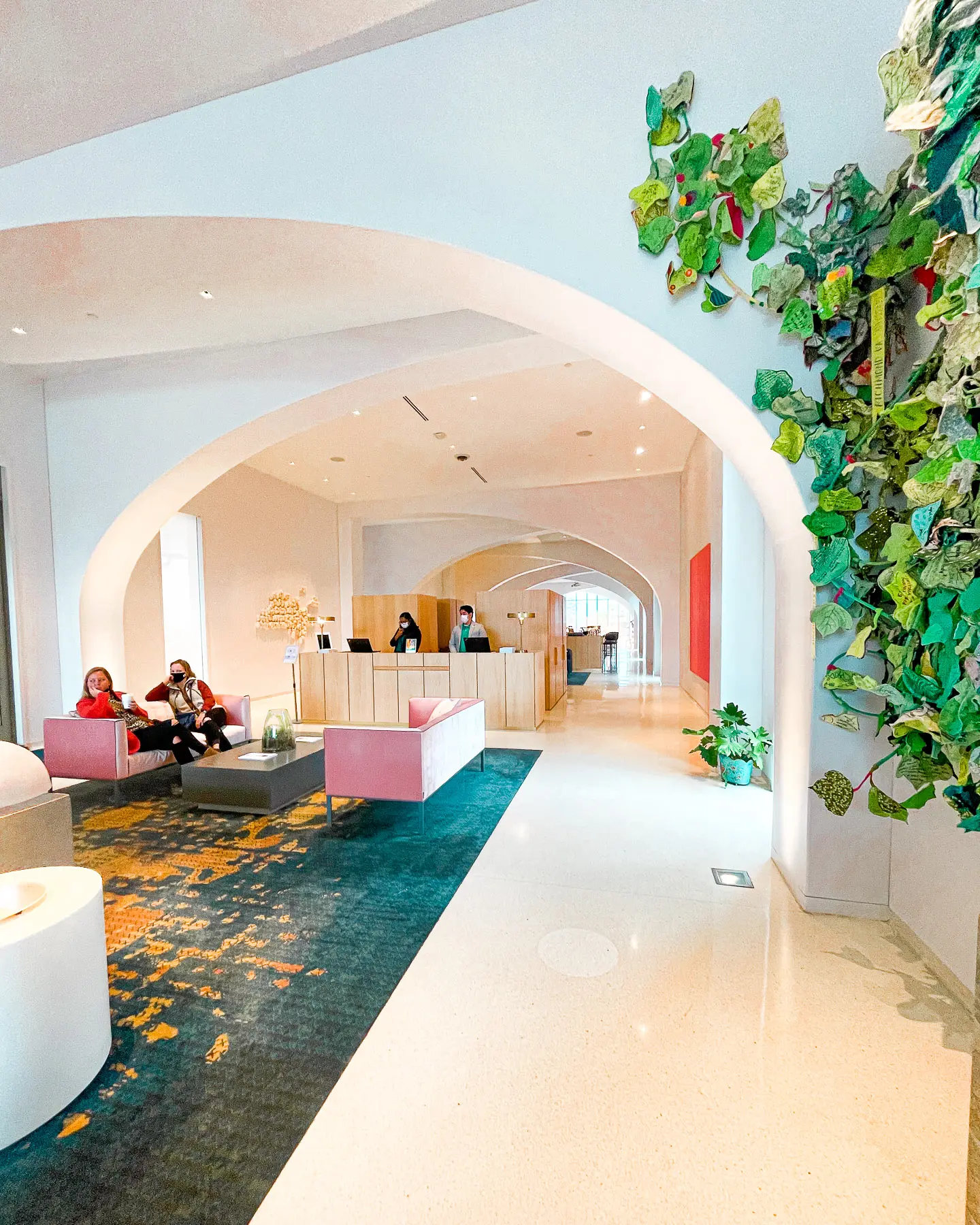 ---
BROADCLOTH
I'm literally still dreaming about the sourdough bread at Broadcloth, which is located inside a historic textile mill and is a new addition to Charlottesville's dining scene.
Between the bread, and the incredibly inventive tasting menu (which was $60 for 4 courses) it's definitely worth securing a reservation here before your trip.
---
Day Three
EARLY MOUNTAIN VINEYARDS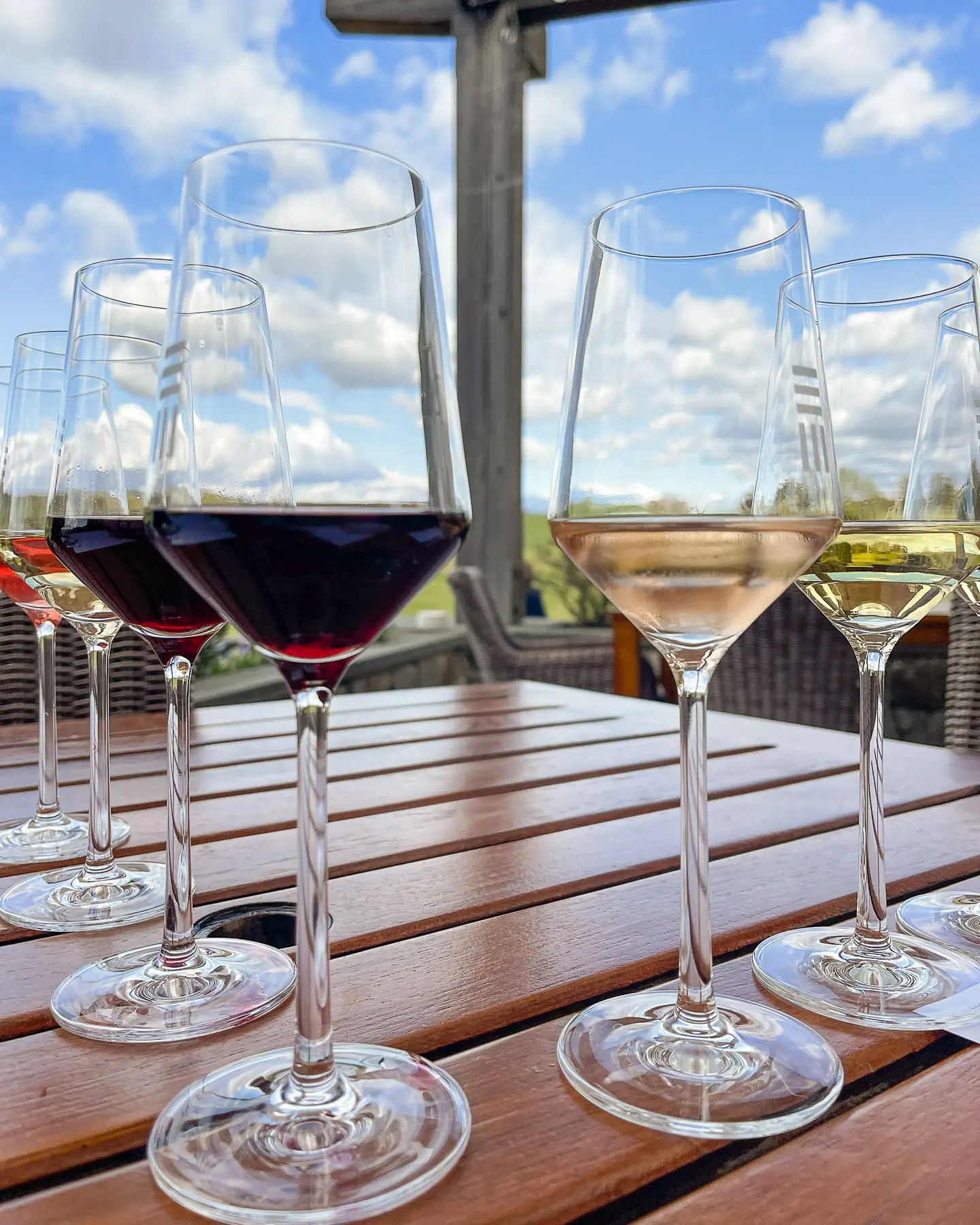 Early Mountain Vineyards was a bit of a drive from where we were staying (it took us around 45 minutes) but I'm SO glad we decided to make the trip, as it ended up being our favorite out of all the vineyards we visited.
The 350 acre property—which is owned by Jean and Steve Case, the founder of AOL—is situated in the foothills of the Blue Ridge Mountains and surrounded by picturesque farmland.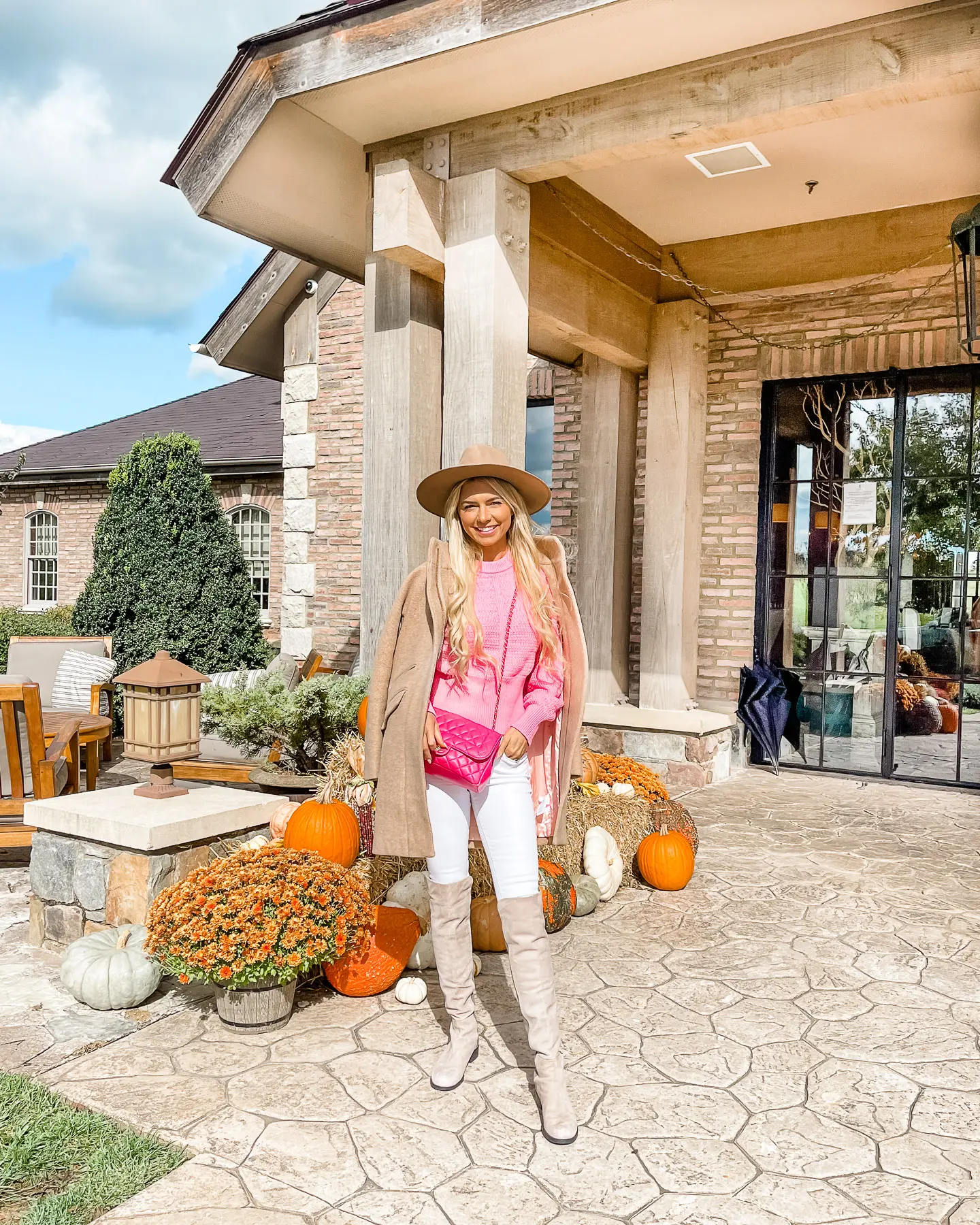 A tasting experience on the terrace at Early Mountain Vineyards is akin to something you'd find at world-renowned wine destinations like Napa and South Africa. (In fact, both Matt and I agreed that it reminded us of a vineyard we went to in Stellenbosch many years ago.)
We loved the rosé here (it's one of the things they're known for) as well as the Cab Franc, and the lunch we has was out-of-this-world delicious. Our favorite lunch of the trip.
If you can, make a reservation on a Saturday or Sunday when they have live music.
---
AFTERNOON: Barboursville Vineyards
BARBOURSVILLE VINEYARDS
You certainly wouldn't expect to find a sprawling vineyard that produces award-winning Italian-style wines in Virginia, but that's exactly what you'll get at Barboursville.
The estate is owned by an Italian family that bought it in 1976. They brought over grapes to create Italian-style wines here, and it has since become one of the most well-respected and award-winning vineyards in the region.
Ask to chat with Luca, the incredible Italian winemaker who runs the property and has been making its wine since 1990.
---
LATE AFTERNOON: (optional) Tasting at Honah Lee

Note: I probably wouldn't recommend trying to squeeze these three into a single day! We were pretty exhausted (and tipsy!) after Barboursville, so we made our stop at Honah Lee quick!
HONAH LEE
Honah Lee is a no-frills family-owned vineyard that has been operating since 1992.
Ask the owner Eric for a quick tour of the vines and you'll be treated to a gorgeous vantage point showcasing acres and acres of grapes.
---
1799 AT CLIFTON INN
This cozy restaurant located at the intimate Clifton Inn has a delicious seasonal menu in a romantic setting. We loved the cocktails and the butternut squash soup was a favorite.
---
That concludes my list of the best things to do in Charlottesville! Of course, this isn't an exhaustive list, but should give you a good taste of the area and what it has to offer.
As I mentioned, you could definitely swap out any of the wineries for a brewery or another outdoorsy activity. Questions about my trip or other recommendations to share? Leave them in the comments below!