Just 45 minutes outside of Washington, DC, you'll find the quaint hamlet of Middleburg, VA—a destination that offers the perfect mix of luxury, relaxation, and small-town charm. Though it's best known as the country's "horse and hunt" capital, there are plenty of amazing things to do in Middleburg (and the surrounding areas) even you're not an equestrian.
It's an ideal place for a chic girls trip, a romantic couples retreat, a mother/daughter getaway, or even a fabulous but low-key family vacation. I also think it's the perfect destination to visit during the fall season—it's stunning during the autumn months!
From historic inns and posh resorts, to fabulous restaurants and scenic wineries, this guide gives you the best things to do in Middleburg, Virginia.
---
THINGS TO DO IN MIDDLEBURG, VA
1. Visit the area's incredible wineries. Though Virginia might not be the first place you think of for a wine-centric getaway, Middleburg's myriad vineyards and wineries are truly some of the East Coast's best. (In fact, the area has even been referred to as the 'Napa Valley of the East Coast.')
[If you love wine, check out my guide on the best things to do in Charlottesville, Virginia, which is an equally awesome vineyard-filled destination!]
Stone Tower Winery – This family-owned vineyard is among Loudoun County's most popular, and with good reason. It's massive, with 75 acres of vines, and dozens of areas to enjoy a bottle of sparkling rosé (their specialty) or Petit Verdot.
I recommend checking out the Tower Tasting Room, where you can sample seven different wines for $20, while taking in sweeping views of the mountains in the distance. Once you decide on a favorite varietal, buy a bottle and grab a picnic table on the terrace.
Stone Tower has snacks and gourmet pizza available for purchase, but you're also welcome to bring your own food – we saw families carrying in their own coolers and setting up full-blown picnics, complete with cheese plates, baguettes, and charcuterie. Note: Stone Tower is in Leesburg, just outside of Middleburg.
Boxwood Winery – In stark contrast to Stone Tower, Boxwood is decidedly intimate. It has one cozy tasting room (where a tasting flight of five wines cost $10) as well as a small outdoor area with picnic tables and live music. The 2015 Reserve (a blend of Cab Franc, Merlot, Cab Sauv, and Petit Verdot) is undoubtedly the standout wine on offer.
Greenhill Winery & Vineyards – Another beloved boutique winery in the area is Greenhill, which produces French-influenced wines made with 100% Virginia grapes. For $14 you can enjoy a tasting in their rustic, farmhouse-inspired tasting room, or you can arrange a tour of the property for $55. Note that Greenhill is 21+ only.
Other top wineries in Middleburg (and the surrounding areas) include:
2. Start your day with a cup of joe at Common Grounds. Located downtown, this local-favored coffee shop is the quintessential cozy neighborhood joint. It's the perfect place to grab a coffee or a sandwich, and it's also pet-friendly, with an outdoor patio that's typically filled with pups.
If you're looking for a quick cup of coffee to grab and go, Cuppa Giddy Up nearby is another great option (although unlike Common Grounds, it doesn't have a seating area.)
3. Order a dozen fresh oysters during King Street Oyster Bar's happy hour. If you're wondering where everyone in Middleburg is between the hours of 3-6:30pm, you'll find them at King Street Oyster Bar's famous happy hour.
The popular spot is buzzing with activity 7 days a week. If you're not able to get a table outdoors, snag a few seats at the bar and watch the staff shuck fresh oysters just minutes before you eat them. The happy hour pricing can't be beat – $5 cocktails, wine, beer, snacks, and ½ price oysters.
---
---
4. Dine inside a tavern that dates back to 1728. If there's one place you can't leave Middleburg without experiencing, it's The Red Fox Inn & Tavern. The Virginia landmark—which houses both a restaurant and a boutique inn—is teeming with character and history.
John F. Kennedy held a press conference here; Jackie Kennedy used to stay at the inn during her foxhunting holidays; Elizabeth Taylor was a restaurant regular, as were celebs like Paul Newman and even Tom Cruise.
Standout menu items include the crab cakes and the Virginia peanut soup. Go for dinner or Sunday brunch, and be sure to make reservations in advance—they are almost always booked solid.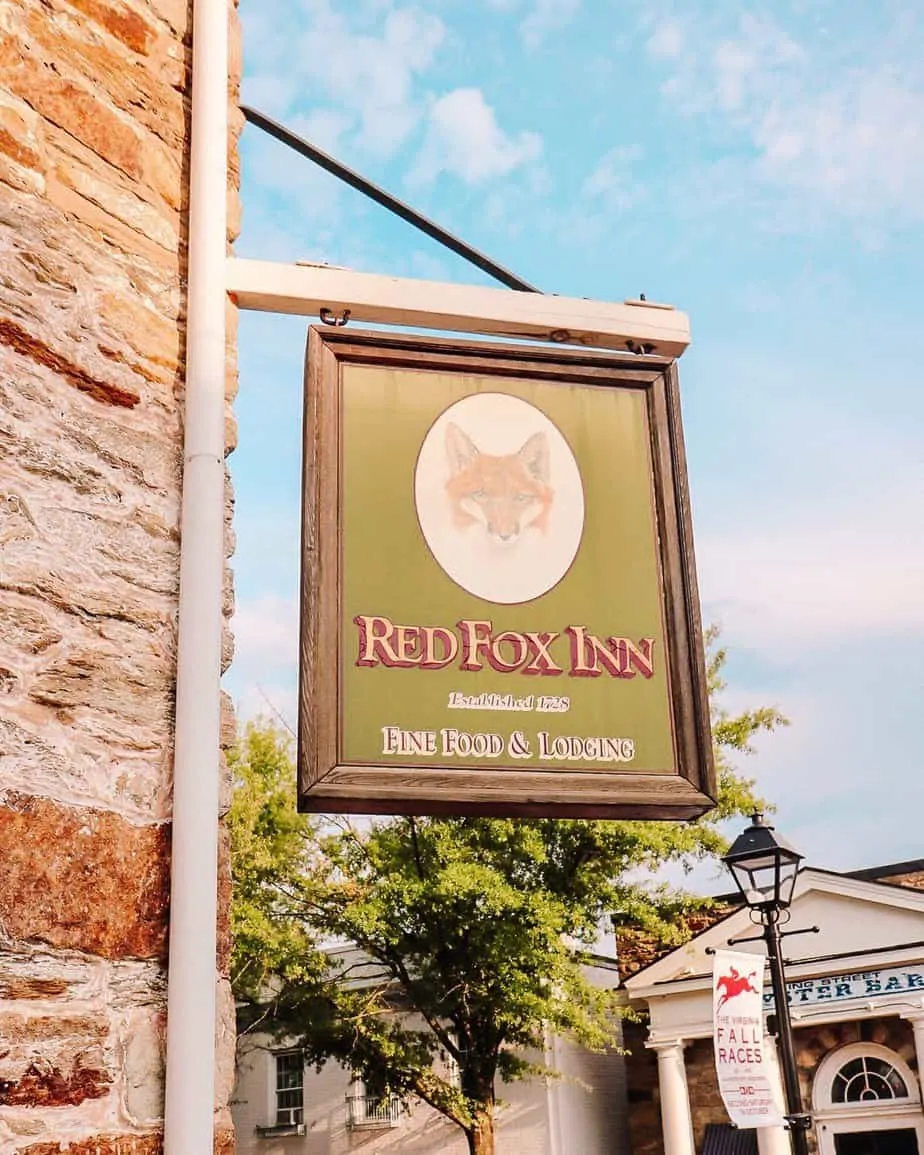 Other best restaurants in Middleburg (and the surrounding areas) include:
The Wine Kitchen (New American cuisine in Leesburg; order the mushroom sandwich)
Market Salamander (grab & go in town)
Hunter's Head Tavern (British-inspired food in a house that dates back to the 1700s; located in Upperville; get the Shephard's Pie or the Guinness Stew)
Side Saddle Café (great for breakfast in town)
Harriman's Grill (at Salamander Resort)
Tuscarora Mill (in Leesburg)
Melt (known for burgers in Leesburg)
Lightfoot (in Leesburg)
The Conservatory at Goodstone Inn (more on this under "Hotels & Resorts")
Gold Cup (at Salamander; order the crispy cauliflower appetizer)
5. Spend an afternoon sipping local brews at Old Ox Brewery. Tired of vineyard hopping? Head to Old Ox Brewery for a change of pace. Here, you'll find a tasting room, live music, and (of course) a vast selection of beers.
6. Shop the boutiques in downtown Middleburg. Though the entire downtown area spans just a few blocks, you'll find a ton of great boutiques for clothing, accessories, home goods, antiques, and more.
The best shopping in Middleburg: 
LouLou
The Fun Shop
Crème de la Crème
The Christmas Sleigh
Tully Rector
Nature Composed
Middleburg Antique Gallery
The Lucky Knot
For a vast selection of antiques outside of Middleburg, head to The Old Lucketts Store in nearby Leesburg.
7. Take a cooking class at Harrimans Cooking Studio. Every Saturday afternoon, Harrimans (located at Salamander resort) welcomes guests to join the restaurant's cooking studio for an interactive cooking class. Check the hotel's event calendar for specific themed classes, and be sure to make reservations in advance. The cost is $79 per person, and classes are open to non-hotel guests.
---
---
8. Indulge in the famous "Cow Puddle Cookie" at the best bakery in town. Specializing in homemade pies and cookies, The Upper Crust is a can't-miss while you're visiting. Be sure to grab one of their signature Cow Puddles, a thin, deliciously chewy cookie made with butterscotch and almond.
9. Enjoy live music and a nightcap at The Red Horse Tavern. Middleburg isn't exactly a haven for nightlife, but if you're looking for a late evening activity, head straight to The Red Horse Tavern. The burger bar and restaurant is a no-frills dive with live music and an outdoor patio. It also happens to be the only bar in town that stays open past 11 pm.
---
MIDDLEBURG HOTELS & RESORTS
Goodstone Inn and Restaurant: Just 15 minutes from downtown Middleburg, the Goodstone is a historic property located on a 265-acre farm that dates back to the 1700s. It has just 18 rooms spread throughout several small cottages and houses, and is perhaps best known for its restaurant The Conservatory, which serves up farm-to-table style cuisine in a stunning, white table cloth setting.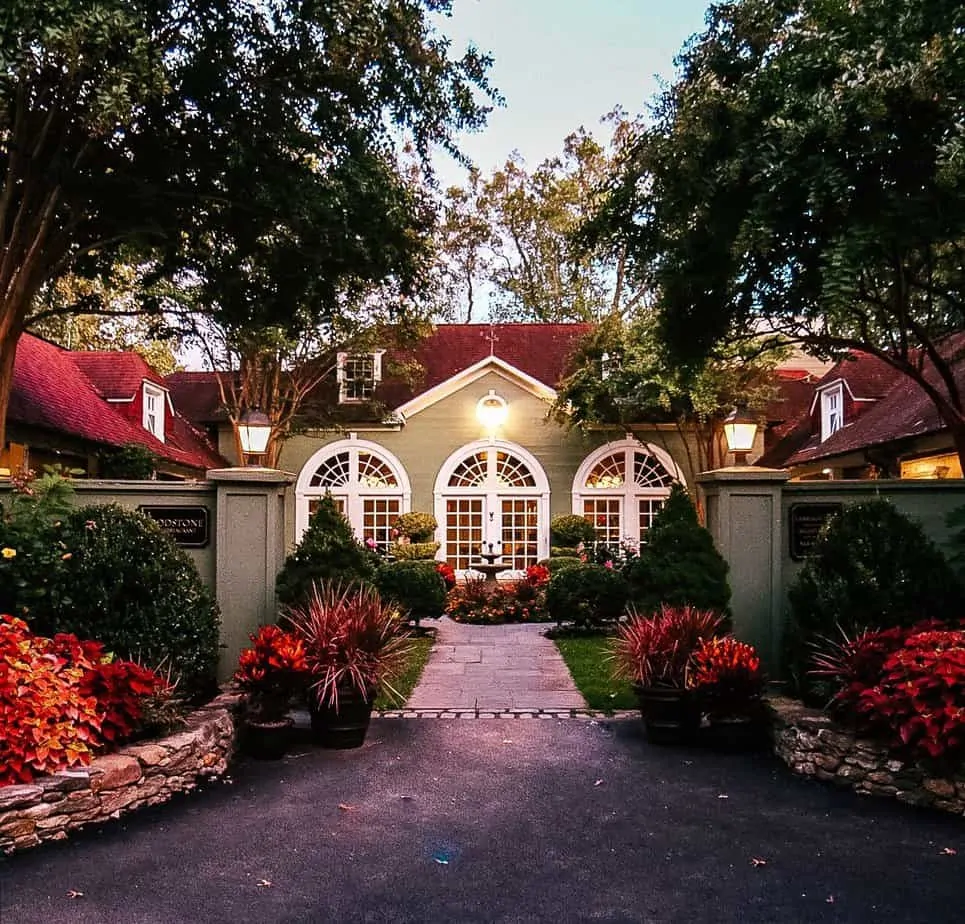 For those truly looking to get away from it all, spending a night at the Goodstone is a great way to disconnect. We stayed at the Bull Barn, a cottage situated on a sprawling farm, complete with goats and the hotel's resident llama named Grayson.
One thing to note: it's definitely recommended to have a car if you're staying here, as the hotel doesn't have transportation (and taxis/Ubers are nearly impossible to come by.) Since the rooms are spread out, you'll need to drive to get to/from the main Carriage House for meals.
Salamander Resort: When this stunning 5-star property opened in 2013, it brought an unprecedented level of luxury that the area had never previously seen. Between the spa, equestrian offerings, zip line, hiking, yoga, and so much more, you could easily spend five full days here without getting bored.
One of Salamander's best selling points is that it's walking distance to town (around 8 minutes by foot) so you're able to explore on your own. The hotel also has a fleet of Audi's and offers a free car service to/from anything within a 5-mile radius of the property, which is definitely worth taking advantage of.
The Salamander spa is pricey but worth it. Be sure to spend time either before or after your treatment and take advantage of the steam room, whirlpools, and infinity pool (it's adults-only and strictly reserved for spa guests.)
FYI: Both Salamander and Goodstone have great packages available for United customers, where you'll get perks like complimentary upgrades and a free bottle of wine upon arrival. More details are available here.
Red Fox Inn & Tavern: Dating back to 1728, the historic bed and breakfast is one of the oldest in the country, and the minute you step inside, you'll feel as though you've been transported to a bygone era. Cottages are located just off of Main Street, making Red Fox the most conveniently located of the area's three main hotels.
---
Scenes from Downtown Middleburg, VA
Photos by Krysta Norman
Pin this for later!
This post was created in partnership with Virginia Tourism.