Planning a trip to Mykonos can be confusing—especially if it's your first time visiting the island. Years ago, before I had ever visited myself, I remember frantically googling the best things to do, the best restaurants, and what to wear. I spoke to Greek friends, friends of friends, and read every single "Mykonos guide" on the internet—and yet I still ended up feeling completely overwhelmed.
Below I've compiled a guide based on everything I wished I knew—from what to pack, to the best time of year to go to Mykonos, and even the best spot for sunset on the island.
Of course, I haven't been EVERYWHERE yet, so if there are places you've visited and would recommend, please leave them in the comments!
(P.S. Be sure to check out my list of the Top 10 Things to do in Santorini if you happen to be heading there before or after your trip.)
---
THE BEST THINGS TO DO IN MYKONOS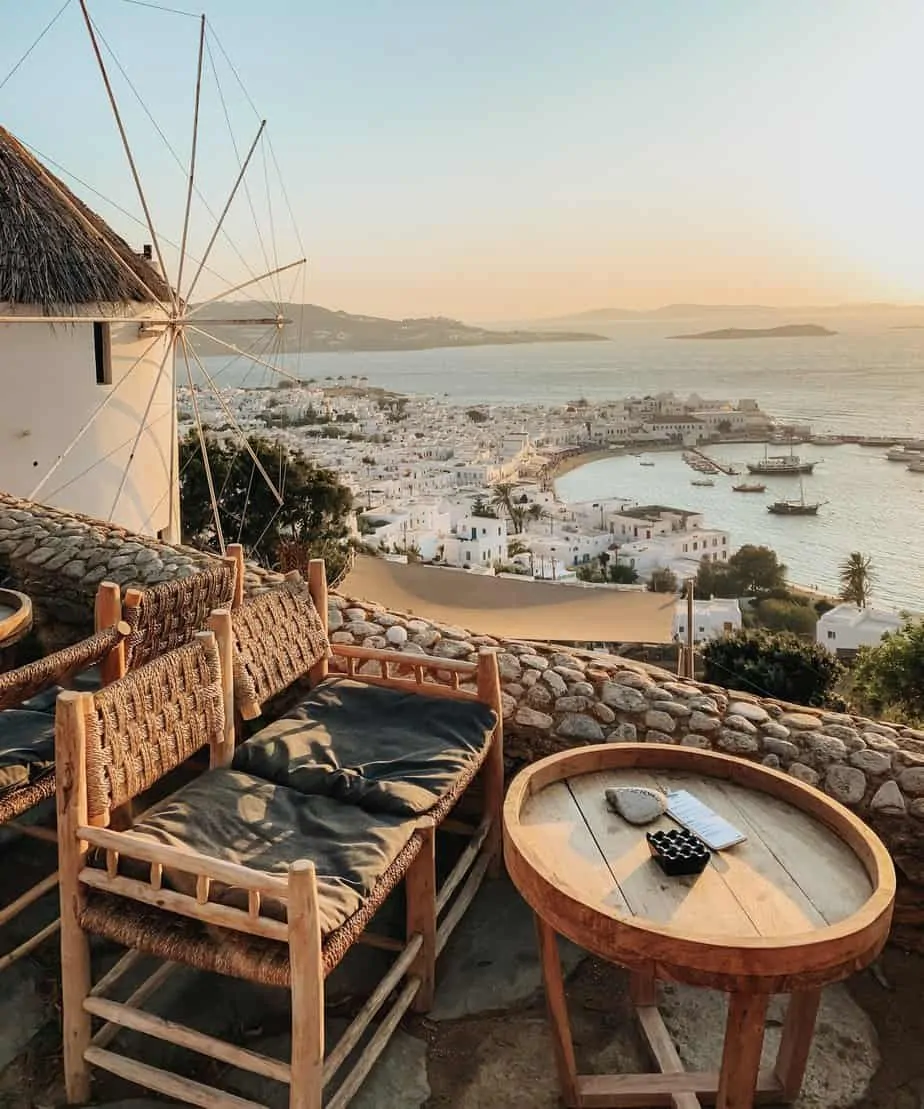 What I love most about the island is that whether you're spending two days in Mykonos or have an entire week, there are SO many things to do and see.
Here's what you absolutely can't miss.
1. Hit up one of Mykonos' famed beach clubs.
Mykonos is an island that has perfected the art of "beach club culture." Whether you're in the mood for a relaxing meal, a bottle of rosé on a sunbed, or a wild day party with live music—Mykonos' beach clubs have you covered. There are a seemingly infinite number of cool places to hang out during the day and into sunset, depending on what type of vibe you're after.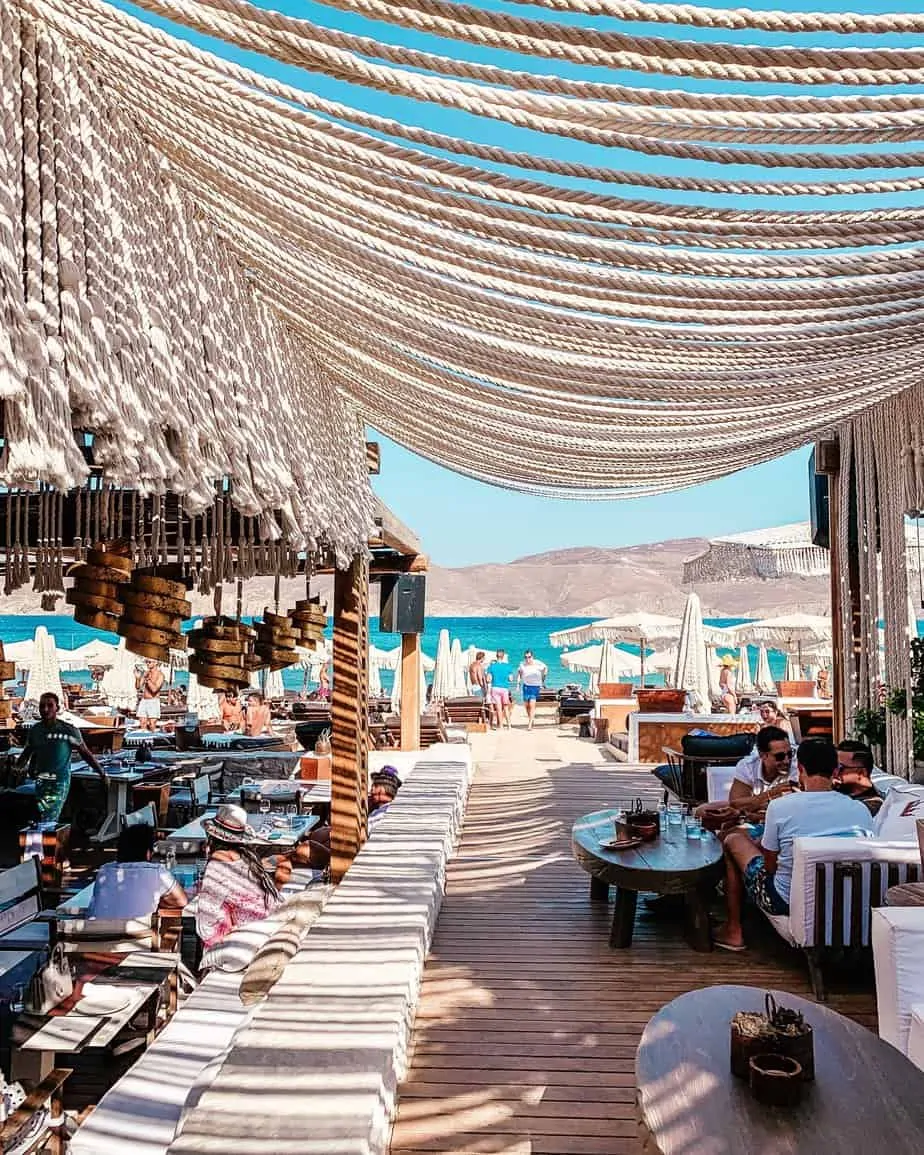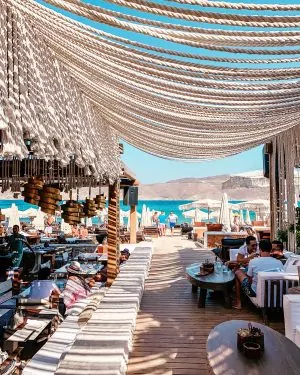 One important thing to note is that the island operates on a bit of an unusual schedule—at beach clubs, things really don't get started until later in the day, so if you make a lunch reservation at noon, for instance, you'll likely be the only person there.
In my experience, most places will be empty before 2pm—and you'll find people having "lunch" anywhere from 3pm – 6pm.
Here are a few of the beach clubs I'd recommend:
Principote: This was recommended to me repeatedly before my trip, and now that I've been, I understand why. It's a design-lover's dream—super boho chic—and the food is delicious. It's a great place for people watching, and the crowd usually runs the gamut, from people in their 20s to people in their 60s.
There's great music and the staff is very attentive, without making you feel rushed.
Jackie O: I consider Jackie O. my happy place. If you're into fabulous gay men, amazing music, and over-the-top drag, then it'll be your happy place too. (While it's technically a gay beach club, I always tell people that it's 1000% worth adding to your list, even if you're straight.) You can either make a reservation for a daybed or at the restaurant, depending on whether you'd prefer to be in the sun or eating in the shade. I recommend going for a late lunch (around 4pm) and then making your way to the beach bar for the drag show (starring the FABULOUS Priscilla) that takes place every night at sunset.
SantAnna: If Las Vegas and Mykonos had a love child, it would look like SantAnna. The place is absolutely MASSIVE and over-the-top. During high season in the summer, they'll bring in big guest DJs and performers, like Tyga and Busta Rhymes. While it definitely caters to a crowd that's looking to party, there's also a huge section of day beds on the beach that are quiet and more low-key.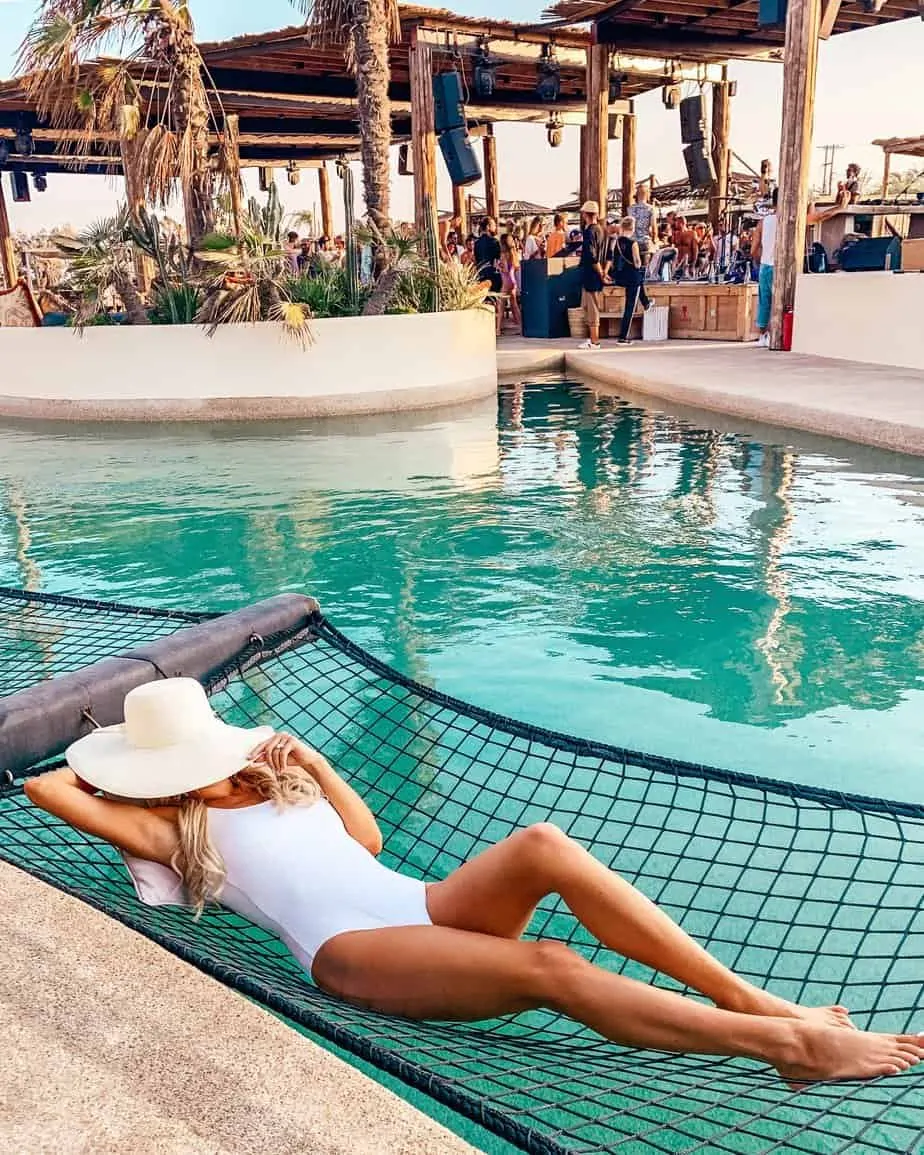 Scorpios: probably the most well-known beach club in Mykonos, which makes it slightly more difficult to get into, and also slightly pricier. While there are beach beds that can be rented during the day time, most people come here for sunset and late night music/dancing. Every day of the week is buzzy, but Sundays are typically the busiest, so if you're hoping to get a spot for sunset or a dinner reservation during high season, make sure you plan in advance. It offers one of the most breathtaking sunset views on the island, and there's always a DJ playing amazing music. The vibe is hard to describe until you experience it for yourself.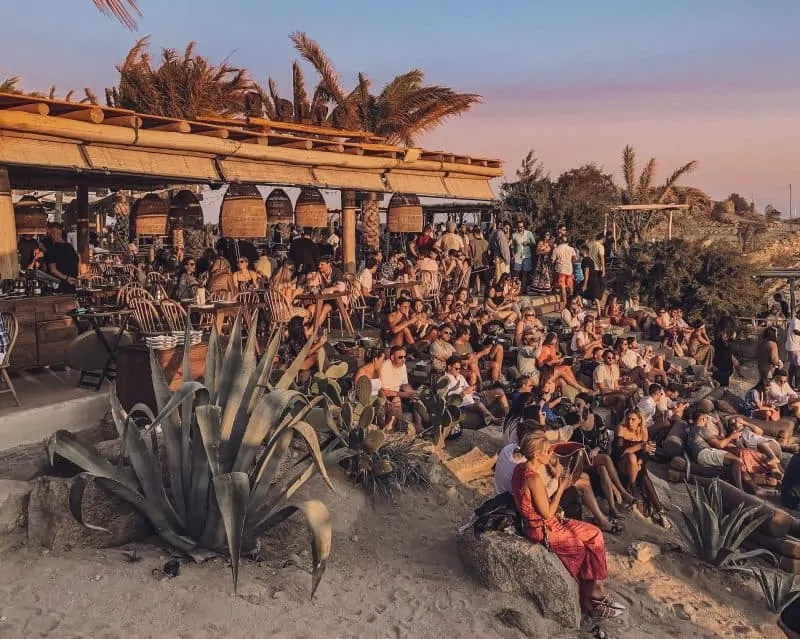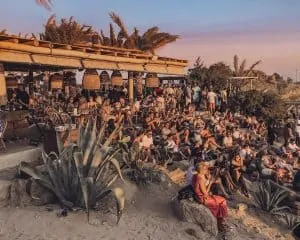 Nammos: I've never personally been to Nammos because I've heard mixed reviews about it, but it's considered an island mainstay. Nammos is located on Psarou Beach, and similar to Principote and Scorpios, it's a lively beach club/restaurant atmosphere filled with beautiful people, good music, and gorgeous views.
---
2. Spend an afternoon at the island's "hidden gem" beach that locals love.
Fokos Beach – a hidden gem that locals love (and tourists, for the most part, don't know about.) It's located on the far north side of the island and requires a somewhat rugged 30 minute drive to get to, but it will show you a completely different side of Mykonos. The beach here is completely untouched, remote, and no-frills, so make sure to bring your own towels.
There's one restaurant on the beach called Fokos Taverna that's a family-run business and serves up what many people consider to be the freshest, most authentic Greek food on the island. Order the mushroom pate, broccoli salad, and whatever fresh-caught fish that the chef recommends. (They even show you the fish and let you pick out your own before you order.) Note: they open at 1pm and stop serving at 6:30pm.
Other beaches that are worth checking out:
– Lia Beach (quiet and good for snorkeling)
– Elia Beach (the largest on the island)
– Kalafatsis Beach (windsurfers and families)
– Ornos Beach (family friendly)
– Paradise Beach (party beach)
– Agrari Beach (gay friendly)
---
---
3. Explore Mykonos town.
With white-washed stone storefronts and lush bougainvillea, Mykonos town is even more charming in real life than it seems in photos. You could spend hours wandering down tiny alleyways, browsing the hip boutiques, and people-watching with a Greek coffee in hand at one of the many local cafés.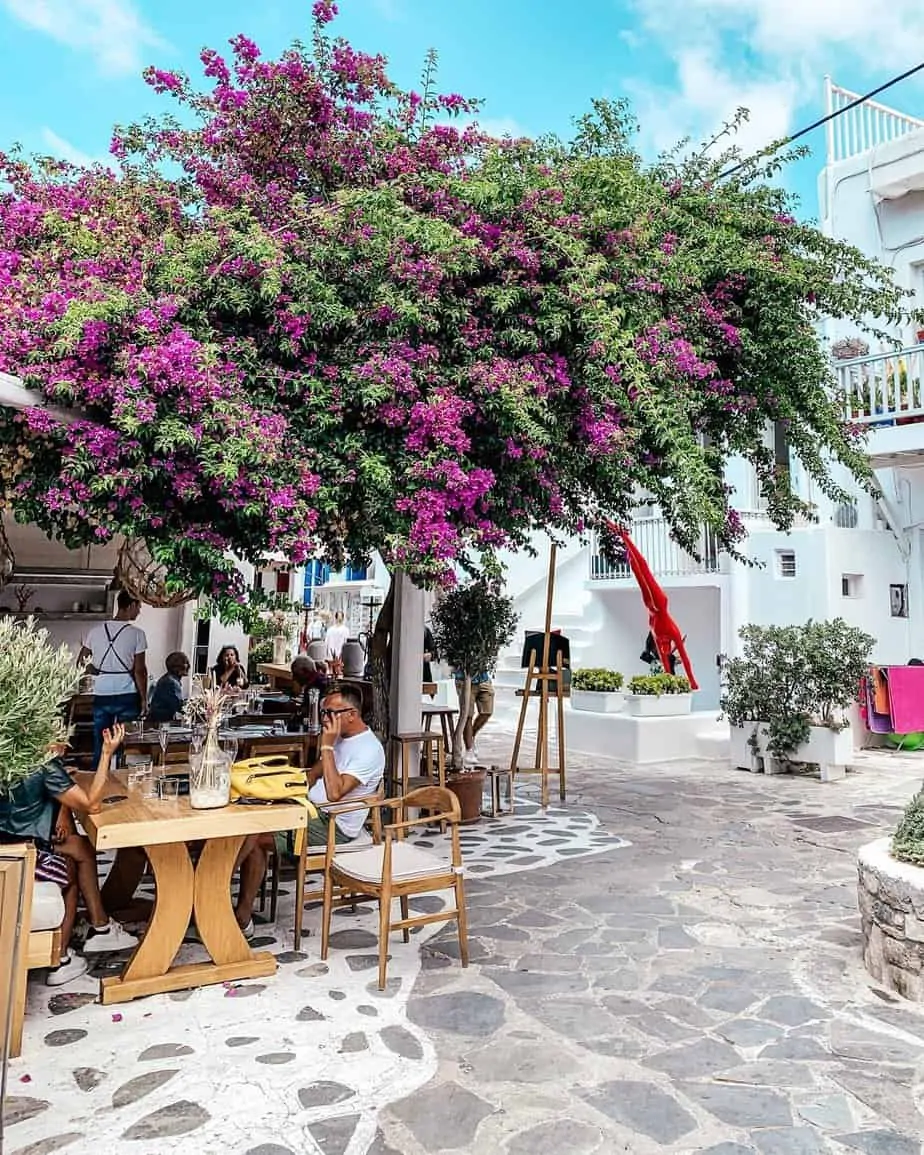 ---
4. Snap a photo of the famous windmills.
This famous spot is a Mykonos landmark. You'll find seven of them in Chora (aka Mykonos town) – they were built by the Venetians in the 16th century and were originally used to mill wheat. Though they're no longer functioning, their facades have been miraculously preserved for many centuries.
---
5. Shop along Matoyianni Street.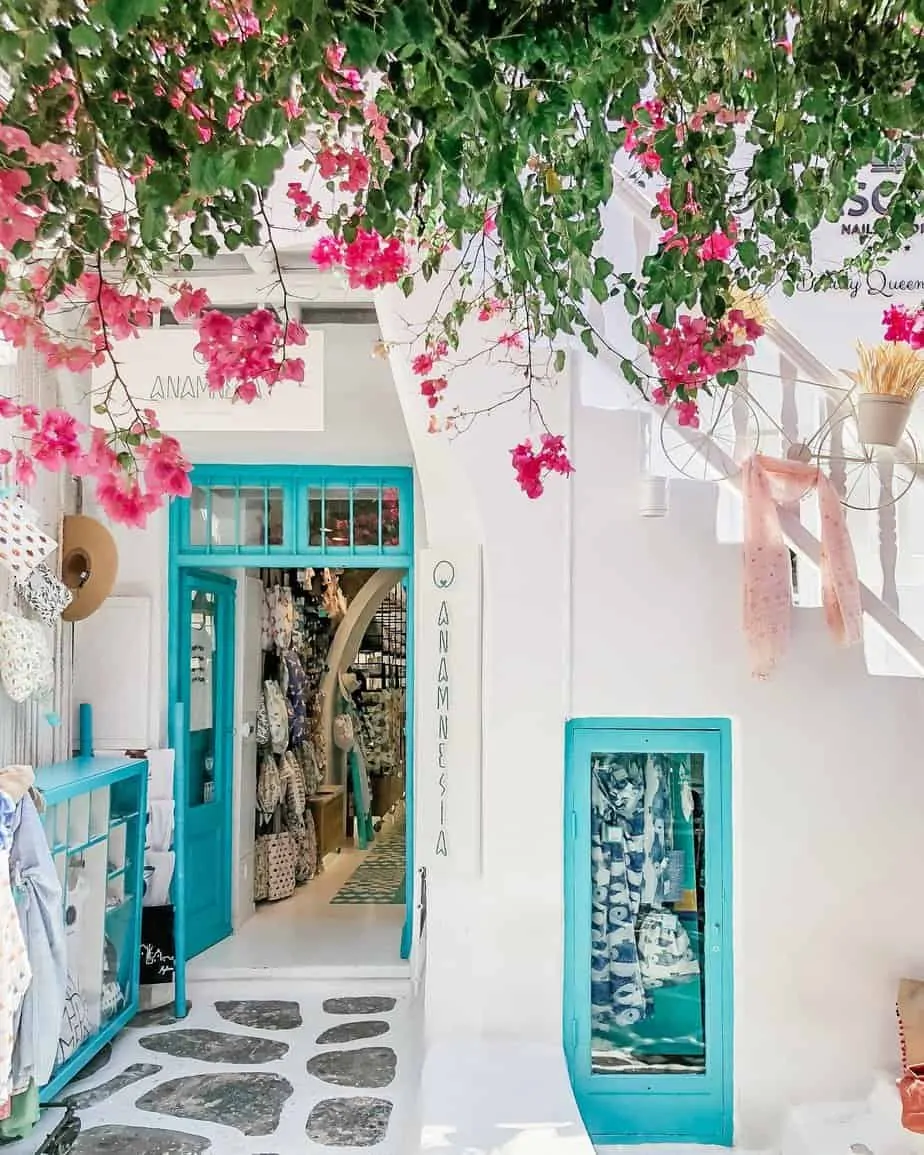 This is where you'll find the highest concentration of shops and boutiques in Mykonos town. A few places to look out for are…
– @parthenosofficial – well-known Greek designer/RTW label. Buy a beach towel here.
– @iliaslalaounis – Greece's most iconic jewelry house. Amazing gold cuffs and statement pieces.
– @anamnesiagr – the store in this photo! Super cute cave-like boutique. Leather sandals, straw beach baskets, and sun hats.
– @sohosohoboutique – a lot of recognizable high-end designers as well as some smaller labels. Very chic.
---
---
6. Wander around Little Venice.
Not far from the windmills mentioned above, you'll find Little Venice, which is a quaint area on the waterfront filled with bars, restaurants, and cafés. While it's quiet in the morning, afternoons and evenings get particularly busy, so if you have a restaurant in mind, be sure to make a reservation in advance.
As far as restaurants, I would recommend:
Nice & Easy – fabulous restaurant with a waterfront view in Mykonos town. The vibe feels a bit more elevated and less touristy than many of the other spots around, and the food/cocktails are delicious. Makes for a super romantic meal if you're traveling with a significant other.
---
7. Have an unforgettable breakfast with a view.
While there are DOZENS of amazing hotels to choose from in Mykonos, I'd be remiss if I didn't recommend Katikies Mykonos, where I stayed. It was an A+ all around—from the breakfast in the morning to the helpful staff, I can't even begin to tell you how much I loved it here. The property has two pools, two incredible restaurants, and rooms with private jacuzzis (seen here), which makes it a fantastic option for couples and honeymooners.

---
8. Visit the uninhabited island of Delos.
Just a few kilometers off the southwest coast of Mykonos you'll find Delos, an archaeological site that is, according to Greek mythology, the birthplace of Artemis and Apollo. You can reach the island via a 30 minute ferry ride from the port.
Delos is recognized as a UNESCO World Heritage Site and will give culture lovers a spectacular glimpse into Greece's rich history.
What can you expect to see here? The Terrace of the Lions (dating back to the 7th Century BC), the Doric Temple, the Minoan Fountain, and mosaics at the House of Dionysos, the House of Masks, House of the Trident, House of the Lake and House of the Dolphins.
---
9. Catch an absolutely epic sunset at the most picturesque spot on the island.
180 Sunset – The name pretty much says it all. Here, you'll find jaw-dropping 180-degree views of the island, and more Instagram opportunities than you'll know what to do with. No matter what time of the summer you go, I would definitely recommend making a reservation.
The bar is split up into two sections—one that's open seating, and one that has reserved seating. For a reserved spot, you'll need to agree to a 50-euro minimum per person, and in my opinion, it's completely worth it. (We had two cocktails each and shared two appetizers, which brought our bill to approx. 100 euros.)
The reserved section is roped off and feels super private, whereas the open seating section was a bit chaotic, with dozens of people scrambling for photos and obstructing the view. If you reserve in advance, try to request one of the three or four tables closest to the ledge.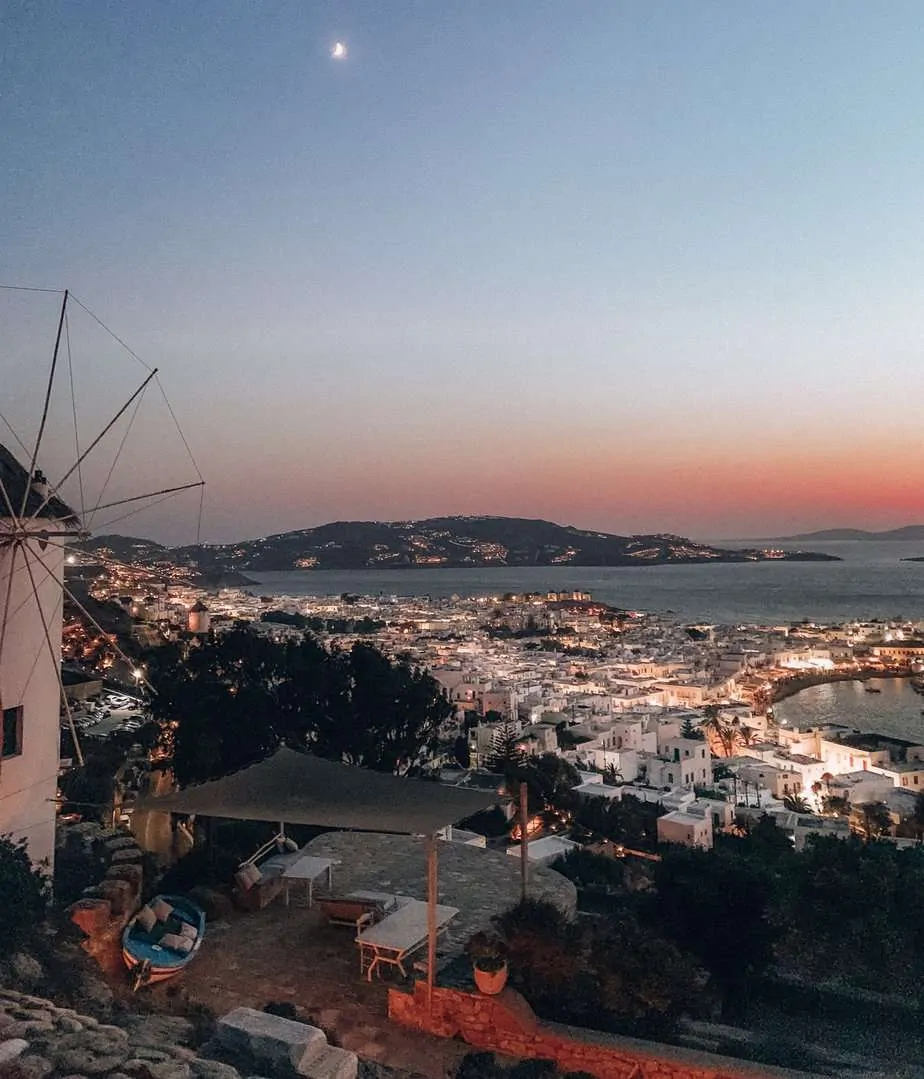 ---
10. Get a taste of the nightlife in Mykonos at the island's best bars and clubs.
There's a reason why Mykonos has a reputation for being a great place to let your hair down. A few of the best bars worth checking out are:
Queen of Mykonos (chic, clubby atmosphere but still unpretentious)
Cavo Paradiso (a proper nightclub with big name DJs on Paradise Beach)
Caprice (cocktail bar in Little Venice)
Skandivnavian Bar (in Mykonos town; has an indoor and outdoor open-air patio)
Jackie O (there are two Jackie O's – the gay beach club mentioned previously and then the gay bar in town; the beach club is great for sunset, while the bar in town is best for late night)
Galleraki (cocktail bar in Little Venice)
Astra (dance club in Mykonos town; dress up if you plan to go here)
---
11. Grab a late-night bite at the best gyro joint in Mykonos.
The legendary Jimmy's Gyro, located in the heart of Mykonos town, is a must-do for any first-time visitor. It's open 24 hours, which pretty much tells you everything you need to know. Here you'll find mouth-watering gyros that truly hit the spot after a night of revelry. Keep your eyes peeled for Jimmy himself, who is usually posted up on a stool right outside the entrance.
---
WHEN TO GO TO MYKONOS
Similar to destinations like Santorini and Positano, Mykonos is not a year-round destination. The season technically begins in April and ends in early October, when properties shut down for the winter.
The best time to go to Mykonos depends on who you ask, but most locals recommend the "shoulder" months—May and September—which fall on either side of peak season (which is June, July, and August.)
Speaking from personal experience, early September is absolutely perfect—the weather is ideal (low 80s and high 70s) and while the island is still buzzing with activity, it's significantly less chaotic than mid-summer. You won't find yourself scrambling for a reservation at one of the best beach clubs and restaurants, and transportation is easier to come by as well. Not to mention, hotel rates are slightly lower than during high season.
---
WHAT TO WEAR IN MYKONOS
When it comes to what you should pack for a trip to Mykonos, think "beachy chic." It is by no means fancy—most people wear flat sandals vs heels—but everyone is incredibly put together. During the day, women usually wear a swimsuit with a cute cover-up, kimono, kaftan, or jean shorts. You'll see a lot of linen, a lot of white, and plenty of sheer fabrics, as well as sunhats and sun dresses. (Be sure to bookmark my Beach Vacation Packing Checklist to reference before you go!)

For men, swim trunks and a linen/lightweight button down shirt or t-shirt, with loafers or sandals.
Often you'll end up going straight from a beach club to dinner or into town, so it's not unusual to see people still wearing their swimsuits during dinnertime. If you're planning on a fancier dinner or drinks, go for a mini dress, maxi dress, or white jeans and a blouse. Some women wear heels or wedges, but most don't, since everything in town is super hilly and the streets are uneven.
For men, I'd recommend lightweight pants or shorts, white jeans, and a button-down shirt or polo. Unless you're going to one of the fancier restaurants, sneakers or sandals are completely fine.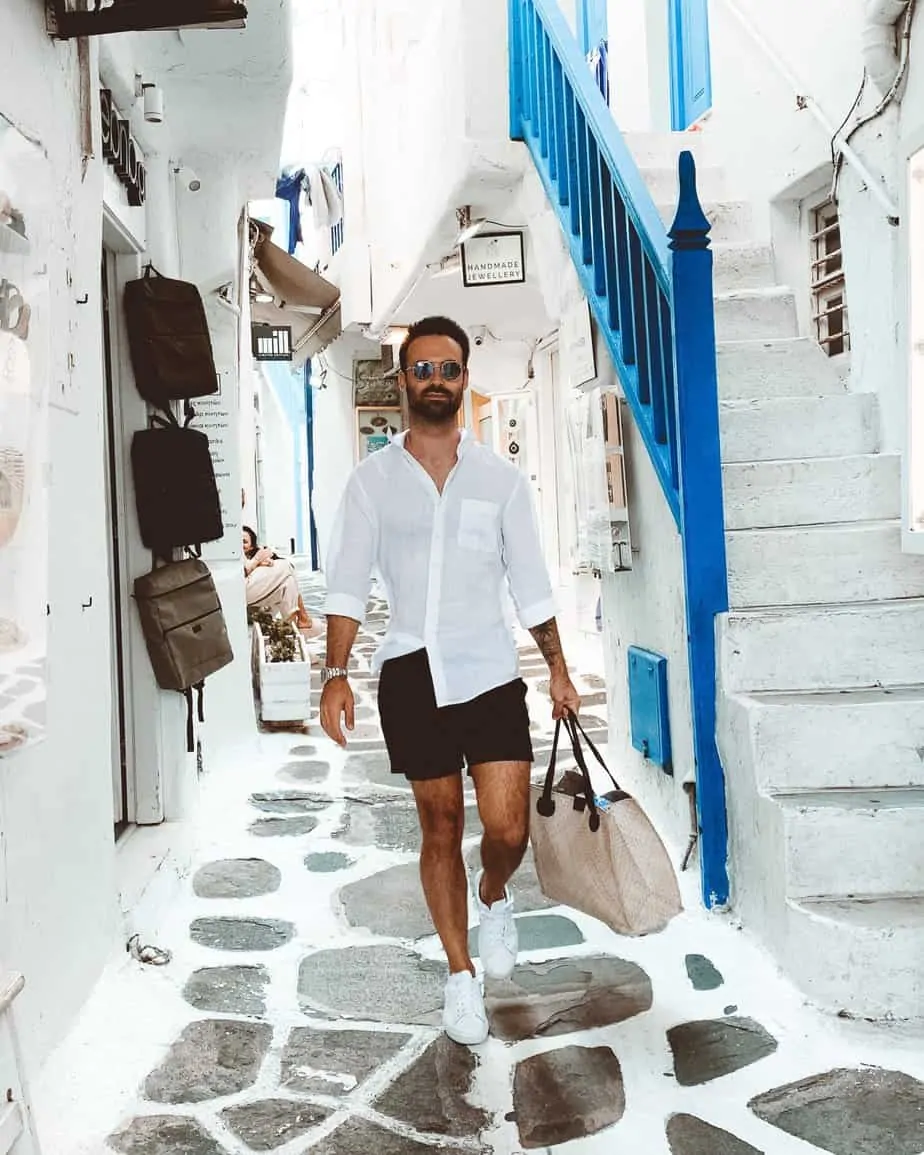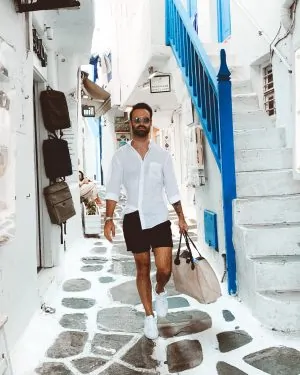 PIN THIS POST FOR LATER: