With 57 countries under my belt and more than a decade of traveling regularly, I think it's safe to say that I'm an expert in the field. I've made every mistake you could imagine—missed flights, lost baggage, exploding hair irons—but with each disastrous experience, I've grown a little bit wiser, and a LOT savvier when it comes to traveling like a seasoned pro.
These travel hacks for flying, packing, saving money, getting hotel upgrades and more are the secrets I swear by. I hope they'll help make your next trip pleasurable, memorable, and stress-free.
---
70 Travel Hacks That Will Blow Your Mind
This is one of my best space saving packing hacks. People tend to take up unnecessary room in their toiletry bags by bringing full-sized products.
Here's the trick: put your foundation, moisturizer, eye cream, and any other liquid products into contact lens cases. Every inch counts!
2. Be strategic in your seat selection when booking a flight.
There's nothing worse than getting stuck in a seat that doesn't recline, or ending up in a row next to the lavatory with people hovering over you for the entire flight. I avoid these kind of mishaps by checking SeatGuru before I choose my seat on flights.
Occasionally, I'll even choose a flight based on the type of plane that SeatGuru tells me I'll be flying on. The website and app shows you photos of the plane's interior so you'll know in advance whether you're booking an outdated 747, or a brand spanking new plane.
Plus, it gives you warnings about seats that have potential issues, like limited recline or a misaligned window.
3. Pack your own DIY amenity kit for long-haul flights.
I loooove the amenity kits that you get when you fly First or Business, but since I don't always have that luxury, I decided to start making my own. My "DIY kit" stays in my carry-on bag at all times, and includes a toothbrush and toothpaste, deodorant, sheet masks, moisturizer, hand cream, eye masks, lip balm, and socks.
4. Avoid cankles by wearing compression socks.
They're basically Spanx for your calves and feet, because feeling swollen after a long-haul flight is the WORST.
5. Consider choosing an "alternate destination" when you search.
If the city you're flying in or out of isn't a main hub, consider flying into a bigger city and connecting or finding a flight (or other mode of transportation) out of that city.
Not only will you save money, but you have the potential to earn more mileage points.
6. Download the Google Translate app to help with language barriers.
You can use it to take photos of text in another language, and it will translate the words in real time. (I have a separate blog post featuring the best travel apps for savvy jetsetters, which you should check out as well!)
7. Use packing cubes.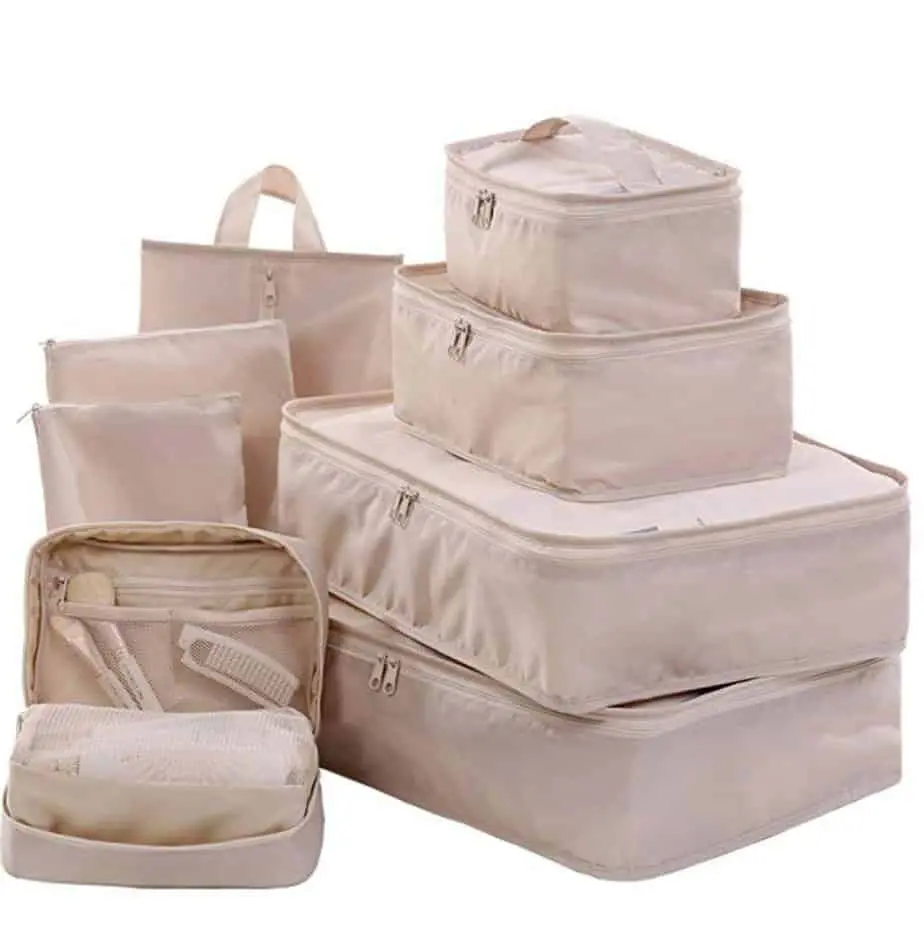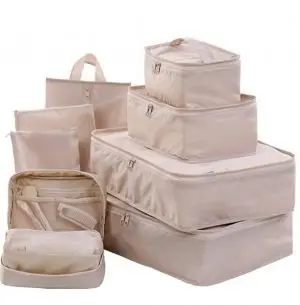 Another space saving packing hack that I swear by? Packing cubes! I truthfully thought these were a scam until I tried them out for myself.
They not only compress your items to give you additional space, but they also help keep you organized—I use a small one for socks and underwear, a medium-sized one for tops, another medium-sized one for comfortable walking shoes and sneakers, and a large one for jeans, pants, and dresses.
8. Look out for price errors.
Often times, there will be glitches on airline or third party sites that offer a ridiculous low fare. Sign up to these sites to keep an eye on them. But know that you will have to act quick, as these companies will typically fix the fare as soon as they catch it. Here are some great resources to keep an eye on for low fare deals.
Scott's Cheap Flights (or Jack's Flight Club for UK-based people)

The Flight Deal

Secret Flying (if you're based out of Europe)

Holiday Pirates

Airfarewatchdog.com

The Flight Deal

Fly4Free

FlyerTalk Mileage Run (discussion board)
* Bonus Tip: Fill your social media with these sleuths by following them on Instagram and Twitter!
9. Take advantage of generous credit card offers.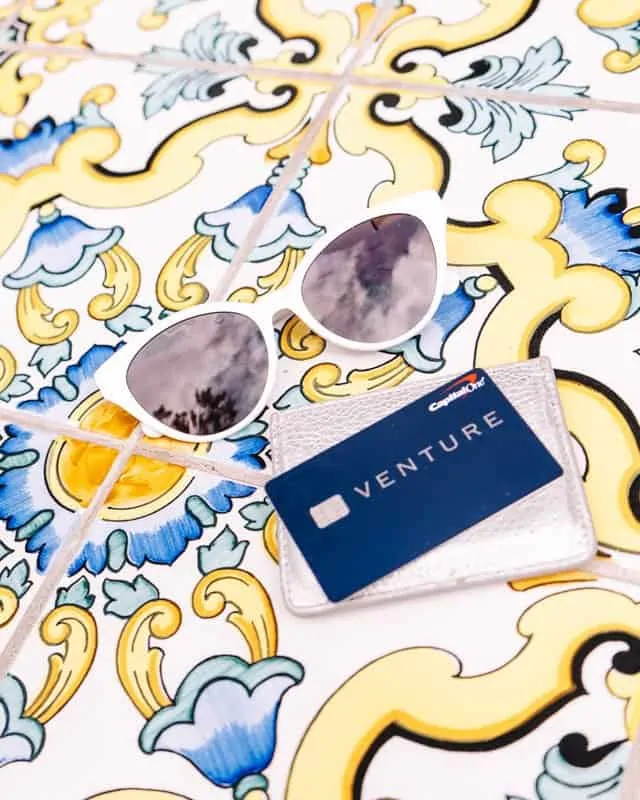 The greatest travel hack of all time? Credit cards and points. Open up a credit card that has a sign-up bonus (assuming you can be responsible enough to pay your bills!), and transfer the points to an airline for a pricey international flight.
Check out my full step-by-step guide to using points and miles for free travel if you haven't already!
10. Be strategic with flight cancellations.
If you book a nonrefundable ticket and your plans change or you know you won't be traveling on that flight—do not cancel the ticket until the last possible moment.
Or…just don't show up. Here's why: in the rare case that there's a flight cancellation or schedule change, your nonrefundable ticket could entitle you to a credit or refund. Had you cancelled the ticket, you wouldn't be entitled to anything.
11. Learn how to avoid long airport security lines.
TSA-precheck, Global Traveler, and Clear have been an absolute gamechanger for me, and if you travel more than a few times a year, they are absolutely something worth investing in. If you're not familiar:
TSA Precheck enables you to use a separate line for domestic (US) flights, and you won't be required to take off your shoes or take out your laptop.
Global Traveler is for international flights and (as far as I know) is for the US only. When you're returning to the US, you use a machine that scans your passport rather than having to wait in line at customs.
Clear lets you scan your fingertips at security and then get escorted to the front of line at airports where it is offered.
12. Take a hydration multiplier for long flights.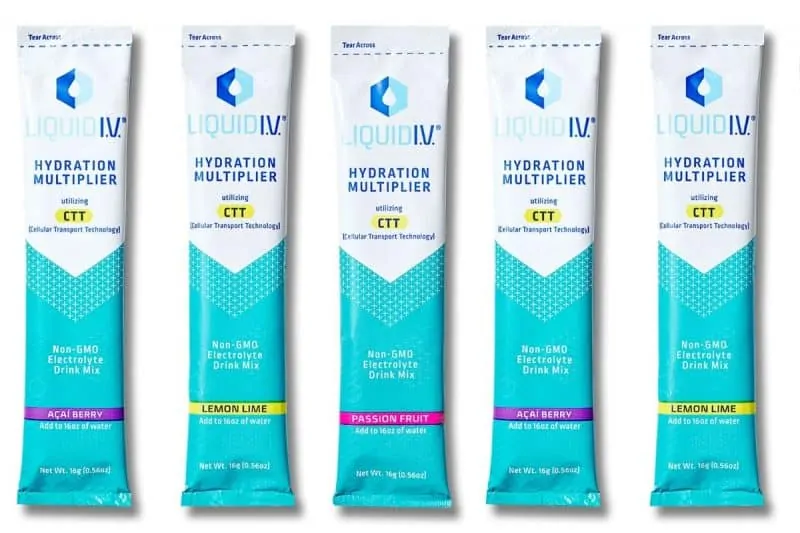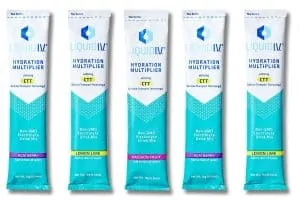 While everyone will tell you to "drink as much water as possible" and "try to stay hydrated" on a long-haul flights, the reality is that if you're drinking a liter of water on a plane, you're going to find yourself getting up to go to the bathroom repeatedly.
My hack for this is to use Liquid IV. It's a "hydration multiplier" that hydrates you 2-3 times faster than water alone. You pour the little packet of powder into your water bottle, shake it up, and then drink.
It tastes pretty similar to Gatorade (the lemon/lime is my preferred flavor) and will keep you hydrated without sending you to use the restroom every 30 seconds.
13. Keep track of itinerary ideas in Google Docs.
I use Google Docs for all of my itineraries—especially when I'm planning a girls trip and there are multiple people involved. I'll share the link with everyone I'm traveling with to make it more collaborative. It's also where I keep a running list of recommendations from people for the destination that I'm visiting.
14. Challenge yourself not to check a bag.
Avoid lost baggage nightmares by packing carry-on only for trips under a week. In need of luggage that actually fits a lot of stuff? Here's a list of the best carry-on bags that help save space with packing.
15. Order a "special meal" in advance of a long-haul flight.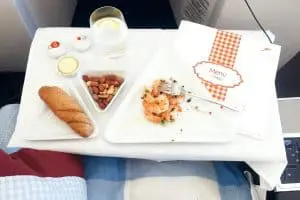 Most major airlines will offer the option to order a special meal when you book your flight—these include vegetarian, gluten-free, dairy-free, kosher, vegan, low fat, and sometimes even low sodium options.
People who place orders for "special meals" will always get served first, so if you're hoping to catch some z's on the flight, you'll have more time to sleep while everyone else is waiting for their food to arrive.
16. Save local currency from the country you're visiting as a souvenir.
My husband and I started doing this many years ago, and now we have what we jokingly call a "world bank" at home. It's a cool alternative to buying a dumb keychain or t-shirt you'll never wear.
17. Create a framed collage of foreign currency from your trips after you get home.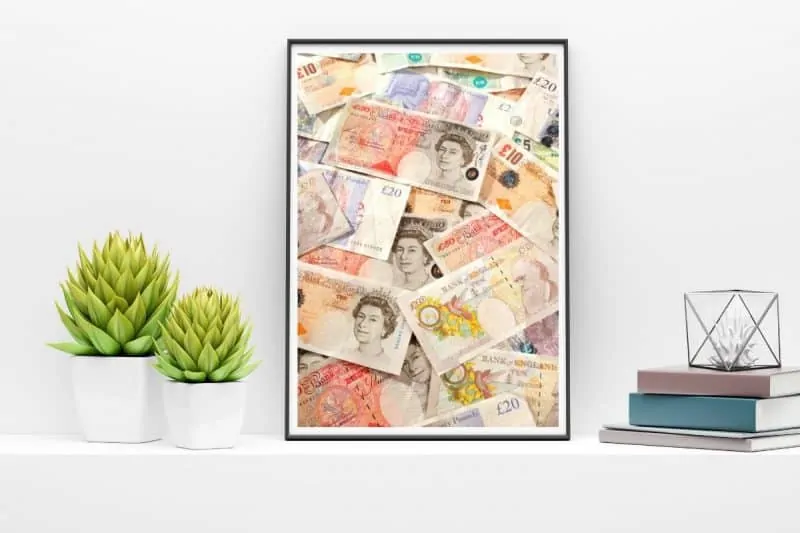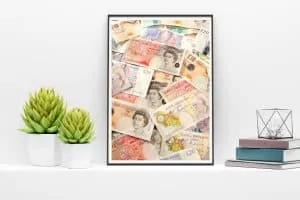 I often find foreign currency to be incredibly beautiful. We've taken some of the best-looking bills from various places we've visited, and framed them.
18. Do the same with hotel room keys, airline tickets, and baggage tags.
You can use a place like Framebridge to arrange and frame them for you—they'll even send you a pre-paid envelope to mail in your items.
19. Talk to taxi drivers.
Often, a simple taxi ride from the airport to your hotel will turn into an impromptu city tour if you ask the right questions.
20. Build your itinerary using Google Maps Trip Planner.
This might be the greatest travel hack of all time. Did you know that there's a FREE tool within Google Maps that you can use to create an entire itinerary for your next trip? It's called Google Maps Trip Planner and it's incredible.
21. Don't exchange money at the airport.
Wait and go to an ATM near your hotel for better exchange rates.
22. Take advantage of layovers as often as possible.
Sometimes, I'll even choose flights with 12+ hour layovers as a way to see another city for a day.
23. Never miss another photo opp.
Take photos in "burst" mode so you don't need to worry about missing the shot.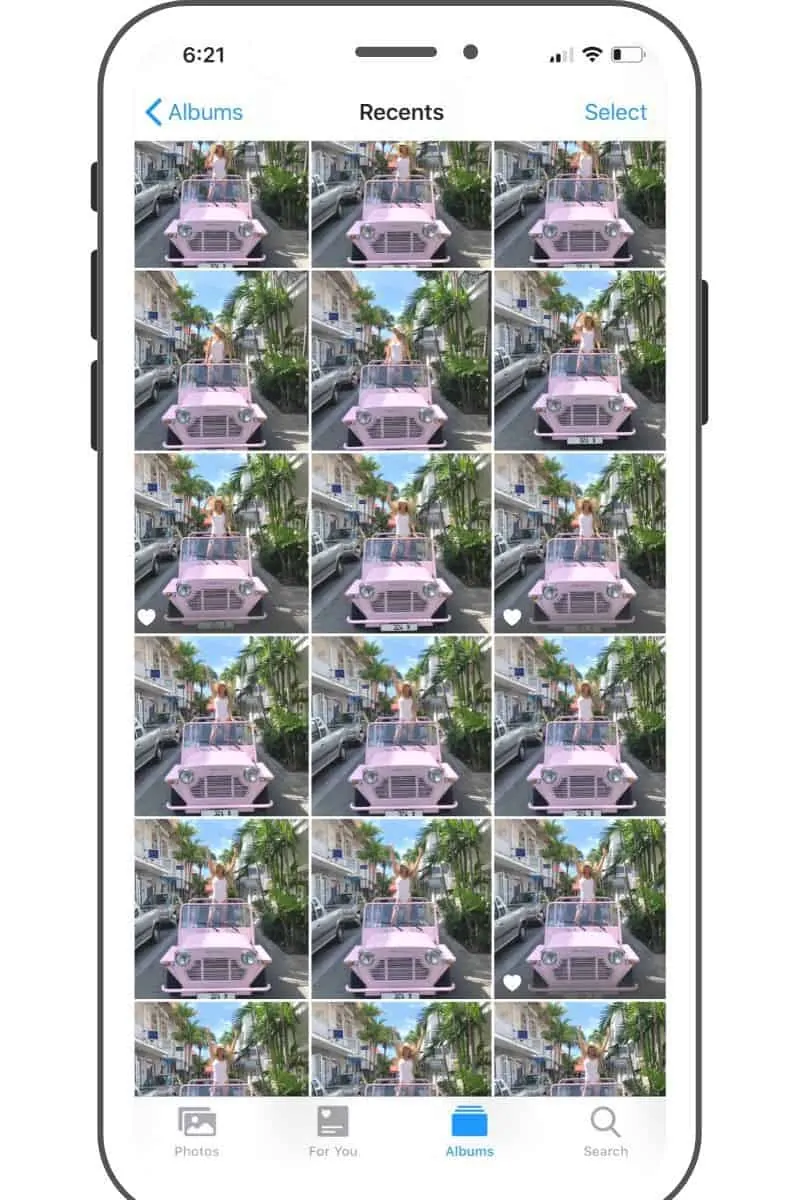 24. Carry a photocopy of your passport in your wallet.
Just in case.
25. Speaking of wallets… invest in a good travel wallet.
Trying to keep track of boarding passes, passport photocopies, foreign currency, and receipts can get a bit messy if you're trying to stuff everything into your regular, everyday wallet.
The best way to stay organized while you're heading out of town is to use an inexpensive but chic travel wallet that has additional compartments for travel-related items.
26. Use a travel agent or tour operator for special trips or multi-city itineraries.
They can often get you better rates and preferential treatment at hotels.
27. Become a points and miles pro.
I've said it before and I'll say it again—I've learned everything I know about points, miles, and travel hacks from my friend Brian Kelly, aka The Points Guy. Browse through his site for all the secrets.
28. Easily share photos with friends/family.
Start a shared album with your the people you're traveling with at the beginning of a trip, so you're able to easily exchange photos.
29. Get the experience of a luxury hotel without staying at one.
Dying to stay at a fancy hotel but can't afford the nightly rate? Pop in to the lobby bar for drinks instead.
30. Plan your trip during "shoulder season" to take advantage of better hotel rates and less crowds.
Shoulder season = the period between high and low season, when the weather is still great but the destination is less busy. In places like Positano, Santorini, and Mykonos for example, shoulder season is generally April through the middle of June, and September through October.
31. Avoid jetlag by getting onto the local time zone as soon as you board the plane.
If it's technically morning in the destination you're going to when you board the plane, do NOT go to sleep—even if it's midnight where you're leaving from. If you work on adjusting to the time zone while on the flight, you'll have a better chance of battling jet lag when you arrive.
32. Hire a local guide during the first day of your trip in a foreign city.
It'll help you get the lay of the land. Then ask your guide for non-touristy recommendations to hit up during the rest of your trip. Also: if you're traveling with a big group, DEFINITELY hire a guide. It takes the pressure off of one person being put in charge of the itinerary.
One of the best things I've ever done was hire a guide for my five-day trip to Tokyo since I wanted to see as many things as I could in a short period of time.
33. Use a sheet mask on long flights to replenish the moisture back into your skin.
I love using these sheet masks on the plane. Instead of looking haggard when you land, your skin looks super glowy and fresh.
34. Hire a passport/visa expediting service if you're in a pinch.
I used a company called "It's Easy" to renew my passport when I was super tight on time, and they were able to get it to me within a few days.
35. Keep a "packing checklist" in your phone.
You can refer back to it every time you're heading out of town. I have an example of my travel packing checklist here.
36. Always keep your boarding pass.
I usually keep mine until I see that my miles have posted on my frequent flyer account—if you end up having to claim missing miles from your airline, you'll need to have your ticket number and confirmation number as a reference. Which leads me to my next point…
37. Create a frequent flyer account on every airline you travel with.
There's no reason not to. If you don't you'll be missing out on valuable miles that could potentially be put toward your next trip. I personally have FF account with: American, Delta, JetBlue, United, Cathay Pacific/Asia Miles, British Airways/Avios.
38. Keep your iPhone photos organized.
Save all of your favorite trip photos into an album in iPhoto so that you can find them quickly.
39. Turn your travel photos into cool animations using free apps.
One of my favorite ways to jazz up my photos following a trip is by using apps like KiraKira and Enlight Pixeloop. (For example, I have a little tutorial that shows you how to add falling snow to your photos in 30 seconds.)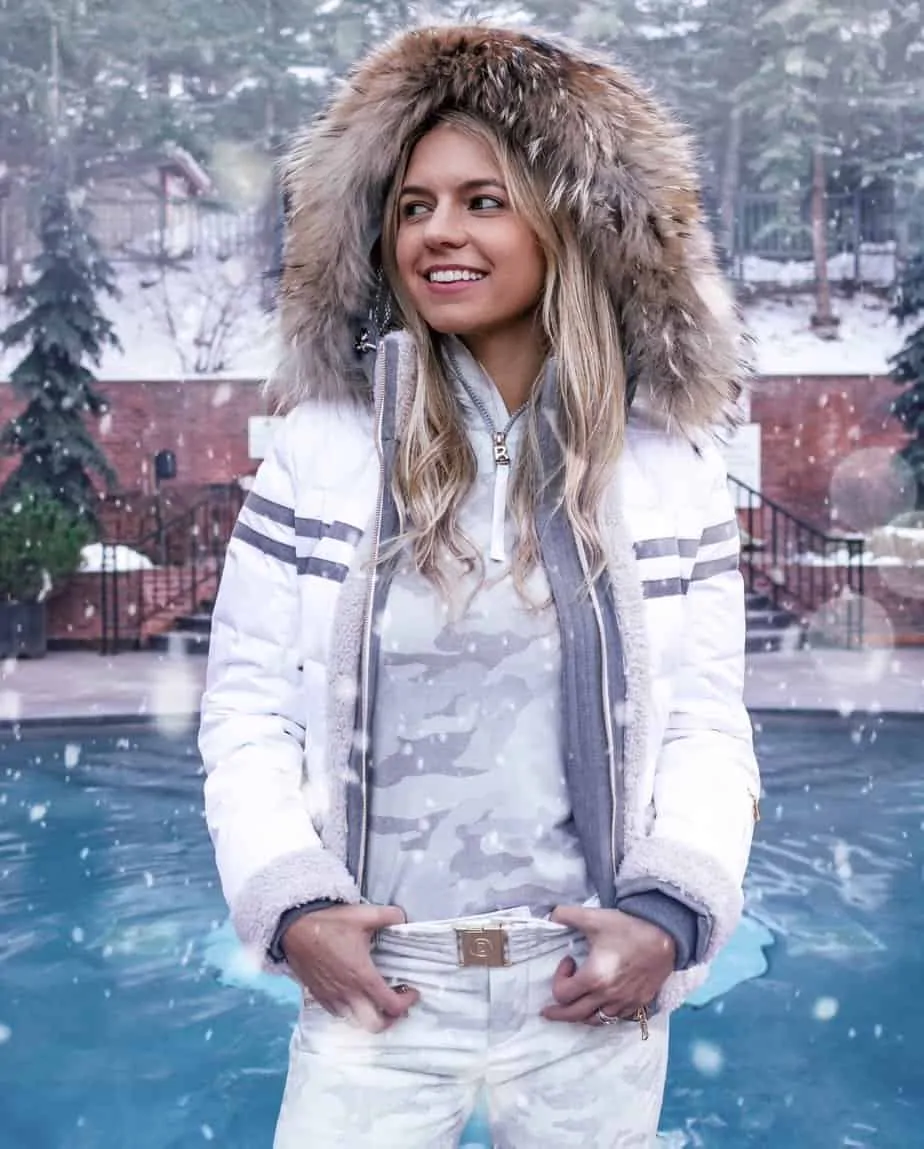 40. Use a pants hanger to ensure blinds stay closed over night.
There's nothing worse than waking up at the crack of dawn on vacation because of a small gap in the hotel drapes. I avoid this by using a hanger with trouser clips to secure the two window shades together.
41. To find cheap flights, consider looking beyond the obvious sites like Kayak and Expedia.
If you set the tab or filter to "everywhere" or "anywhere" and are flexible with your dates and travel time, you can find really inexpensive flights and even earn extra miles if you fly an extra leg.
A few of the best "deals" sites are:
Momonndo
Kiwi
Sky Scanner
AirTreks
Skiplagged
Hopper
42. Always ask for an upgrade.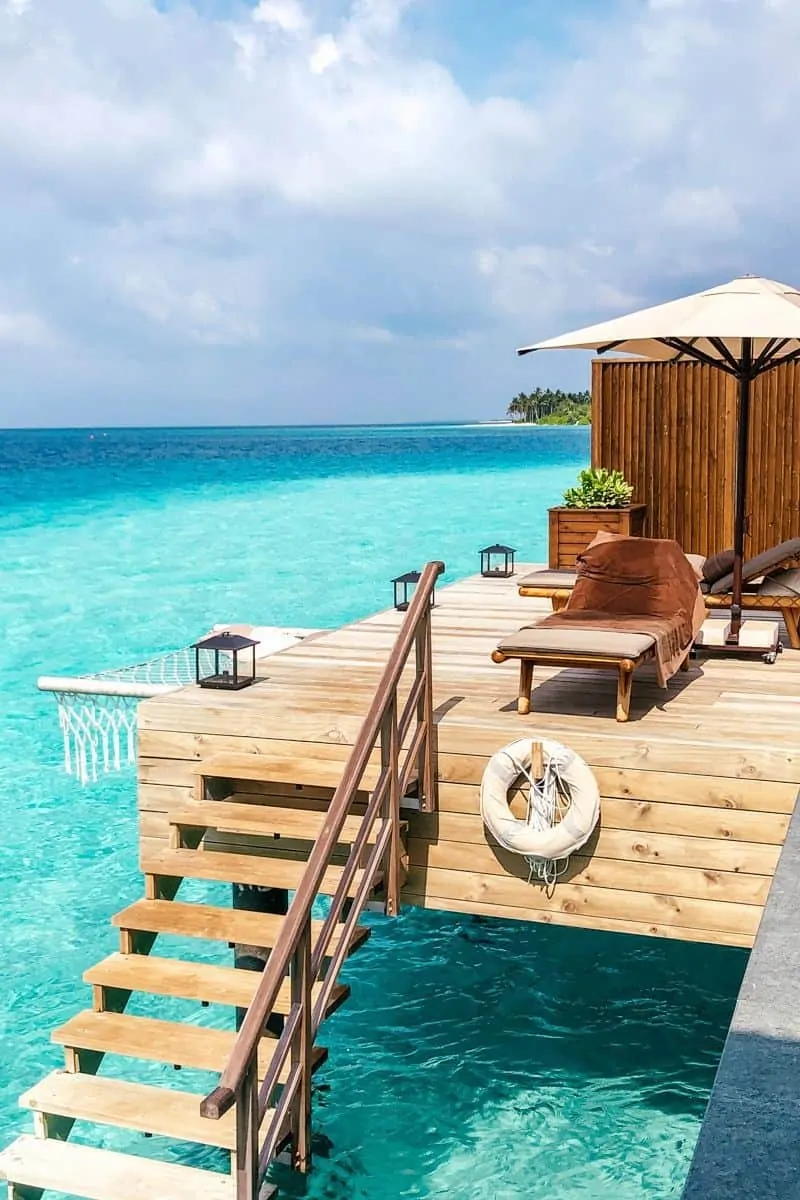 Unless you're on an unlimited budget or celebrating a special occasion, never book the best room at a hotel—but always ask for an upgrade. I did this on a recent trip to Maui, as well as in the Maldives and St Barths, and totally lucked out!
Make sure to join the hotel's loyalty program before arriving (they're free), since they usually honor those requests for members as long as a higher room category is available.
43. Sometimes, the budget airlines have even cheaper flights on their sites.
Also, if you sign up for their newsletter and loyalty clubs, you get added perks and insider info. A few that comes to mind are Norwegian, Frontier, Southwest, and Spirit.
44. Be a "country counter."
Download the "Been" app to keep track of the countries and states you've visited.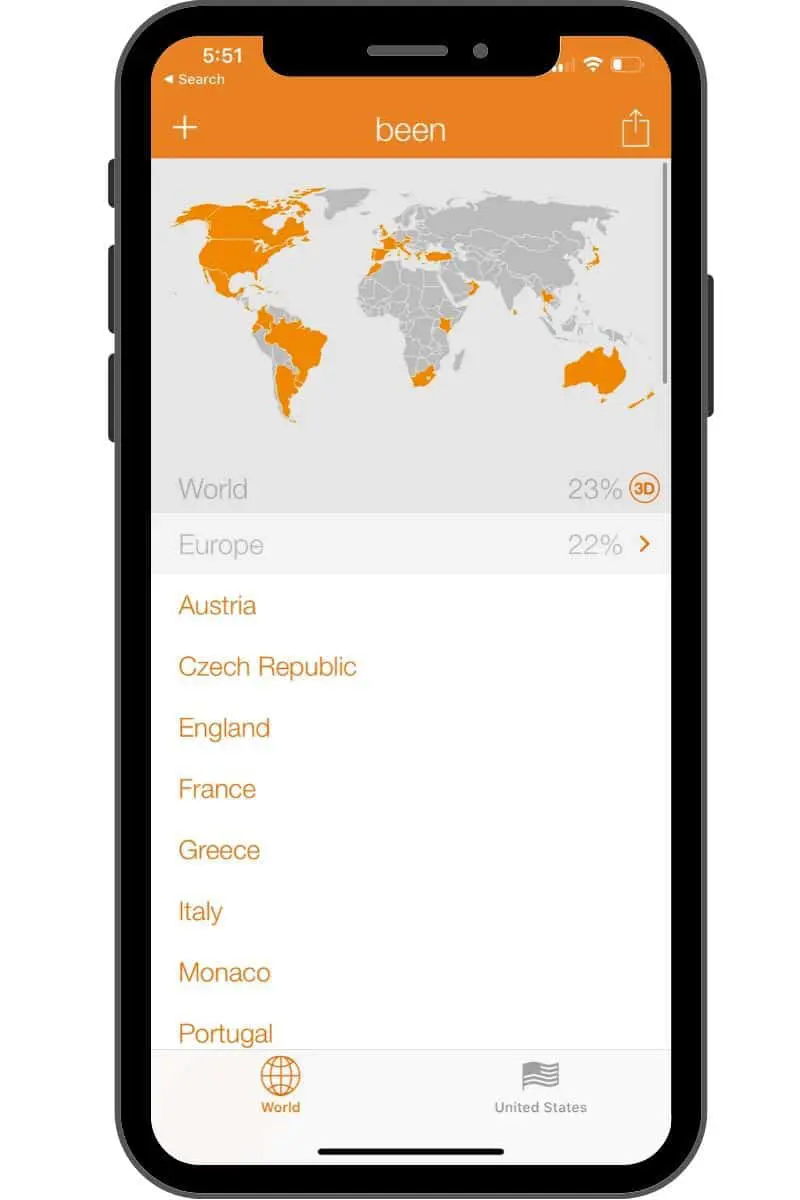 45. Get a more authentic "local" experience with your accommodation.
Using sites like Air BnB, VRBO, Booking and others gives you the opportunity to live more locally and at a significantly discounted rate. In fact, sometimes the house share experience is more personalized and luxurious.
46. Book a private room at a hostel to save money.
If hostels are an option (check HostelWorld.com), you can book private rooms for a really cheap rate. This is a great way to 1) save money 2) meet new people (perhaps people you could room with in another country on future trips.)
47. Always have a back-up power source.
Charge an external battery before you travel, and have it with you on the plane in case the seats don't have outlets.
48. Compare flight prices using Airfare Matrix.
AirFare Matrix is something travel agents use. It is a Google tool and allows you to do some great price comparison without the third party interjection (that can sometimes cause you to pay more if you're not searching in an incognito browser).
You can't book directly from the site, but can use the codes as a source to get the cheapest price when you call an agent, or even the airline.
49. Try toggling to a different "home" country when searching for flights to get cheaper rates.
If you're looking to fly a specific airline, set your country (usually in the top right hand corner or in the website's footer) to one that has a good FX rate (of the countries available, of course).
This will allow you to view and purchase the flights in another currency, and potentially save big! It will take some time and some trial and error, but if you have the time, it's worth it!
50. Mark your bag fragile.
It'll be handled properly and make it to the top of the pile, ensuring your luggage comes out in the first batch!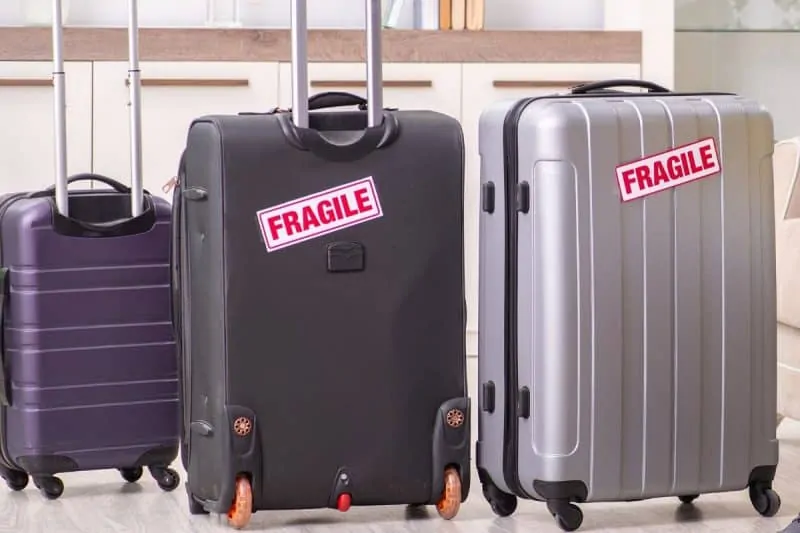 51. Before you pay for an upgraded cabin, see if the flight is full.
If not, put yourself on the upgrade list as soon as you can. Also, offering to get bumped from a flight and wait for the next flight could give you leverage to negotiate a better seat (and maybe even money or points).
52. Use FourSquare for Wifi.
You can find wifi passwords on FourSquare for restaurants, cafes and other places (just be careful, obviously, as not all of these are secure.)
53. Turn on "Private Browser" when searching for flights.
Prices do, in fact, fluctuate based on the cookies in your web browser and how many searches you've performed for a specific destination. Which is why searching for flights in a private browser (also known as "incognito mode") is an absolute must.
If you're using Google Chrome, you can enable Incognito mode by hitting Command + SHIFT + N.
If you're using Firefox or IE, you can enable a private browser by hitting COMMAND + SHIFT + P.
54. Bring an oversize scarf on the plane that doubles as a blanket.
Then wear it as a chic cape during your trip.
55. Save on parking by pairing up with a local.
Garage Pointer is a website that connects you with people who own parking spaces and are willing to rent them (temporarily) to visitors. As of now Garage Pointer is only available in the U.S.
56. Rent a car…from a local.
Ready for the best car travel hack? Look into whether or not Turo is available in your destination. The app and website connects you with people who own cars and are willing to rent them out for a fee that is (usually) much less than traditional car rental.
57. Overwhelmed with what to pack? There's an app for that.
PackPoint helps you determine what to pack based on where you are going and the length of your trip. It checks the weather in your upcoming destination and then provides a detailed packing list for you. (I would also recommend using my "what to wear" guide if you're packing for trip to Europe in the winter.)
58. Use a service to ship your clothes ahead of your trip.
Sure, this might not be for everyone, but did you know there was a service that stores, packs, ships and cleans your clothes prior to trips? It's a company called DUFL. While it's definitely targeted to a very specific market, DUFL is an incredible concept.
You send them a capsule wardrobe (consisting of clothes you need for every trip, like business travel), and they'll store the clothes in a "virtual closet," which you can access through the app prior to your departure. They then send the clothes to your hotel ahead of your arrival, and collect them to dry clean and store when you leave.
59. Use FlightAware to track your flights.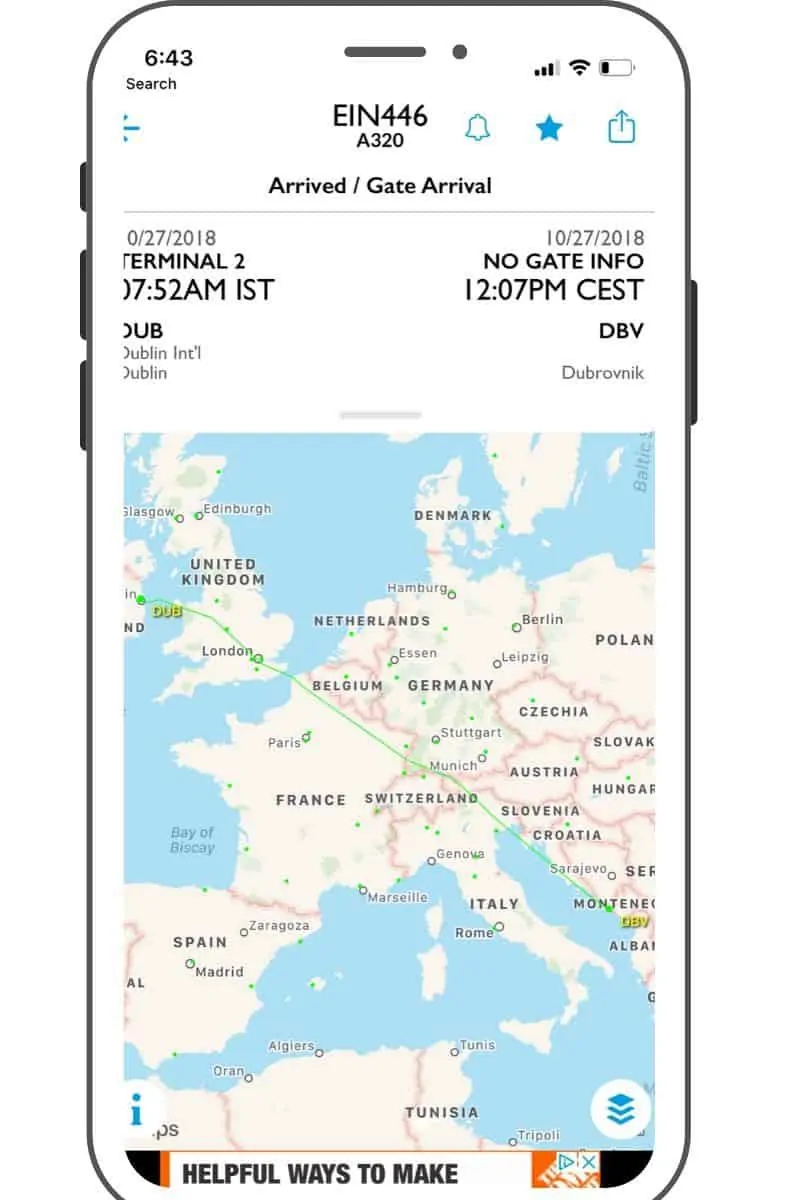 The website and app allows you to track your flight (or the flights of loved ones) in real time. It'll also keep you up to date on important info, like whether the incoming flight is delayed, or if the flight had to be rerouted for any reason.
60. Invest in a good adapter/plug converter.
I like this one because it works in all countries, and also has USB ports.
61. Book tours and experiences through AirBnB.
Did you know that Airbnb can be a great resource for things other than accommodations? Over the past few years, the company has expanded to include incredible local experiences and tours.
62. Wear a travel outfit that looks super chic—but it secretly comfortable.
I have an entire blog post dedicated to this (linked above!) but in a nutshell, I'm a big fan of looking put together when I travel. However, I also wouldn't be caught dead wearing jeans on a long flight.
There are a few little tricks I use to turn otherwise sloppy outfits into something that you'd be confident walking into a luxury hotel wearing.
The most important thing? A lightweight fringed scarf (which doubles as a blanket mid-flight) and a leather or denim jacket.
63. Invest in a great pair of noise-cancelling headphones.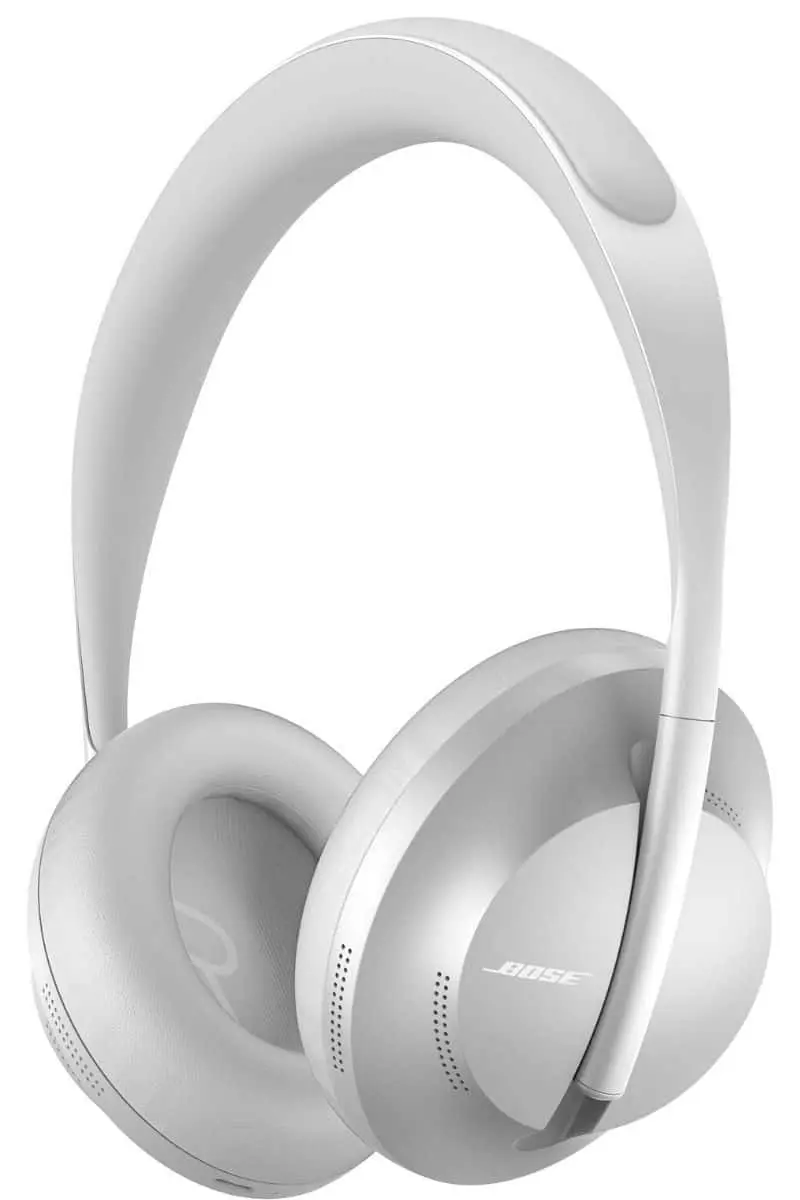 We've all been stuck next to a screaming child or chronic sniffler on long flights, and the experience can truly get your trip started off on the wrong foot.
I truly can not tell you how much of a game-changer noise-cancelling headphones are. While everyone else around you is having a meltdown over not being able to sleep or concentrate, you'll be in your own little zen world.
Pro tip: if you don't want to spring for the fanciest new technology, buy older or discontinued models of Bose headphones on Amazon for a fraction of the price for latest models.
64. Leverage special occasions for perks.
Celebrating a big anniversary or planning a trip for your honeymoon? Be sure to let the hotel know in advance. When my husband and I went to Thailand and the Maldives for our honeymoon, we mentioned it to each property that we booked, and ended up with upgrades, bottles of champagne sent to the room, and other extra special perks from hotel staff.
65. Use your hotel's shower cap to protect your toiletries from exploding.
Nervous about your liquids exploding in your toiletry bag on the flight home? Wrap them in the shower cap provided to you in the room. And if you don't have a shower cap: use the plastic liner that comes with your ice bucket.
66. Download the Revolut app.
The popular European banking app recently launched in the U.S., and it allows users to exchange currencies from 55,000+ surcharge-free ATMs nationwide.
67. Seek itinerary inspiration through social media.
Use Instagram to inspire your itinerary. Browse through hashtags and geotags to see where people took gorgeous photos—and then go to those places! Alternatively, you can google things like "The Best Instagram Spots in NYC" or "The Most Instagrammable Places in London" for fun ideas.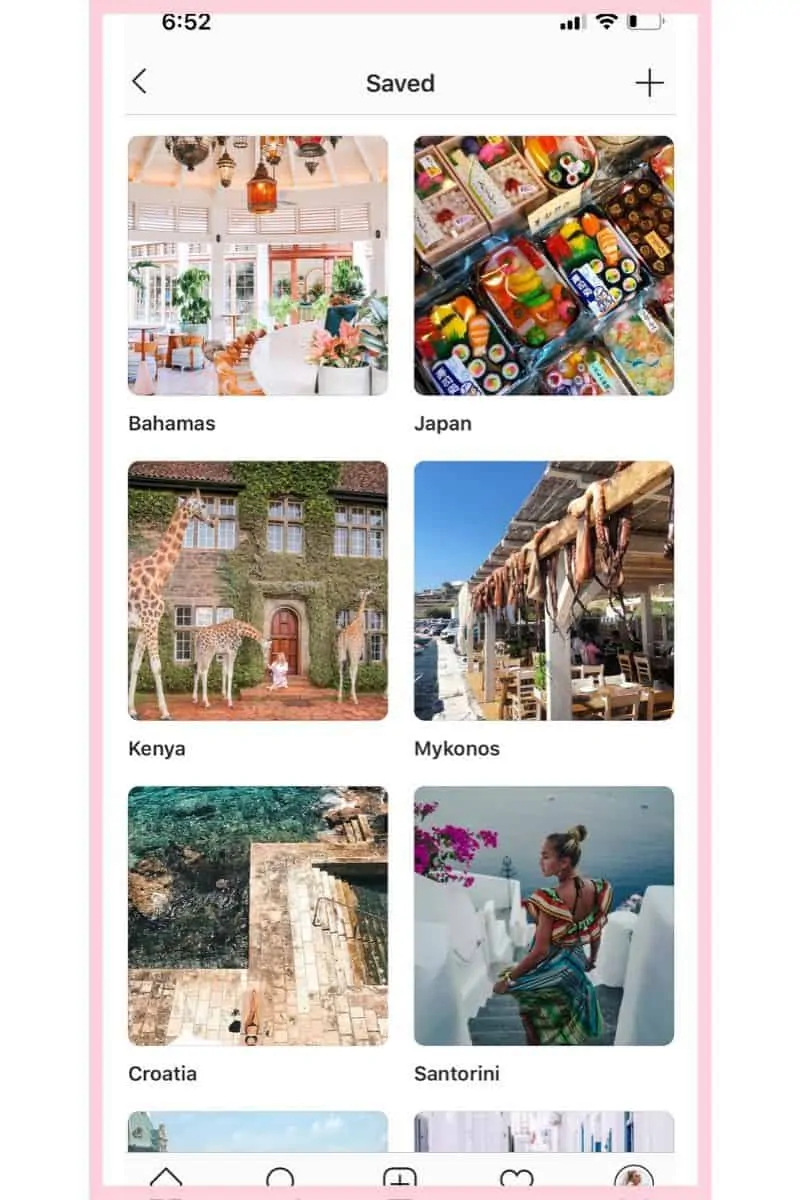 68. Use AirHelp to get compensated for flight delays or cancelled flights.
We've all been there: you miss a connection because of a delayed flight, or your flight get inexplicably cancelled, and you know that the airline has to owe you some kind of compensation.
The problem is that actually getting what you're owed can be a logistical nightmare that involves long wait times, endless phone calls, and unanswered emails. AirHelp essentially plays the middleman by acting on your behalf.
They do charge a fee (which is a percentage of what you're ultimately compensated) but as someone who has used the service successfully, I can say that it is VERY much worth saving you the headache.
Plus, Airhelp knows exactly what you're entitled to based on their expertise, so you'll often end up getting more than you would have received on your own.
69. Do your souvenir research ahead of a trip.
One thing I always do before I travel is a bit of research about the most unique gifts and souvenirs to buy in the destination I'm heading to. Looking this up ahead of time might top you off to some really cool new boutiques, and it will also guarantee that you don't end up at an airport gift shop wasting your money on a meaningless memento.
For example, this list of the best things to buy in Paris contains a ton of "hidden gems" within the city you might never have known about otherwise. There's also something extremely satisfying about going on the hunt for a specific unique item—and then finding it!
70. Keep a note in your phone filled with travel quotes.
For those times that you desperately want to post an Instagram photo, but you're at a loss for a caption.
---
Did you find this list helpful? Are there any travel hacks you love that I didn't include? Drop them in the comments below!
Thank you to Nicole Cueto aka @TheCubanCarrie for her contributions to this piece!
Pin this post for later: