I don't know a gal who doesn't love shoes. From white sneakers and slip-ons to cozy booties and stylish heels, a closet full of shoes is a unique form of happiness that is hard to explain.
While I have my go-to shoes for everyday wear (white sneakers are the MVP), there's something a bit tricky about picking shoes to wear while traveling.
You want to go with a pair that are comfortable and that can easily match the outfits you packed. Plus, if you're traveling abroad or visiting a big city, then you'll need shoes that are comfortable enough to walk a lot in.
Whether you're looking for a quality pair of sneakers to wear at the airport or some trusted flats to sport in Europe, these are the best travel shoes for women.

Veja V-12 Sneaker
Vejas seem to be the "it" sneaker these days — which is why they're so hard to find in the right size. They do require some breaking in, so just be sure to wear them before you head on a trip so you know if you like the fit. One of my followers said she walked 10-15 miles per day in these.
Golden Goose Low Top Sneaker
If you haven't jumped on board with the Golden Goose trend yet, you're missing out. I'd highly recommend them for everyday wear — and travel is no exception. Not only are they comfy enough to wear while walking a lot, but they also go with everything.
Allbirds Tree Skippers
Allbirds came highly recommended in my Facebook group when I asked for ideas on the best travel shoes. The verdict on this specific pair? "A more comfortable white tennis shoe doesn't exist."
The Swift by Birdies
One #SilbSquad member said she wore these slip on shoes all over Europe and they really impressed her. Another group member chimed in with, "I second this. I wore this exact pair in Paris for a week and pounded the pavement as a tourist." They run true to size.
Vans Ward Lo Sneaker
Vans are a tried and true sneaker brand for comfort, style, and durability. While they used to give off middle school vibes, they've definitely had a comeback in recent years. These are undeniably comfortable for wearing when you're on your feet all day (aka the perfect tourist shoes.)
Tretorn Canvas Sneakers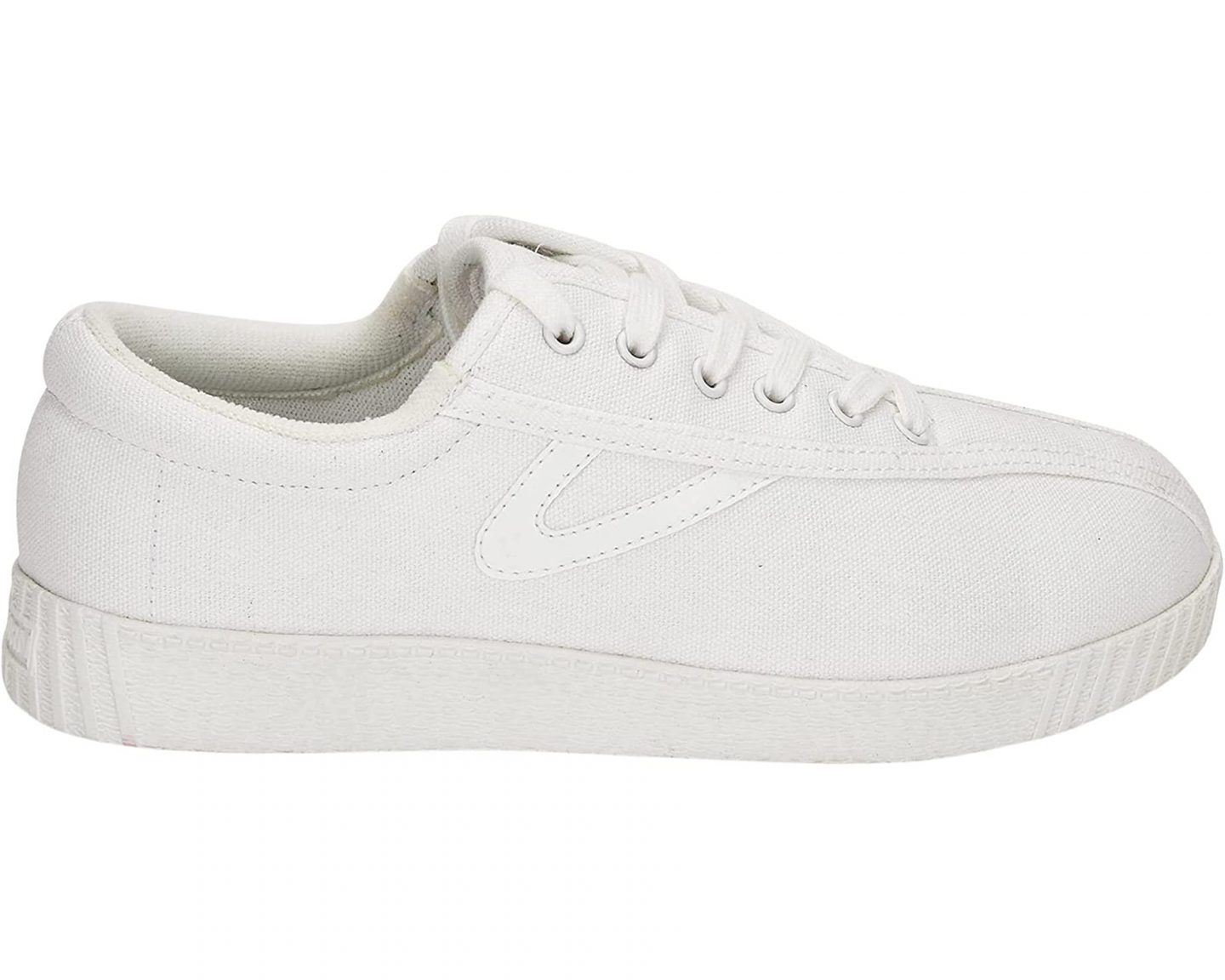 These are essentially the definition of a great travel shoe — cute, comfortable, and lightweight. Another perk is that they wash really well. One review from a #SilbSquad member: "If they get stinky I bring them in the shower with me when traveling."
The Roger Sneaker
These were another popular suggestion. I'll let this review speak for itself: "I have several pairs of sneakers from this brand and they are very comfortable, the most lightweight, and supportive. Most recently, I took these On Rogers on a month long trip."
Sam Edelman Ethyl Sneaker
These are consistent top sellers from my white sneaker post. They're surprisingly lightweight yet supportive—and they're under $75. I'm kind of loving this light pink design they recently came out with.
Athleta Saysh One Sneaker
Athleta is known for their comfortable athleisure but their sneakers are definitely underrated. These have such great reviews and would be perfect for a trip that requires anything active.
Birdies Starling Flats
I've written about these cushioned flats before because they truly are an all star if you have to be on your feet but you want to look cute. I own four pairs and couldn't vouch for them more. I love that they come in so many different colors.
Birkenstock Soft Slides
These are the OG comfort shoes and they just so happen to be ideal for summer travel. Even if you don't like wearing open-toed shoes at the airport, these are great for throwing in your suitcase for warm weather trips.
Hadley Chelsea Boots
Looking for comfortable shoes to wear while traveling in the winter? One #SilbSquad member gave these a glowing review:
"I have some issues with plantar fasciitis but wanted an affordable cute boot that I could do lots of walking in for my European Christmas market trip. I got these and they were amazing. They run a little narrow but I stretched them out with thick socks and a hairdryer before my trip and walked 20k+ steps a day in them with no issues."

Stylish Travel Shoe Inspo