If there's one place I'd consider moving outside of New York, it would undoubtedly be Miami. I love everything about it—the food, the culture, the people, the bars, the hotels, and ugh…THE WEATHER! Don't even get me started on the weather.
Even if you're not a beach person (judging you), there are still SO many things to do in Miami Beach, and Miami as a whole. Trust me. I've put together an exhaustive list of my favorite places—some are new, some are mainstays.

Here's what the guide covers. You can skip to each individual section by clicking on the links below:
Whether you're going for a romantic weekend with a significant other, planning a girls trip, bachelorette party, or doing a family vacation, consider this list your bible.
---
THE BEST THINGS TO DO IN MIAMI
1. Eat your heart out at Politan Row Food Hall.
Looking for an escape from the sun? Here's the perfect spot. Located in the Design District, this gourmet culinary destination features stalls from a dozen local chefs and a wide array of cuisines.
There's also a massive bar and plenty of open seating. You'll find everything from craft tacos and ceviche, to Vietnamese street food.
2. Have an Instagrammable cup of coffee at the Dior Café.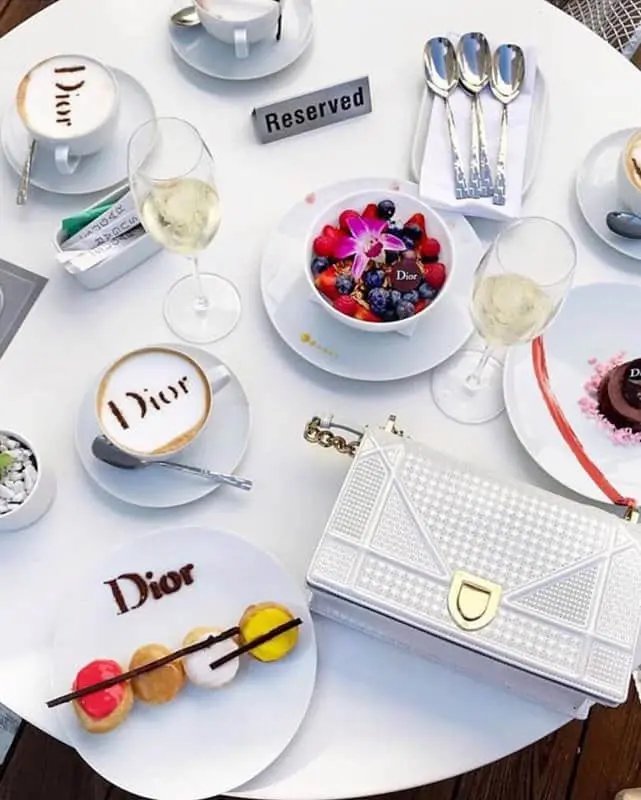 Located on the third floor garden terrace of the Dior store in the Design District, this uber-extra cafe offers a small menu of coffee, tea, juices, and pastries.
3. Hit the beach.
Sure, this is the most obvious recommendation for a guide to the best things to do in Miami, but it is an absolute must. For the quintessential experience, you'll want to head to South Beach.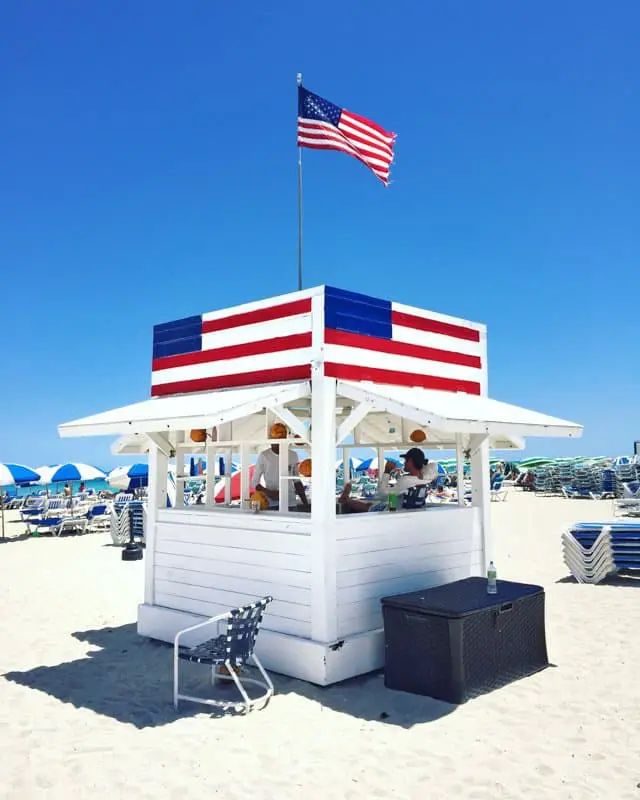 But if you'd prefer an area that's slightly more low key, mid-beach (between 21st and 45th streets) is where it's at.
4. Stroll through the Wynwood Walls.
The most photo-worthy place in all of Miami! Be sure to grab a coffee at Panther coffee, a favored local coffeehouse.
Wynwood Walls, photo: @nyclovesnyc
While you're in Wynwood, this is a must. The open-air space offers customizable denim (jeans, shorts, jackets and more) and is operating until May.
If you're waiting for your items to be customized, you can grab a coffee or drink at the bar on-site.
6. Spend all of your money at the Bal Harbour Shops.
Every top designer imaginable has a storefront in the Bal Harbour shops. Think Chanel, Celine, Dior, Fendi, Gucci, Jimmy Choo and more.
If you're looking for a bite to eat while you're here, Makoto is among the best. (More restaurant recommendations below!)
7. Take an Art Deco walking tour of South Beach.
I haven't personally done this yet, but TripAdvisor has reviews of a few different tours to choose from that look great.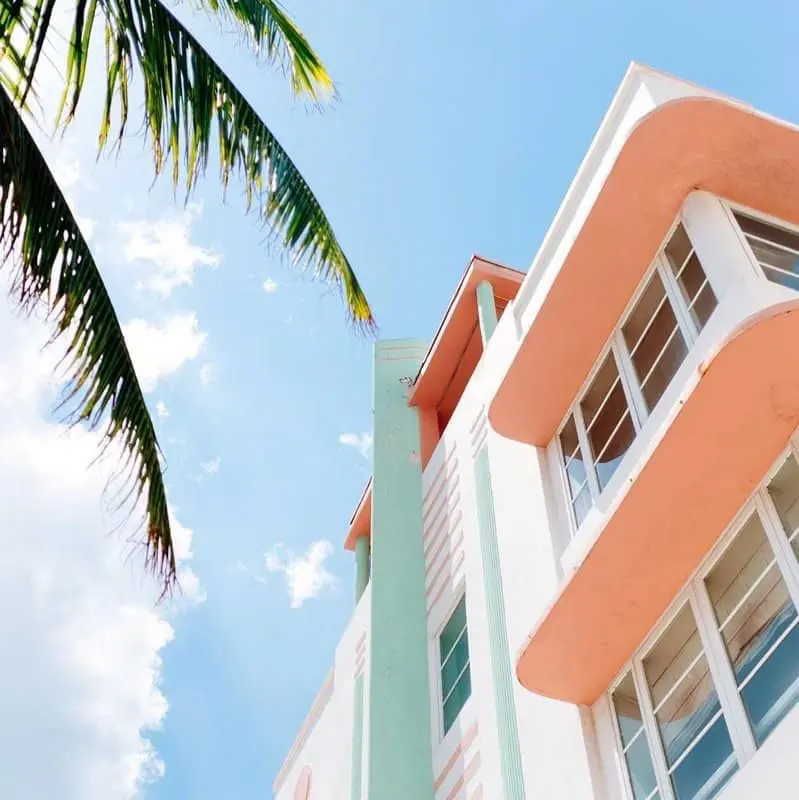 8. Get cultured at the Perez Art Museum Miami (aka PAMM).
The modern and contemporary art museum features exhibits from the 20th and 21st centuries.
9. Book a cabana at Tidal Cove water park.
The newly-opened Tidal Cove at Turnberry Isle Resort—which is technically in Aventura, just north of Miami, but still worth mentioning—manages to offer an experience that's enjoyable for kids and adults.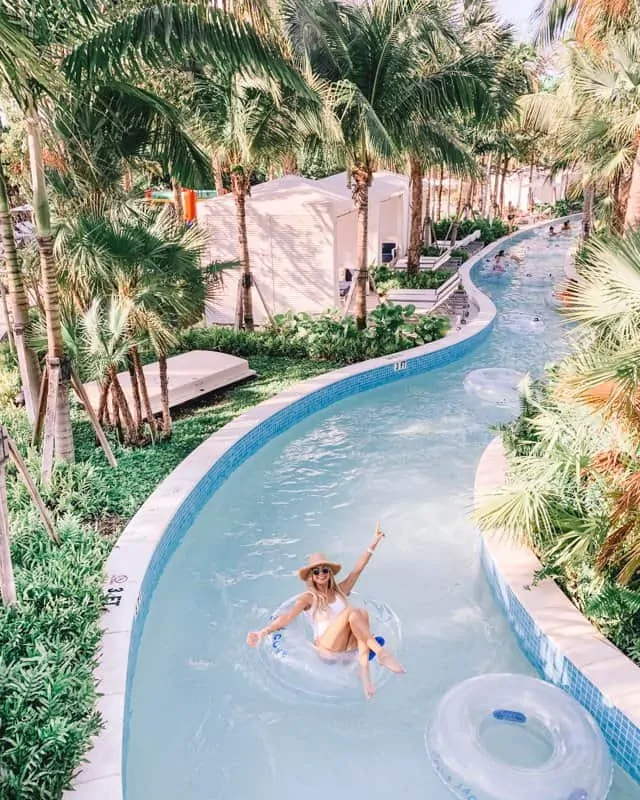 A glass of rosé while floating in the lazy river? Don't mind if I do. You can book one of their cabanas for a bit more privacy, or purchase a general admission day pass for access to everything in the park.
Day passes are $105 per person on the weekends.
10. Channel your inner science nerd at The Frost Museum of Science.
A great place for kids and adults alike, the museum has a planetarium, and aquarium, and so much more. It's one of my top suggestions for the best things to do in Miami Beach when it rains!
11. Get a massage at The Standard Spa, arguably Miami Beach's best.
Open to both hotel guests and non-hotel guests, the spa is described as "part recovery center, part hydrotherapy playground, part new-age ashram."
Book an appointment here and you'll have plenty to choose from, including a Turkish-style hammam, an aroma steam room, a Roman waterfall hot tub, a Finnish sauna, an arctic plunge, treatment baths, a mud lounge, and an infinity pool.
12. Wander around the Miami Design District.
The ritzy shopping destination is home to art galleries, boutiques, incredible architecture, and fab outdoor restaurants, including the Dior Café (see above!)
13. Explore Luna Park, an Italian mecca in Brickell.
This 40,000-square-foot food hall pays homage to authentic Italian cuisine, and will make you feel as if you've been transported straight to Italy. Here, you'll find restaurants, cafes, an Italian markets, bars, and more.
14. Regret all of your life decisions at the SLS's Hyde Beach pool party
It's a wild day party complete with bottle service, smoke machines, DJs, and a guaranteed next-day hangover. This is only advisable for bachelor/ette parties or those under the age of, like, 35.
15. Embrace Cuban culture (and cuisine) in Little Havana.
You'd be remiss if you didn't get a Cubano sandwich and cuban coffee at Islas Canarias, a family-owned restaurant that opened in 1977. The late Anthony Bourdain famously visited on an episode of Parts Unknown.
The iconic gathering of the world's top chefs and restauranteurs takes place each year in late February. It's a four-day extravaganza filled with masterclasses, private dinners, parties, demos, events, and tastings.
If you're a foodie and wine-lover, it is 100% a bucket-list worthy experience. I've been twice and would highly recommend it.
Because hotels tend to book up fast and rates increase due to high demand, I would suggest looking into accommodations at least 6 months in advance.
---
Pro Tip: Use this Google Map hack to keep track of all the places you'd like to visit on your trip.
---
THE BEST RESTAURANTS IN MIAMI
Hiden
If you're looking for a knock-your-socks-off, once-in-a-lifetime dining experience in Miami, you'll find it at Hiden—if you can get a reservation.
The Japanese omakase restaurant is located in the back of a Wynwood taco joint, where there are only 8 seats total. You'll experience seven to eight courses that the chef prepares right in front of you, and when I say that the sushi was even better than I had in Tokyo…I'm not exaggerating.
Joe's Stone Crab
If you were to ask a local which restaurant best represents classic Miami, they would say Joe's. It's an institution.
The place has been around since 1913 and eating there will transport you to another era—servers wear suit jackets and bow-ties, and the whole thing is like a theatrical performance.
And the best part? It's not stuffy in the least. Plus, you'll probably run in to a celebrity or two (celebs, athletes, and politicians always hang out here.) They don't take reservations so prepare to wait. Believe me, the experience is worth it.


Mandolin Miami
Mind-blowing Mediterranean in the Design District. (Omg my mouth is watering just thinking about the dips. I die for a dip, as you know.)
Go for lunch so you can take advantage of the beautiful outdoor seating—the atmosphere will make you feel like you're in the middle of Greece.
Pro tip: after lunch, pop into Mrs. Mandolin down the block. It's a shop owned by the restaurant and has the most insanely curated selection of home decor, accessories, and more.


Makoto
It's in Bal Harbour (not South Beach, where I usually suggest staying) but if you want really good, fancy sushi and Japanese food, you go to Makoto.
Leynia
Located in The Delano hotel, the buzzy restaurant has a unique menu that combines Argentinian cuisine cooked on an open flame, with authentic Japanese flavors. We ate here on a recent visit and it was my favorite meal of the trip.
I loved the atmosphere (we ate at a table outside) and the food was top notch. If you go, be sure to order the "Anana Al Asador" cocktail, as well as the Truffle Tuna Pizza and the Baked Crab Hand roll.
Big Pink
A classic greasy spoon diner that is a GODSEND for a hangover. Also: they deliver.
Seawell Fish 'n Oyster
Fairly new to the Miami restaurant scene, this modern American seafood spot with outdoor seating was a favorite from my recent trip. Among their top-rated dishes? The "Everything Monkey Bread," oysters, and the lobster roll.
Prime 112
A fun and sceney steakhouse. Bougie would be the operative word here.


KYU
Amazing Asian fusion cuisine in Wynwood, which is the hip art district—very trendy, buzzy spot.


Blue Tree
Fab health food; smoothies & acai bowls in Brickell.


Under the Mango Tree
This place was recommended to me by several people who touted it for having the "best acai bowls in the world." They weren't lying.
The health-centric menu features every type of bowl imaginable, as well as fresh juices, smoothies, and small bites.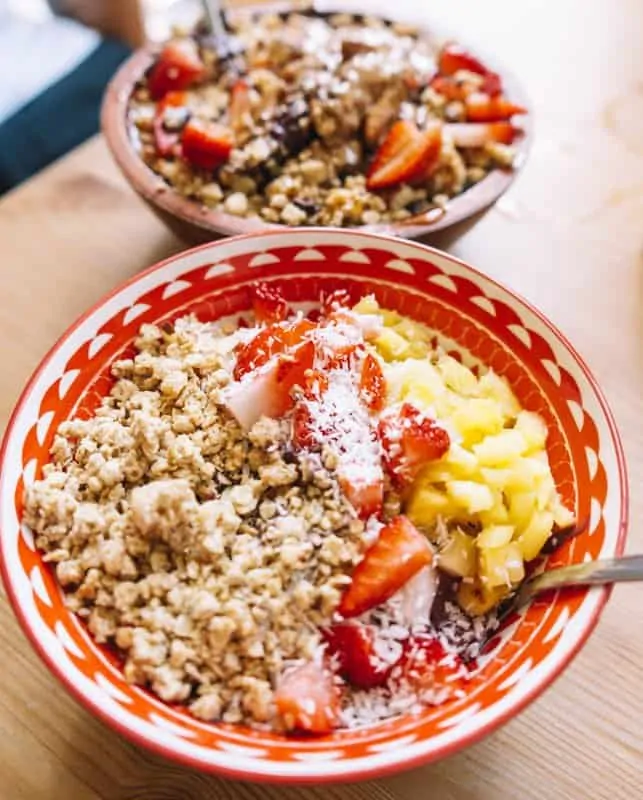 Planta
A plant-based hotspot from Miami nightlife impresario David Grutman (he owns LIV nightclub.)


Jaya at The Setai
Fancy Thai food; one of the best meals I've ever had.


Komodo
If you're looking for a dining experience that also feels like a night out, go to Komodo. It's a three-story restaurant and lounge in Brickell that's perfect for a big group of girlfriends or guys.
The people watching is, shall I say….next level. And so is the food. Fancy Southeast Asian cuisine and fab cocktails.
Naiyara
Cute Thai street food-inspired spot with great cocktails.


Swan
I haven't been here yet, but apparently it's the hottest new kid on the block. It's located in the Design District (which you should spend time hanging around, if you haven't).
The food is described as "modern European" and—fun fact!—Pharell is a part owner. Celeb hangout with stunning Instagrammable interiors.


Pub Belly
Popular sushi joint with a vast Asian-inspired menu.


Matador Room
I love Matador Room at The Edition for brunch or dinner. It's one of Jean-Georges Vongerichten's restos and technically described as Latin/Caribbean, but it's really a little bit of everything. Order the avocado pizza.


Cecconi's at Soho House
They put on the most INSANE Sunday brunch spread—the fanciest buffet you've ever seen. Breakfast food, sushi, oysters, pasta…you name it.
They even walk around with a Bloody Mary cart and make tableside Bloody Marys.


Upland
So I've actually never been here because we have one in New York which I've been to, but everyone in Miami loves it. It's a brasserie-style dining room with Italian/California-inspired cuisine.


Chotto Matte
I ate here on a recent trip to Miami and it was absolutely mind-blowing. Japanese-Peruvian style cuisine (which is such an incredible combo.) Here's what to order: truffle spinach salad, tuna tartar, pollo den miso, shishito peppers.
---
THE BEST BARS IN MIAMI
Juvia
Nothing screams trendy like a bar located on top of a "designer" parking garage, am I right? I'm a big fan of Juvia.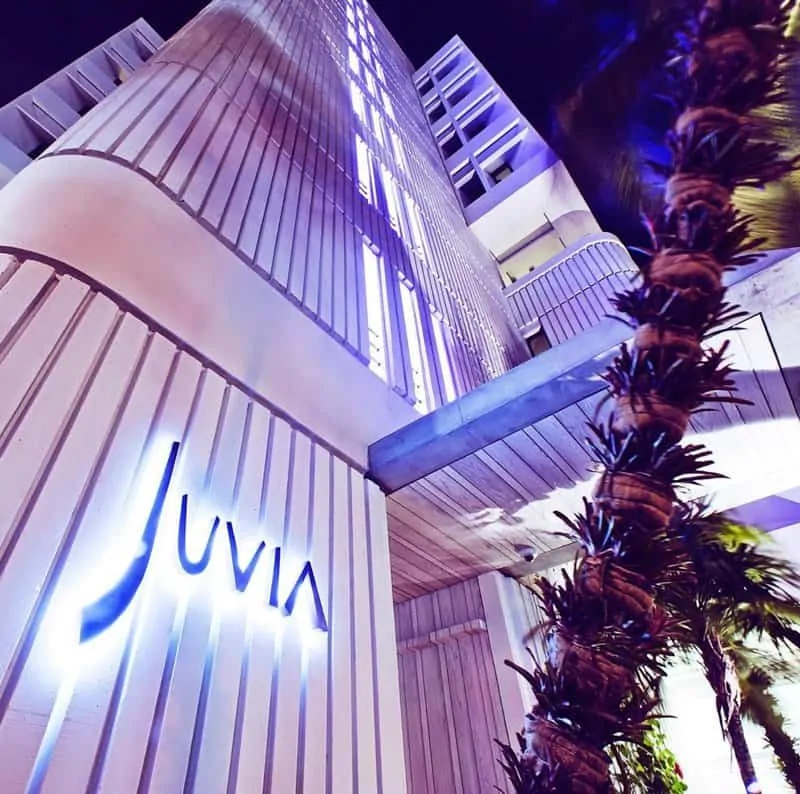 It has a gorgeous outdoor rooftop space, and the inside bar is fantastic as well. I'd also recommend it for dinner. Gorgeous views and chic crowd.

Broken Shaker
Trendy hipster outdoor spot at the Freehand Hotel. String lights, couches, etc. You get the vibe.
The Delano
I don't care what anyone says about the Delano—it will always be my favorite place for night time cocktail. There are definitely newer, "cooler" places, but I love the Delano because it is SO quintessentially Miami.
The billowy white curtains, the massive pool, the girls stumbling around in 7-inch heels they can barely walk in. UGH. It's perfect. Walk through the lobby of the hotel, then head outside past the restaurant to the pool bar.
The Delano Beach Club is also fun during the day, but I prefer it for after-dinner drinks.


Sweet Liberty
A laid-back bar in the heart of South Beach that has an awesome oysters and rosé happy hour.
Casa Florida
I haven't been, but looks super cute & instagrammy.


---
THE BEST HOTELS IN MIAMI
1 Hotel
If you have an unlimited budget, this is where you should stay. The rooms are huge and gorgeous, and there's so much to do in the hotel itself, you literally don't have to leave.
The rooftop pool is my favorite in all of Miami. It's epic.
Fun fact: the 1 Hotel serves as the inspiration behind the soy candle brand Hotel Lobby Candle.
The Setai
Another one I'd recommend if you have an unlimited budget. It's a bit more subdued—a calmer, more zen alternative to the 1 Hotel. Good for a romantic couples' getaway.
The Edition
CHIC CHIC CHIC. I just stayed here and absolutely loved it. Everything about it is chic. Plus, if you're a Starwood/Marriott loyalist, you can use your points here.


The Mondrian
Not on the beach, but it's a fun, young scene and slightly more reasonable price-wise than some of the others on this list. Would be good for a bachelor/bachelorette party.
The Plymouth
We discovered this gem last year and I can't say enough great things about it. It's a super intimate boutique hotel that I would describe as "under-the-radar affordable luxury."
Since it's not directly on the beach, the price is lower than a lot of its luxury competitors—but the quality and service is equivalent. There's also a Blue Ribbon Sushi at the hotel, which is another plus in my book.
Me being my diva self poolside at The Plymouth.

The Cadillac Hotel & Beach Club
Ok so The Cadillac is new to my list, and I've decided to include it after my recent stay there. I can't recommend it enough. Amazing location in Mid-Beach (particularly if you plan to explore Wynwood or the Design District at all since it's close to the Causeway.)
Service was phenomenal and it has that luxury hotel sophistication (including fancy hotel lobby scent) but tends to be more reasonably priced than places like the 1 Hotel or Setai.
They have Peleton bikes in the gym, which was a nice bonus. It also manages to be kid-friendly and adult-friendly at the same time, since there's a kids pool and then a section reserved for adults only.
Another bonus: it's part of Marriott, so if you have points, you can use them here.
The Savoy Hotel & Beach Club
I just returned from a three-night stay at The Savoy, which recently underwent a multi-million-dollar renovation, and I thought it was fabulous. Design-wise, it is officially one of my new favorite hotels in Miami.
It's located South of Fifth (or "SoFi" as the locals call it) and it's right on the beach. One thing I appreciated about the hotel was that, with only 30 rooms, it feel super intimate. By the end of my stay, all of the staff were greeting me by name.
Pro Tip: non-hotel guests can purchase a day pass to use the hotel's beach club and facilities. It's $75+tax/pp and grants you access to beach chairs and two pools. Kids between the ages of 3-12 are $32.50.
Fontainebleau
Another one that I love for a big group. I stayed here for a girlfriend's bachelorette party and it was perfect.
A ton of food options, a great pool, and best of all—one of Miami's best clubs (LIV) is in the hotel, so you can stumble home without having to get an Uber.
I would consider the Fontainebleau to be more of a party hotel, so it might not be the best option for families with young children.
The Shore Club
The rooms here could use a refresh but I still love the overall scene/pool/restaurants. It has an amazing location, great beach access, and a cool clientele—which makes it surprising that you can sometimes get super cheap nightly rates.
The last time we stayed here I booked on HotelTonight, and I think we paid $200, which is almost unheard of. (Speaking of HotelTonight…check out my list of 8 Travel Apps I Use to Jetset Like a Boss.)
Soho House
Fun fact: did you know you can actually stay here if you're not a member? (Members get preferred rates, but non-members can still book.)

The Standard
I personally haven't stayed here but I know a lot of people who swear by it. Also has a great spa and bar/restaurant — The Lido. Good vibes, better views.

The W South Beach
I haven't stayed here in a while so I'm not sure what it's like these days, but I'd say it's a safe luxury option (and also good for Starwood members.)
Keep in mind there are two W's—one on the beach in South Beach, and another in Brickell. I would only recommend the Brickell location if you're going for business.

Faena
If your personal brand is EXTRA, then you would be making a big mistake—huge—by not staying at Faena.
It's the hotel that you've seen all over Instagram because of there's an enormous golden wooly mammoth encased in glass smack in the middle of the pool area.
In my experience, the crowd here skews older (and rich! naturally), which can be either a good or bad thing, depending on what vibe you're going for. The rooms are decadent and stunning, and the service is fantastic.
HOTELS IN BAL HARBOUR + SURFSIDE + KEY BISCAYNE + AVENTURA
St Regis Bal Harbour:
A great "get away from it all" option that's a bit further north, away from the hustle and bustle. Really good for families, and has an incredible beach, plus the classic over-the-top St. Regis service (aka personal butlers for every guest.)
I love this place so much that I recently spent three full days here without ever leaving the property. (You can read about the full experience here.)

Turnberry Isle Resort & Spa:
If you're looking for a family-friendly resort that also has plenty to enjoy for adults, Turnberry Isle is where you'll find it.
Spread across 300 acres of lush greenery, the hotel has a on-site golf course, multiple restaurants (including Michael Mina's Bourbon Steak), a fantastic spa, and even a Starbucks.
As mentioned earlier in this post, Turnberry recently added a waterpark to the property, which makes it a DREAM for parents who want to keep their kids entertained. And the best part? Because the waterpark is so close to the hotel entrance, you could literally go from your room to the lazy river in under 10 minutes.
It's also a great option for Marriott Bonvoy loyalists, since the resort is a JW Marriott.
Four Seasons Hotel at the Surf Club:
I love Surfside for couples, minimooners, or babymooners. I saw so many cute pregnant women when I was there, I felt like I was going to get knocked up by association.
It's super chic and has one of the BEST hotel bars I've been to in a while. It's also home to an outpost of the famed Positano restaurant Le Sireneuse. (Check out my No-BS Guide to Positano here.)

Ritz Carlton Key Biscayne:
Adding this to the list after my most recent stay here because it was fabulous. The property itself is massive, has an incredible beach, and—as is the case with most Ritz's—the service was top notch.
Ordinarily I wouldn't have thought to stay in Key Biscayne, but if you're looking to relax on the beach at a fab hotel and not hit the town in South Beach, it's perfect.
The crowd is a mix of families and couples, and there's a LOT to do for kids (i.e. outdoor movie nights, water gun fights, organized games on the lawn), so I'd definitely recommend it if you have young children.
Even if you don't have kids, there's an adults-only pool and bar area that's super chill. All in all, I thought the property was awesome and wish I'd had more time there.
---
Pin this post for later: