When it came time to design our bedroom, I knew I wanted a space that felt like a serene retreat—and I couldn't stop thinking about the breezy, boho aesthetic of hotels in Tulum.
It's funny how personal style changes so much over time. I used to hate anything "boho."
In my last apartment, the vibe was over-the-top GLAM. Nearly every piece of furniture I owned was mirrored. I had a velvet tufted bed with matching velvet curtains, a lucite/acrylic vanity, and a massive, colorful pop art painting as the focal point of the bedroom. It was all…very extra.
Then, when we moved into our current apartment, I decided I wanted to go in the complete opposite direction. Lots of white, lots of neutrals, very understated. (Except, of course, for our Beverly Hills Hotel-inspired office.)
Throughout the design process, our interior designer Megan Hopp was integral in the decision-making. She came up with SO many cool ideas and space-saving tips that I never would have considered.
I'm excited to share our space—and lots of tips from Megan—below!
Check out Part 1 of my apartment tour (our home office) here.
---
Tulum-Inspired Bedroom Tour
Wood shelves with baskets for extra storage.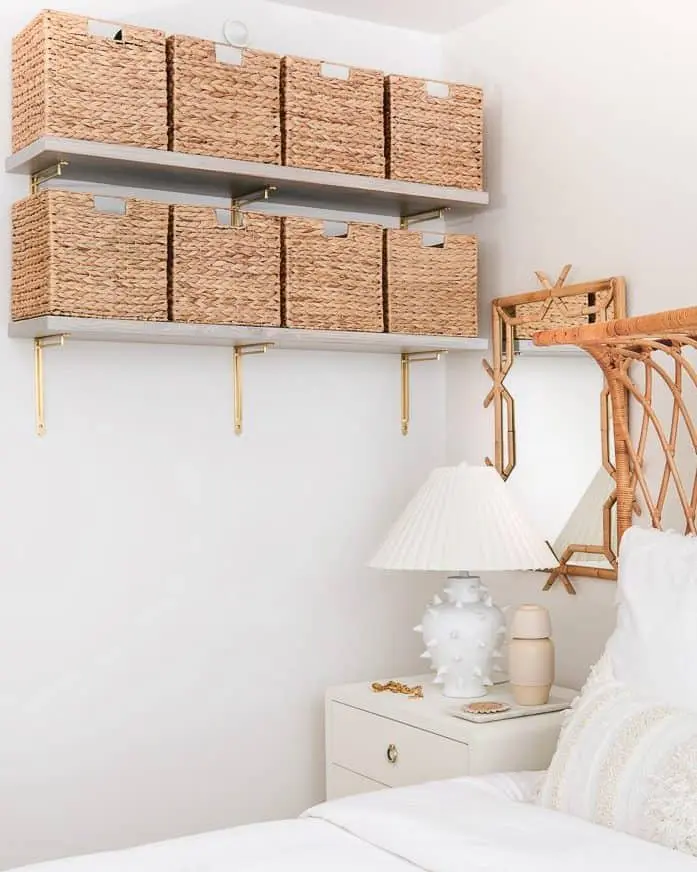 Wood Shelves: Etsy
Gold Brackets: Rejuvenation
Woven Baskets: Container Store
Bamboo Mirror: Serena & Lily
Throw Pillow: Anthropologie
Duvet Cover & Euro Shams: Anthropologie
We were racking our brains trying to find a few extra spots to store things like sandals, handbags, and other misc. items. Megan suggested getting floating wooden shelves, and styling them with these woven baskets.
It ended up being the perfect solution, because it's nice to look at, but also gives us ample space. (Plus: the baskets were SO cheap! We also have matching baskets that slide underneath our bed.)
Rattan Bamboo Bedframe
Bamboo bedframe: Anthropologie
Duvet Cover & Euro Shams: Anthropologie
Throw Pillow: Anthropologie
This bed frame was definitely a bold move, but I'm so glad we decided to go with it.
Full-length mirror with an overhead "museum light."
Full-Length Mirror: Restoration Hardware Teen
Museum Light: Restoration Hardware
Bamboo Stool: Serena & Lily
Gold Mules: Loeffler Randall
Book Tote: Dior (similar)

I really wanted a full-length mirror here, but it gets really dark in this corner by the afternoon, so Megan had the genius idea of installing a "museum light" on top of the mirror.
Our handyman connected it to a little remote that I use to turn the light on and off. It's perfect.
Interior designer tip: Restoration Hardware Teen (and even RH Baby) has furniture and decor that's a fraction of the price of regular RH, but the same quality.
Side tables in lieu of nightstands for extra storage.
Side Tables: Bungalow 5
Rug: Serena & Lily
Lamps: Bungalow 5
(this exact lamp is discontinued, but these are others from the same brand)
Lamp Shade: Lamps Plus
Planter: Williams Sonoma
Faux Palm Tree: CB2
Mirrors: Serena & Lily

Instead of getting traditional nightstands, we decided to get these side tables instead. They're HUGE and give us a ton of extra storage. We use them as extra dressers.
Bedside carafes add to the "hotel" vibe.
Marble Tray: Williams Sonoma
Carafe: (ours is sadly no longer available, but this one is pretty chic)
This was another fab idea from Megan. The bedside water carafes make us feel like we're staying in a hotel…and cut down on the number of glasses we bring (and leave) into the bedroom.
Textured white wallpaper to add extra dimension.
Wallpaper: Serena & Lily
Photos don't really do this wallpaper justice, but it's SO cool in person. The texture is almost like a grasscloth.
Two dressers pushed together to form an extra long furniture piece.
Dressers: RHTeen
Another genius Megan idea, and another RHTeen win!
Since we had a hard time finding one big dresser that was the right length for our wall, Megan suggested buying two of the same dresser and pushing them together to form one super long unit.
It worked like a charm, gave us a ton of storage, and looks like one piece. You'd never know they were separate.
Funky lamps with an even funkier lampshade.
Lamps: Bungalow 5 (this exact lamp is discontinued, but here are others from the same brand)
Lamp Shade: Lamps Plus
Custom-made vanity we mounted to the wall to save on space.
Light-Up Vanity Mirror: Glamcor (use LINDSAYSILB for 15% off)
Glass & Gold Vase: CB2
Sadly I can't link the vanity table because our handyman made it! Megan had suggested mounting it directly to the wall to save on space.
She also recommended doing a stool instead of a chair, because I'm able to tuck the stool under the vanity, which makes everything feel a bit more open.
Bamboo Stool: Serena & Lily
Light-Up Vanity Mirror: Glamcor (use LINDSAYSILB for 15% off)
Pampas Grass: Etsy (I get the "type 6" and highly recommend this specific seller)
Porcelain Planter: Williams Sonoma
Marble & Gold Canisters: CB2
Skinny White Vase: Crate & Barrel

DIY "Custom" Curtains
Sheer Linen Curtain Panels: RHTeen
Rug: Serena & Lily
Bone Inlay Tray: Etsy
Duvet: Anthropologie
For our living room and office we used The Shade Store for custom blinds (they were great), but in the bedroom we decided to go with a more budget-friendly option. We have a blackout roller shade underneath and really just wanted something simple and sheer to cover it.
In order to "DIY" the curtains, I bought sheer linen panels from RHTeen, and had this pinch pleat tape from Amazon sewed onto them by a seamstress. I then inserted these drapery hooks (also from Amazon) and hung them on the ceiling track slider.
The slider was already there from the previous owner, but if you wanted to have one installed, you can get it for under $100 on Amazon. The curtains definitely don't compare to The Shade Store ones in our other rooms, but they get the job done for a fraction of the price!
The Closet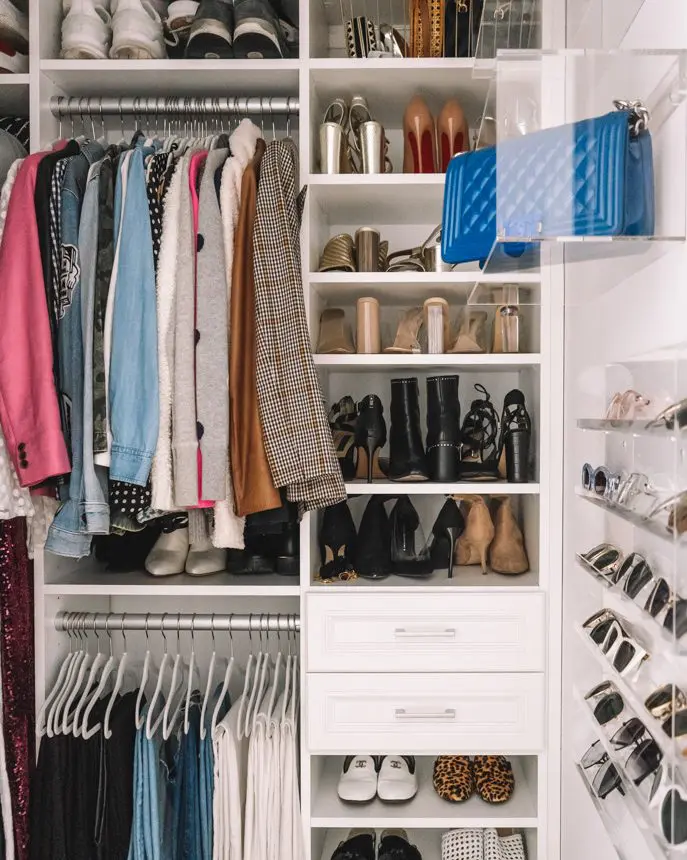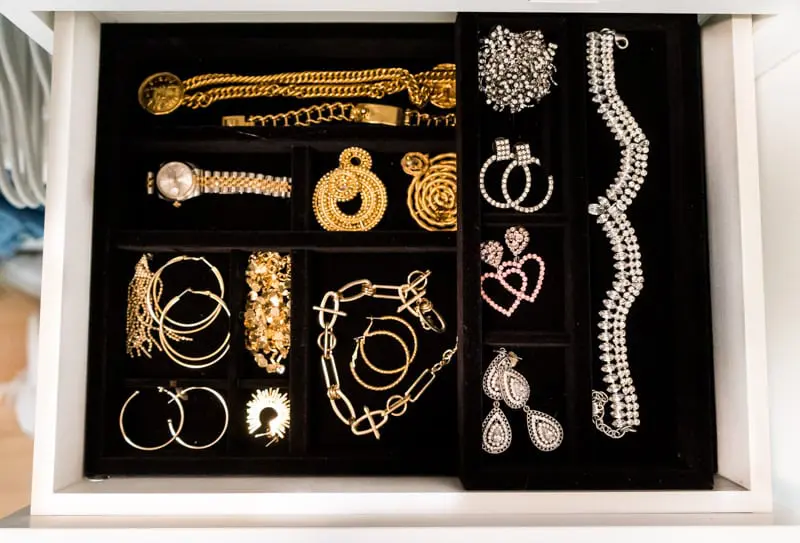 Acrylic Floating Shelf: CB2
Acrylic Sunglass Holder: Amazon
We used California Closets to design our walk-in, and I'm SO glad we did. I have a whole post about the experience that includes how much custom closets cost, as well as additional photos.
Looking for more home decor tips? Check out this post featuring our interior designer's top 15 affordable furniture recommendations.
FURNITURE & DECOR
The Mattress:
The Sheets:
The Duvet Insert:
The Duvet Cover: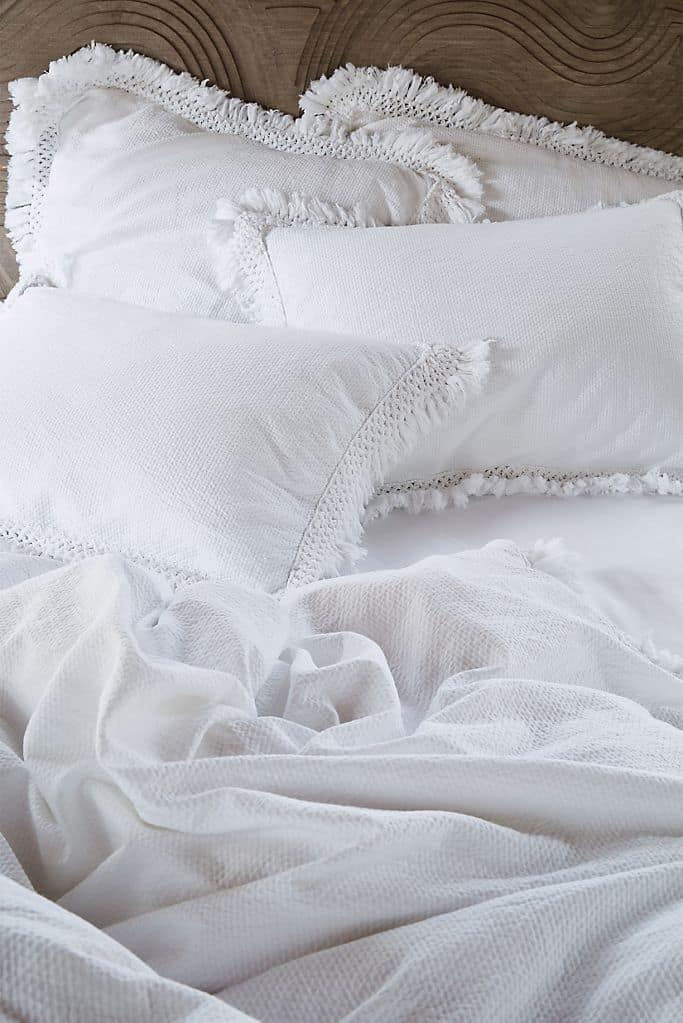 The Throw Pillows:
The Bedside Tables:
The Planter:
The Vanity Stool:
The Vanity Mirror:
The Dresser:
The Rug:
If you make a purchase through one of the links included in this post, I may make a small commission. As you know, I only feature products that I genuinely love.