You probably know you should be exfoliating at least once a week, but perhaps you're wondering: what does exfoliating do, exactly? Great question. Here's a little refresher on why it's important, how to exfoliate your face the right way, and a few of the best exfoliating products.
What is Exfoliation?
Let's start at the very beginning. What does exfoliating even mean? Think of it this way…
The next time you happen to walk past a bookshelf, take your finger and just run it along the shelf. Unless either you or someone else has just cleaned it, you're likely about to pick up some dust that has accumulated. Would it surprise you to know that the majority of that dust (around 90% in fact) is dead skin cell particles?
The truth is we all shed BILLIONS of skin cells from our bodies daily, and it is this very process that helps to keep our skin looking young, fresh, healthy and beautiful. 
But here's the bad news. None of us are getting any younger (sadly), and as we age that natural shedding process that kept us singing 'I woke up like this!' in our younger years will eventually begin to slow down, thanks to things like sun damage, genetics, oily/dry skin and skin disorders. 
This slowing down of the shedding process leaves us with more dead skin cells than we would like and can cause skin issues that we could do without—issues like the dreaded 'W' word and fine lines, clogged pores, blemishes and an uneven skin tone.
There is good news! You can give your skin a helping hand with the simple act of regular exfoliating.

---
---
Benefits of Exfoliating: What Does Exfoliating Do?
Regular exfoliating will not only remove those aforementioned dead skin cells, but will help to bring back that radiant, glowing and youthful complexion by increasing blood flow and collagen production.  Here are just some of the many benefits of exfoliating.
Removes dead skin cells
Helps prevent clogged pores
Eliminates dry, flaky patches
Creates more even skin tone
Fades acne scars and dark spots
Reduces redness
Brightens overall complexion
Allows products to better penetrate the skin
Increases collagen production
Creates a smoother canvas for makeup to be applied
---
Cleansing vs. Exfoliating: What's the Difference?
If you're wondering what the difference is between a cleanser and exfoliator, the explanation is actually quite simple.
Cleansing helps to remove things like dirt, sweat, pollutants, makeup, and bacteria off of the skin's surface.
Exfoliating goes one step further, by removing dead skin cells to make way for fresh, new skin cells
If you're wondering whether to cleanse or exfoliate first? The answer is cleanse first, exfoliate second. (Believe it or not, there is actually a wrong way and a right way to wash your face.)

---
How to Choose the Best Face Exfoliator

Choosing the best exfoliator for your skin type can be somewhat overwhelming – there are so many options available nowadays and it's hard to know what's what!
Browse websites like Dermstore and Sephora, and you'll find exfoliating toners, exfoliating scrubs, exfoliating cleansers, and more.
Some fall into the category of "physical exfoliants" while others are "chemical exfoliants." You'll also come across different ingredients: some products have alpha hydroxy acids, some have beta hydroxy acids, and some have both AHAs and BHAs! (And yes, there is a difference between AHAs and BHAs.)

The most important aspect of choosing the best exfoliant for your skin type is understanding the difference between them.
Best Physical Exfoliant: Dr. Lancer The Method: Polish
Best Physical Exfoliant for Sensitive Skin: Dermalogica Gentle MicroExfoliant
Best Overall Chemical Exfoliant: Dr. Dennis Gross Alpha Beta Exfoliating Peel Pads
Best Exfoliating Toner: Pixi by Petra Glow Tonic
Best Gel Exfoliant: Paula's Choice Skin Perfecting AHA Gel Exfoliant
Best Serum Exfoliant: Cosrx BHA Blackhead Power Liquid
Best Exfoliating Cleanser: Skinmedica AHA/BHA Exfoliating Cleanser
Best Exfoliating Mask: Drunk Elephant Sukari Babyfacial (for a full review, check out our Guide to the Best & Worst Drunk Elephant products)
---
Physical Exfoliators vs. Chemical Exfoliators: What's the Difference?

Physical Exfoliators
The old-school exfoliators. The manual kind that you can either achieve with a face cloth, brush or traditional exfoliators that contain small grains. (This dermatologist-formulated scrub is one of the absolute best.)
In the past, these often contained microbeads made of plastic, however this has since been banned in several countries.
These plastic microbeads have been replaced by natural exfoliates such as ground up almonds, sugar, sea salt, oatmeal and coconut husks. 
Try to avoid anything too abrasive as this might cause microtears to the skin. You can also leave this to a professional by booking a microdermabrasion appointment, or having a go at dermaplaning at home!
Both of these are considered methods of physical exfoliating.
The downside to this is that whilst you may see an immediate result with physical exfoliators, they only remove dead skin cells on the surface and are not as gentle or effective as chemical exfoliators. 
Chemical Exfoliators
The alternative to your good old-fashioned face scrub. Chemical exfoliants use acids to weaken the lipids (think of them like 'glue') that bond the epidermis (the upper layer of the skin), causing dead skin cells to loosen and slough off.
Chemical exfoliation goes deeper in the skin than a traditional scrub, encouraging healthy cell regeneration and producing the desired results with less problems (so long, microtearing!), as well as promoting firmness and leaving you with a bright, healthy glow. 
And this opens us up to a whole new world. Before deciding on your chemical exfoliator, it's important to know how to select the one that's right for your skin – and this is where AHA and BHA comes in. 
---
How to Exfoliate the Face
So now that we have everything else covered, we'll talk about how to exfoliate the face properly.
If you're using a physical exfoliant…
Start by removing your makeup and cleansing your face with a cleanser.
Place a quarter-sized drop of scrub (a.k.a. physical exfoliant) on your fingertips
Apply to the skin and gently massage in circular motions for 30 seconds to 1 minute, carefully avoiding the eye area
Rinse with warm water
Pat dry
If you exfoliate in the AM, follow with a Vitamin C serum, moisturizer, and SPF
If you exfoliate in the PM, follow with a moisturizing mask, rich night cream, and/or oil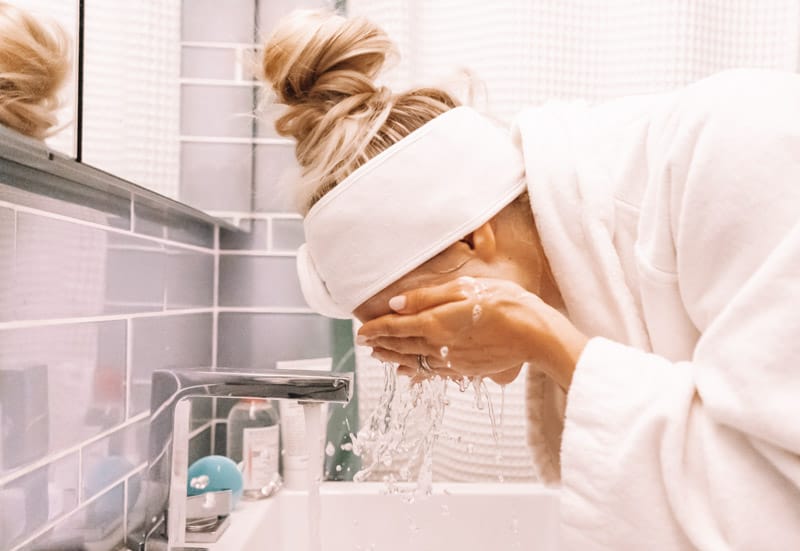 If you're using a chemical exfoliant…
Start by removing your makeup and cleansing your face with a cleanser.
Rinse with warm water
Pat dry
If your exfoliant is in the form of a pre-moistened pad, swipe the pad over your face and neck; do the same if you're using a exfoliating toner, exfoliating serum, or exfoliating mask
To ensure that the exfoliant is completely absorbed, allow it to dry for a few minutes before completing the rest of your skincare routine
If you exfoliate in the AM, follow with a Vitamin C serum, moisturizer, and SPF
If you exfoliate in the PM, follow with a moisturizing mask, rich night cream, and/or oil
---
Is It Better to Exfoliate at Night or in the Morning?
This is completely a personal preference and there's no right or wrong answer. That being said, here are a few things to consider before deciding whether to exfoliate at night or in the morning:
If you tend to experience redness or have super sensitive skin, avoid exfoliating at the same time you're using irritating products (such as retinols)
If you wear a lot of makeup, nighttime exfoliation might be a better option, as it helps to lift any remaining makeup particles post-cleansing
If you suffer from oily skin, exfoliating in the morning will help keep oil production at bay
---
How Often Should You Exfoliate?
Once again, this is really depends on your skin type. For people with normal/combination skin, exfoliating 2-3x/week is advised. For those with sensitive skin, exfoliating just 1-2x/week will help avoid irritation.
The most important thing to keep in mind is that there is such thing as too much exfoliating. Over exfoliating can cause tears in the skin, inflammation, irritation, broken blood vessels, excessive dryness, and in some cases, a rash-like reaction with red bumps.
I learned this lesson the hard way, and ended up having to call my dermatologist for a prescription to heal my wounded skin. Take it from me—you do not want to exfoliate excessively!
---
Pin this post for later:
By Lindsay Silberman & Sarah Barthet
Sarah is a travel, luxury and lifestyle blogger who gave up the world of high finance to follow her passions. She hopes to share her love of luxury travel, fashion, beauty and the odd piece of career advice to fellow successful women who like to enjoy the finer things in life, over on her blog Dukes Avenue.