Even if the Netflix hit Emily in Paris made the city an even more wildly popular tourist destination, Paris has always been a good idea. It's a good idea for so many reasons — it's a city of art, culture, romance and history. And you could visit countless times yet still not see everything it has to offer.
It holds a special place in my heart as it was my first proper adult holiday back when I was just 19 years old. In the decade that has since followed, I have been lucky enough to visit Paris many times, both for work and pleasure, and I've truly fallen for the city of love.
There is, of course, a whole lot to fall in love with. Since that very first visit all those years ago, I've learned about so much more than just the top things to see and the best places to stay. I've learned that Paris offers some of the finest goodies you can treat yourself to — from chocolate to fragrances and everything in between.
Here are 12 things to buy in Paris that will not only serve as souvenirs from your trip, but that you'll keep going back for again and again. From antique shops and stores with vintage clothes to the best shopping streets in Paris, consider this your go-to guide for all things retail therapy.
---
12 Best Souvenirs to Buy in Paris
1. A French Designer Handbag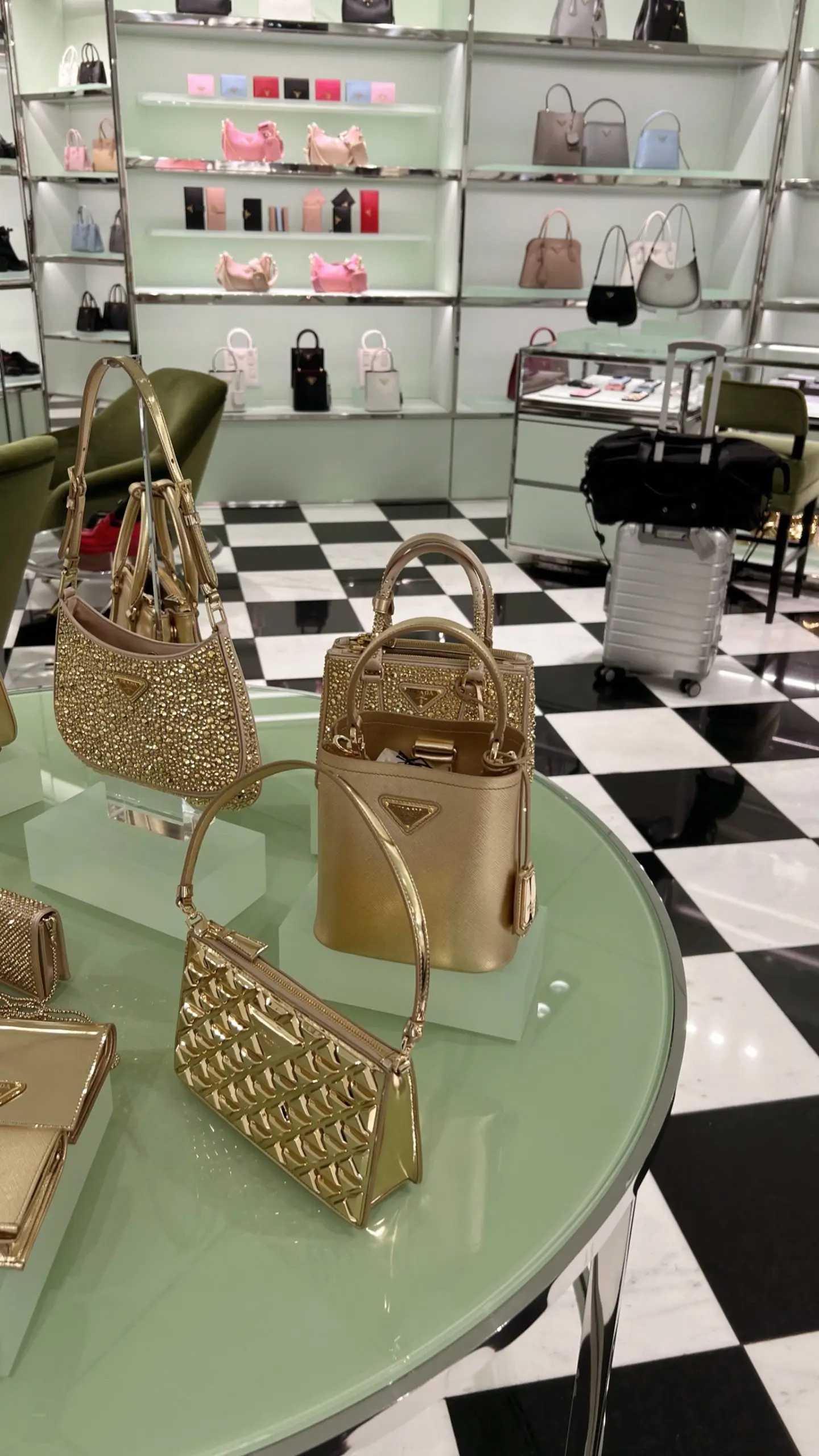 Paris is home to some of the finest fashion houses in the world. And as cliché as it may be, it would almost be a sin not to include a French designer bag as one of the things to purchase on your first trip to Paris.
Globally-renowned brands such as Dior, Chanel, Goyard, and Louis Vuitton all had their beginnings in Paris. So making your first designer purchase there is almost like a rite of passage. In fact, I had bought my very first Louis Vuitton bag all those years ago on my own first visit to Paris. It was the smallest of sizes (because at 19 that was all I could afford) but I still wear it often to this day.
Often, travelers (particularly those from the U.S.) wonder: is Chanel cheaper in Paris? And how about Louis Vuitton, Dior, and Goyard? While buying a designer bag in Paris won't exactly be a steal, Americans will save in a number of ways. By making your luxury purchase in Europe, you'll avoid the hefty U.S. sales tax—which could amount to hundreds of dollars in savings depending on how much the bag you choose is.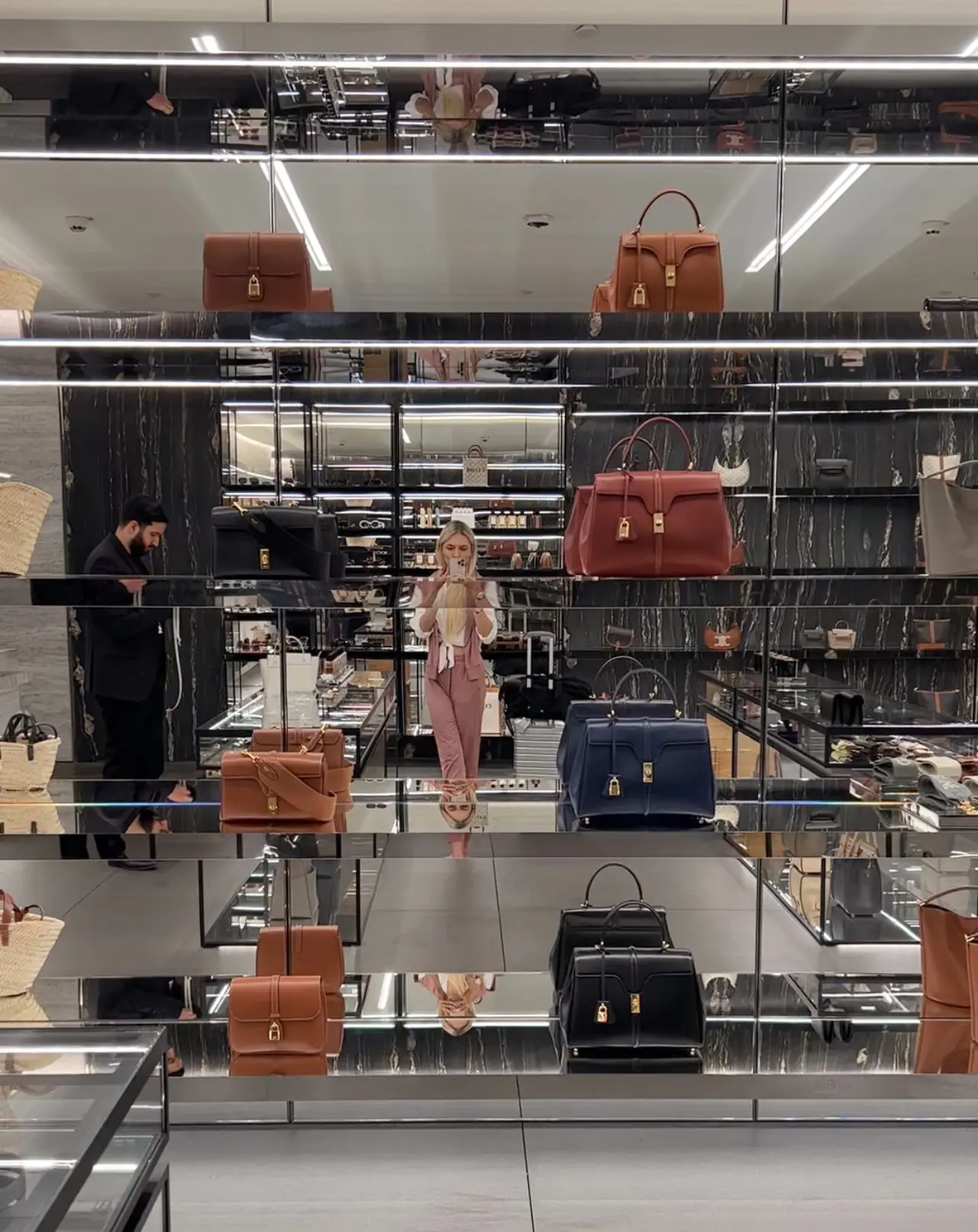 You are also eligible for a VAT tax refund, as long as you spend 175€ in the same store, on the same day. So in short—yes, designer handbags such as Chanel are cheaper in Paris for Americans. (Such a great little travel hack, right?!)
In terms of where to purchase one? There are plenty of options.
The Louis Vuitton store on Avenue des Champs Elysées is as much a symbol of Paris as the Eiffel Tower, and definitely worth visiting, even if you have no intention of buying anything. At 7-stories high, it's the largest Louis Vuitton store in the world and houses a 20-meter long internal staircase.
If you're unsure of the kind of bag, or even the French designer, that you want to add to your wardrobe, fret not—there are plenty of places to find some inspiration. Paris is renowned for its luxury boutiques and department stores and you'll no doubt find something you love.
Apart from the Champs Elysees, have a wander around Boulevard Saint Germain, Avenue Montaigne, Boulevard Haussmann and Rue Saint-Honoré (conveniently located just behind the Louvre Museum). If you would prefer to do your shopping in Paris at a department store, I would also recommend checking out places like Galeries Lafayette, Printemps and Le Bon Marche. 
2. A Custom Fragrance
Perfume has played a big part in Parisian culture over the years. It's no secret that the palace of Versailles was once nicknamed 'la cour parfumee' during the reign of Louis XV, thanks to how much both he and all the courtiers used it. Unique fragrances were often made for the royal family members; Madame du Pompadour, Louis XV's mistress at the time, was also a great patron to perfumiers. It was because of French royalty's love of scent that Paris became the place to be for Europe's top perfumiers.
And so, if you find yourself in Paris, treat yourself like royalty and create your own custom-made fragrance. The cost of this can vary greatly—from under €100 to over €5,000 (or $110 – $550.)
Fragonard is one of the most renowned and respected perfumiers and offers an apprentice workshop for visitors looking to create their own fragrance under the guidance of a trained Fragonard perfumier. Not only will you leave with your brand-new personal Parisian Eau de Cologne, but a diploma and perfumier's apron too!
On the other end of the spectrum is eponymous brand of Stéphanie de Bruijn, where a custom-made fragrance made by Stéphanie herself will set you back a cool €1,000 (around $1100.) A luxury 100ml fragrance will be delivered to you in an antique perfume bottle. The ingredients of the fragrance will be stored. So that you can continue to refill your bottle each and every time you go to Paris. 
If you're not yet convinced about why a custom-made perfume is a great idea, check out this article on why perfume is so important for everyday life.
3. A Portrait from Montmartre
Montmartre is one of the top areas to visit in Paris and there are PLENTY of things to see there. Aside from the Moulin Rouge (see below), Montmartre is home to the Sacre Couer – a huge basilica with a view that overlooks northern central Paris – and an array of charming bohemian streets packed with artists, dreamers and French bistros.
The beating heart of it is Place du Tertre or 'the artists' village of Montmartre.' It's a small square just 3 minutes away from Sacre Couer, where artists sit amidst their artwork, chalk in hand, ready for anyone who might want a portrait.
Whilst it may be true that not all artists are Parisian, their skill is undeniable and Place de Tertre attracts artists from all over Europe. If you happen to be visiting, it's worth getting your own portrait done! Mine now hangs in my bedroom and reminds me of that day every time I look at it, all these years later.
4. A Hand Fan from Moulin Rouge
Moulin Rouge is arguably the most famous windmill in France. Despite it not being a fully functional windmill, over 600,000 visitors flock to the Moulin Rouge each year to watch their spectacular cabaret show, and their world famous can-can dance.
It's a great night out and something I would definitely recommend first-time visitors check out for some Parisian entertainment. While you'll be hard pressed to forget the performance, you may want to pick up a fan from their gift shop as a memorable token.

The hand fans are my personal favorite, but the gift shop offers many items which would make great Paris souvenirs. To me at least, they are far more interesting French souvenirs than a key chain of the Eiffel Tower.
The price of fans range from €45 to €55 (or $50 – $60.)
5. Mariage Frères Tea
You may be surprised to learn that Mariage Frères is the world's most exclusive purveyor of luxury teas and France's oldest tea house. In fact, it was founded in Paris in 1854 and now holds the largest tea offering on the planet. With a selection from 36 tea-producing countries and with every kind of tea represented.
Admittedly, tea might not be the first thing you think to buy on your Parisian travels. But it's definitely worth visiting one of the Mariage Frères tea rooms that you can find in Paris. Three of the tea rooms (Le Marais, Rive Gauche and Étoile) also offer access to a tea museum, where visitors can learn all about the art of French tea, its connection to Royalty and the French East India Company and how they encouraged the exploration of faraway lands in search of exotic goods.
As a memory of the experience, why not up your own box of Mariage Frères tea. I have my eye on 'Paris White Tea', a flavored blue tea inspired by White Day in Japan.
If you're interested in learning more about the art of Japanese tea ceremonies, check out this article on Japanese tea ceremony etiquette.
6. Maison Souquet Candle
Opposite Paris's infamous Moulin Rouge lies one of Paris's best kept secrets. Tucked away on Rue de Bruxelles lies a hotel with a history so debauched that it almost feels like I'm sharing a secret I shouldn't be. Of course, I am talking about Maison Souquet. One of the most intriguing hotels in Paris.
Maison Souquet is no ordinary 5-star hotel. From the outside, very little gives it away and all you might notice are the red lanterns and the hotel plaque at the entrance. Once through those doors, you'll be seduced by the decadent lobby of this luxurious hotel, in what is possibly the epitome of hedonism and the Parisienne pleasures of the Belle Epoque era.
Over 100 years ago, Maison Souquet was once a pleasure house, where courtesans would secretly rendezvous with their clients before or after dinner. So many secrets are held between these walls, but admittedly it does cost a pretty penny to enjoy them.
If you'd like to experience Maison Souquet without staying at the hotel, I'd highly recommend popping into the bar for a cocktail, where the liquor is not the only thing that might intoxicate you. In its infinite attention to detail, the hotel burns its very own candles, made by an artisan candle-maker in Lyon.
The candles are scented with rose, jasmine, and a hint of tobacco and fortunately, you can buy your very own. Maison Souquet candles are sold for just €45 ($50) and are the perfect memento of the naughty side of Paris. They smell so good that you'll likely continue to purchase these each time you visit Paris. #guilty
My post on Maison Souquet discloses even more secrets, as told to me by the staff during my time there.
7. Angelina Paris' Hot Chocolate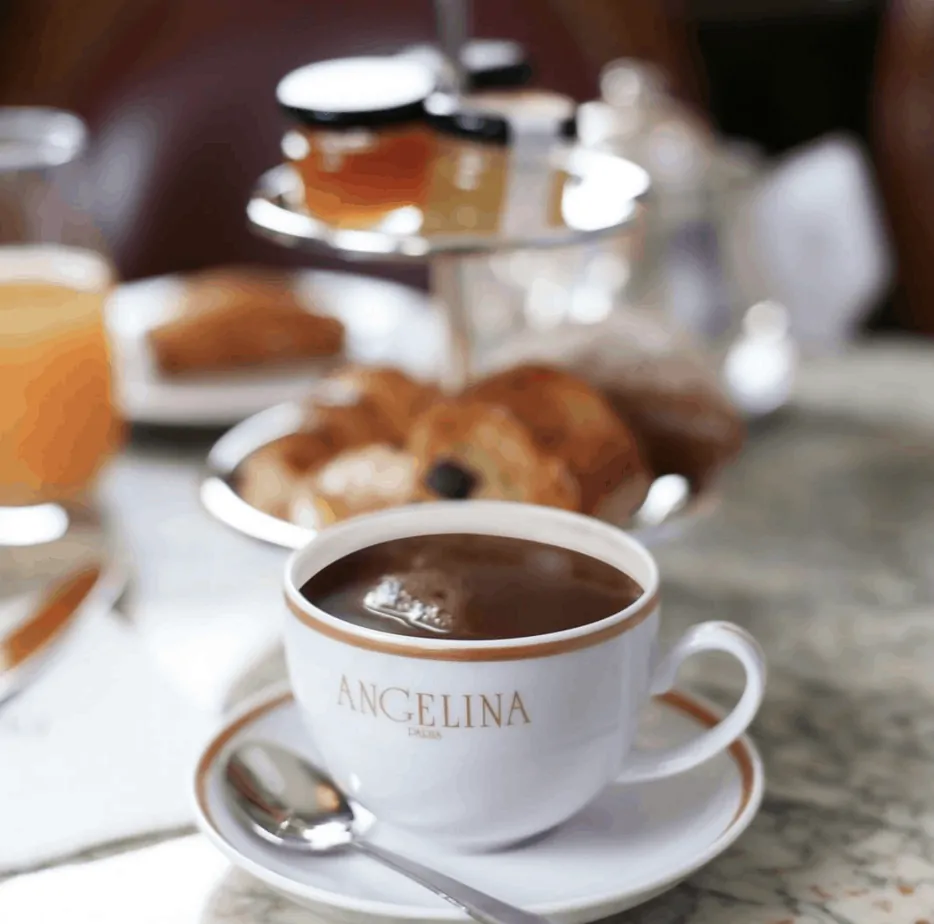 Aside from French designer leather goods and fragrances, Paris is full of fabulous sweet delicatessens that you should take advantage of whilst you are in town. Many guides recommend visiting Ladurée, the famous creator and producer of macarons. Whilst they deserve full praise, the brand has now become very much international, with Ladurée stores all over the world – from LA to New York, London to Doha. You no longer need to be in Paris to purchase a Ladurée treat.
So if you do find yourself in Paris, why not try a local delicatessen that you won't find back home. 'Angelina' was founded by a confectioner in 1903 and to this day, it continues to produce delicious pastries. Back in the day, Angelina's tearoom on rue de Rivoli was visited by the likes of Proust, Coco Chanel and some of the biggest French fashion designers of the time.
Today, both locals and tourists visit to taste Angelina's signature pastry, 'Mont-Blanc,' and famous hot chocolate 'L'Africain.' Be sure to pick up some of their mix for hot chocolate so you can make it when you're back home!
Angelina tea rooms can be found throughout France, with the original still located at 226 rue de Rivoli. You can ask to be seated at table 45—Coco Chanel's table!
In 2013, Angelina slowly began to open internationally. And they now have tea rooms across the Middle East and in 3 locations in Asia. It may not be long therefore, before they develop a global presence. 
8. A Book from Les Bouquinistes
One for the book lovers. Les bouquinistes are antique booksellers, located along the banks of the Seine: from the Pont Marie to the Quai du Louvre on the right bank, and from le Quai de la Tournelle to Quai Voltaire on the left. It is for this reason that the Seine is sometimes described as the only river in the world that runs between two bookshelves.
The 3km along which the bouquinistes are set up was actually declared a UNESCO World Heritage Site and worth visiting for that reason alone. But once you are there, you may as well pick up a book to take home!
9. A Stamped Book From Shakespeare & Company
Shakespeare & Company is located in Paris's Latin Quarter, an uber quaint area in the 5th arrondissement that is home to the Sorbonne University, antiques flea markets, Parisian cafes filled with students, and a plethora of bookstores!
The bouquinistes on the left bank are in fact located in the Latin Quarter. While wandering down the Seine riverbank, you'll reach a point where you are looking directly at the Notre Dame Cathedral, located on Île de la Cité.
It is around this location that you should be able to spot the quirky Shakespeare & Company bookstore. What makes it so interesting is that it once hosted some of the world's most revered writers such as Ernest Hemingway and F. Scott Fitzgerald.
If you are a book lover and already purchased one from the bouquinistes, then Shakespeare & Company will add another to your Parisian collection. The highlight is the delightful way that they package the books!
10. A Bar of Soap from Buly 1803
You may have already seen many articles on things to buy in Paris that suggest you pick up a bar of Savon de Marseilles on your trip to Paris. While these soaps do indeed smell divine, they are not quite Parisian— they are, after all, made in the South of France.
Instead, head over to L'Officine Universelle Buly, also simply known at Buly 1803—a boutique founded in Paris over 200 years ago.
Located on a nondescript street just off the left bank, it would be easy to just walk past the store front. But those in the know understand all the little luxuries this store beholds. Designed in the form of a 17th century apothecary, with antiquated wooden shelving, countless glass jars and marble counter tops, Buly is possibly the quirkiest personal care boutique in Paris, selling everything from water-based perfumes to stones for massages.
Buly 1803 soaps make the cutest souvenirs, and rather than watch them disappear in the shower, I personally love to leave them in the chest of drawers in my bedroom, to leave my clothing and underwear smelling amazing!
11. A Pair of Chatelles Shoes (or Designer Shoes)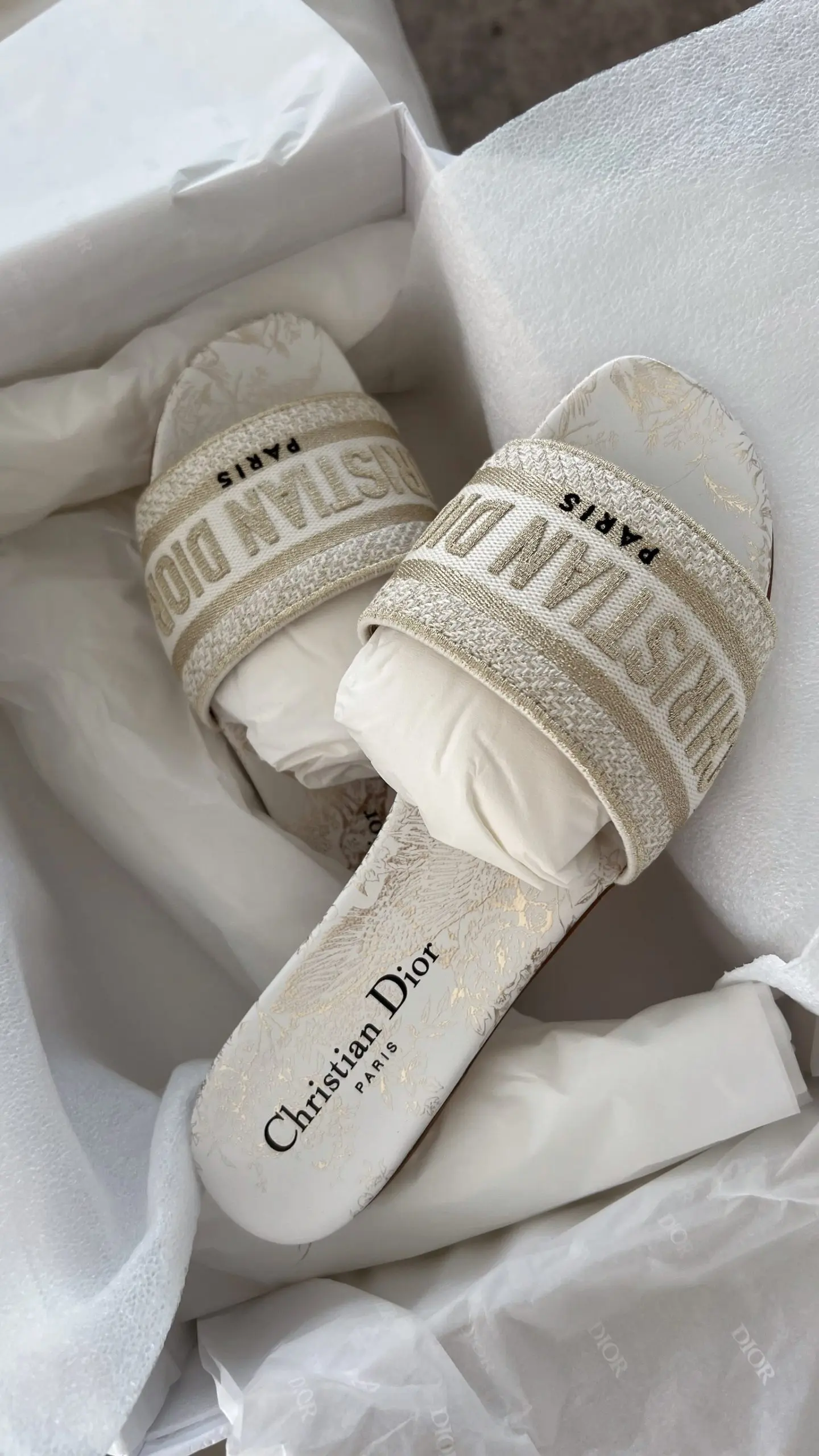 A relatively unheard-of shoe brand, yet one that has made it to the feet of celebrities like Dakota Johnson, Nicky Hilton and Pippa Middleton. Founded by a Paris-born former investment banker-turned-footwear designer, Chatelles is a quintessential Parisian fashion house that reinvents the classic Albert slippers by offering the market something new.
Shoes are customized for the buyer through a huge selection of colors, materials, and styles. And also accessorized with tassels and initials. Chatelles aims to make flat shoes equally as stylish as heels, yet without compromising comfort! 
Located in the 7th arrondissement, and just a 30-minute walk from Shakespeare & Company, it can be easily spotted thanks to its sapphire blue storefront. I'd highly recommend checking it out and selecting your own custom-made pair of Chatelles!
Another option (which I love just as much) is to treat yourself to a pair of designer shoes. Being in Paris is the perfect excuse to splurge on the designer piece you've been eyeing.
12. French Beauty Products
The last one is a little bit of a no-brainer. Sure you can buy these skincare and makeup products from anywhere in the world. But they are SO much cheaper in France!
If you find yourself in Paris, be sure to visit a local pharmacy and stock up on classics like L'Occitane, La Roche Posay, Caudalie, Kérastase and Decléor!
Where To Shop In Paris?
Best Shopping Streets in Paris
Best Souvenir Shops in Paris
You can also find a lot of great souvenirs in art galleries and museums, so be sure to always check those spots out during your visit.
Pin this post for later: