So you've booked yourself that much-anticipated trip to Dubai and the time has come to fill your suitcase with outfits you plan to rock on your trip.
Half an hour later and you're still staring at your suitcase wondering 'what can I actually wear in Dubai?!'
It's happened to the best of us—myself included. The UAE (specifically Dubai and Abu Dhabi) is the kind of place where so many factors come into play: it's in the Middle East, with a different culture, religion, and scorching temperatures for a large part of the year. But not to worry… this article has you covered!
Read on to find out what to wear in Dubai and Abu Dhabi.
---
Things to Know Before You Go to the UAE
Let's start with the most obvious. The United Arab Emirates is located in the Middle East, bordering the Gulf of Oman and Saudi Arabia. It's a country made up of 7 'emirates' (think of them as states), with Abu Dhabi as the capital.
Dubai is Abu Dhabi's glitzy neighbor and fellow emirate, located about an hour and a half away by car. It's incredibly diverse and international, so it's not surprising that the UAE has a huge expat community—over 80% of the UAE population!
The region has a desert climate—meaning the sun shines pretty much all year round—and that's something you'll want to keep in mind when planning your trip. (More on this later!)
While Dubai and Abu Dhabi are Muslim emirates, they are definitely more liberal than some of their neighbors. This statement comes with a BUT. Although there is no need to cover up from head to toe, it's always important to BE RESPECTFUL of the local culture, as with anywhere you visit around the world.
As a general rule, think classy, elegant and timeless pieces that you will feel both comfortable and chic in, while remaining considerate of the locals.
Abu Dhabi and Dubai are actually very chill and open-minded, and there is no dress code, but there are a few things to be mindful of when in public places.
After visiting the UAE more times that I can count, both to see family and because it's an awesome place for a luxury getaway, here is my no-BS guide on what to wear in Dubai and Abu Dhabi.
Disclaimer: this guide does not apply to UAE as a whole. As mentioned, the UAE is made up of 7 emirates, and while Abu Dhabi and Dubai are known for being liberal, dress codes for the other emirates (such as Sharjah) are known for being far more conservative. I personally have yet to visit Sharjah, however this was the popular opinion from my research for this article.
---
What is the Traditional Dress in Dubai and Abu Dhabi?
Foreign visitors are not expected to wear traditional dress, but I thought I would throw this in for anyone who might be curious. If you happen to be in one of the malls in Dubai or Abu Dhabi, you're likely to see some of the local women dressed in an all-black robe, known as an abaya.
Make no mistake, this is very much because they want to and not because they have to. The traditional dress is not imposed by law.
The abayas are worn with black sheilahs that cover the head and hair, with the face remaining uncovered. Many of these abayas and sheilahs are beautifully embroidered and the women wearing them are equally as beautiful.
Often wearing stylish dark sunglasses and the latest Chanel handbag, they ooze elegance and sophistication shrouded in mystery, leaving an intoxicating trail of oud scent behind them.
If you fancy exploring fragrances that are best sellers with Middle Eastern clients, you might want to read this article on Thameen.
And if you fancy dressing like a local – you definitely can! The abaya is not restricted to locals.
---
When is the Best Time to Visit Dubai and Abu Dhabi?
Let's talk weather. Both Dubai and Abu Dhabi are pretty much sunny all year round, but there are some months when I would advise against visiting, purely because of the heat.
Summer in Dubai & Abu Dhabi (mid-May to early September):
Temperatures are absolutely scorching (think between 38°C to 42 °C/101 °F to 108 °F) and it's just too hot to sit outside or lounge on a deck chair.
I'm guilty of having visited the region twice at the end of May for my birthday and after each trip I say never again… but never seem to learn my lesson.
Winter in Dubai & Abu Dhabi (December, January, February):
Winter falls between December and February, but unlike Europe, the weather during this time is pleasantly warm, with the occasional storm.
That being said, the best time to visit Dubai and Abu Dhabi is between October and March or April, with my own personal preference being end of November and the beginning of December.
Not just because the weather in Dubai and Abu Dhabi is perfect this time of year, and the sea temperature warm from the summer months, but also because you can squeeze in the F1 Grand Prix during your trip (which is a whole article to itself!).
From October you can expect lows of around 22°C/72°F to highs of 36°C/97°F. Even in the 'coldest' months of the year—January and February—you can still expect warm temperatures, with lows of around 12°C/54°F to highs of 24°C/75°F.
No matter what time of year you go, one thing I would absolutely recommend packing is a shawl or pashmina, and you'll learn why throughout this article.
---
Dubai and Abu Dhabi Dress Code
Before I put together some outfit inspo for all the types of places you might visit, I thought it would make sense to address some of the most common questions that I've seen asked in forums and on social media.
Among the questions I saw repeatedly? Things like: 'how conservative should you dress in Dubai?', 'can I wear shorts or dresses?', 'can I wear ripped jeans,' or 'should I only bring loose fitting clothing and long-sleeved shirts?'
My answer to this goes back to the beginning.
Abu Dhabi, and particularly Dubai, are pretty liberal and international when it comes to fashion, but that doesn't mean tourists should take that as carte blanche to bring out the hot pants and crop tops. Always keep in the back of your head that as open-minded as it is, it is still a Muslim country and that should be respected by visitors.
Yes, you can wear summer dresses and shorts, but make sure they are classy and respectful.
Pretty summer dresses are fine so long as they are not ultra-mini and reveal things they shouldn't when you bend over. The same applies to shorts—but they should be a reasonable length.
On the other hand, if you have pretty summer dresses that are classy and knee length (or even slightly above the knee), those are fine. Longer shorts likes culottes are also fine.
Bearing your shoulders is generally acceptable in most places, but not all, and long-sleeves are definitely not required. Crop tops are also fine IF you couple them with high-waisted pants, but not if bearing your midriff.
Just remember: tasteful, classy and respectful. Ask yourself this: would you go out with your colleagues dressed this way?
---
What NOT to Pack for the UAE
Here's a list of things you should probably leave at home:
Bodycon dresses

Hot pants or short shorts

Brazilian bikini bottoms (more on this later)

Ultra-low-cut jeans (particularly when they reveal itsy-bitsy underwear underneath)

Ultra-mini mini skirts

Anything transparent or thin enough that reveals your underwear

V-neck tops, plunging necklines or anything that reveals cleavage
Depending on the places you visit, you may very well see other tourists wearing these things. Don't take this as a go-ahead for you to do the same.
It will attract unnecessary attention and likely offend locals, particularly if you wear these items in souks or rural areas. No, you will not get arrested or removed from places, but you may get comments from the locals (both men and women) asking you to cover up.
In this situation, the best thing to do is apologize, cover up with that shawl you conveniently packed, and carry on with your day. If you were to argue, kick up a fuss or pick a fight, this will attract attention and chances are the police will be called.
---
What to Wear in Dubai and Abu Dhabi
Dress Code for Malls and Hotels
Let's start with some outfit inspo for the places that you're likely to spend most of your time: the hotels, restaurants and shopping malls. I've also put together some cute outfits for two places that everyone should visit: the Burj Khalifa and the Burj al Arab.
Head out to the malls looking chic in these cute culottes and a puff-sleeved top. The loose clothing means you can walk around feeling comfortable despite the warm weather, whilst still respecting the culture.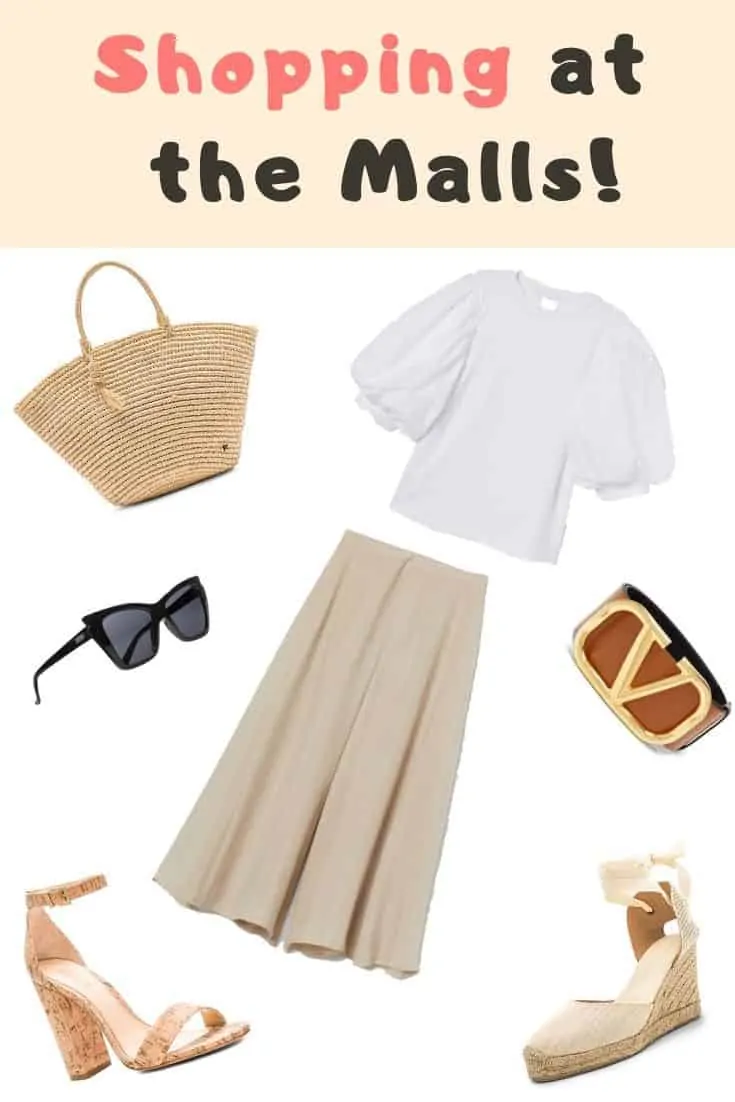 Tall Blush Wedge / Birch bag / White Puff Sleeved Top / Wide Leg Culottes / Brown Belt / Headscarf

Comfortable and elegant, this kind of outfit is perfect for wandering around Dubai Mall, as well as for breakfast, brunch or lunch. You'll also want to wear comfortable shoes or heels, since you'll likely be doing a lot of walking.
Due to the temperatures outside, everywhere in Dubai and Abu Dhabi has the ACs full on—even bus stops! This is where your shawl or pashmina comes in handy again. Bring a bag that's large enough to carry it around with you and don't forget your sunnies!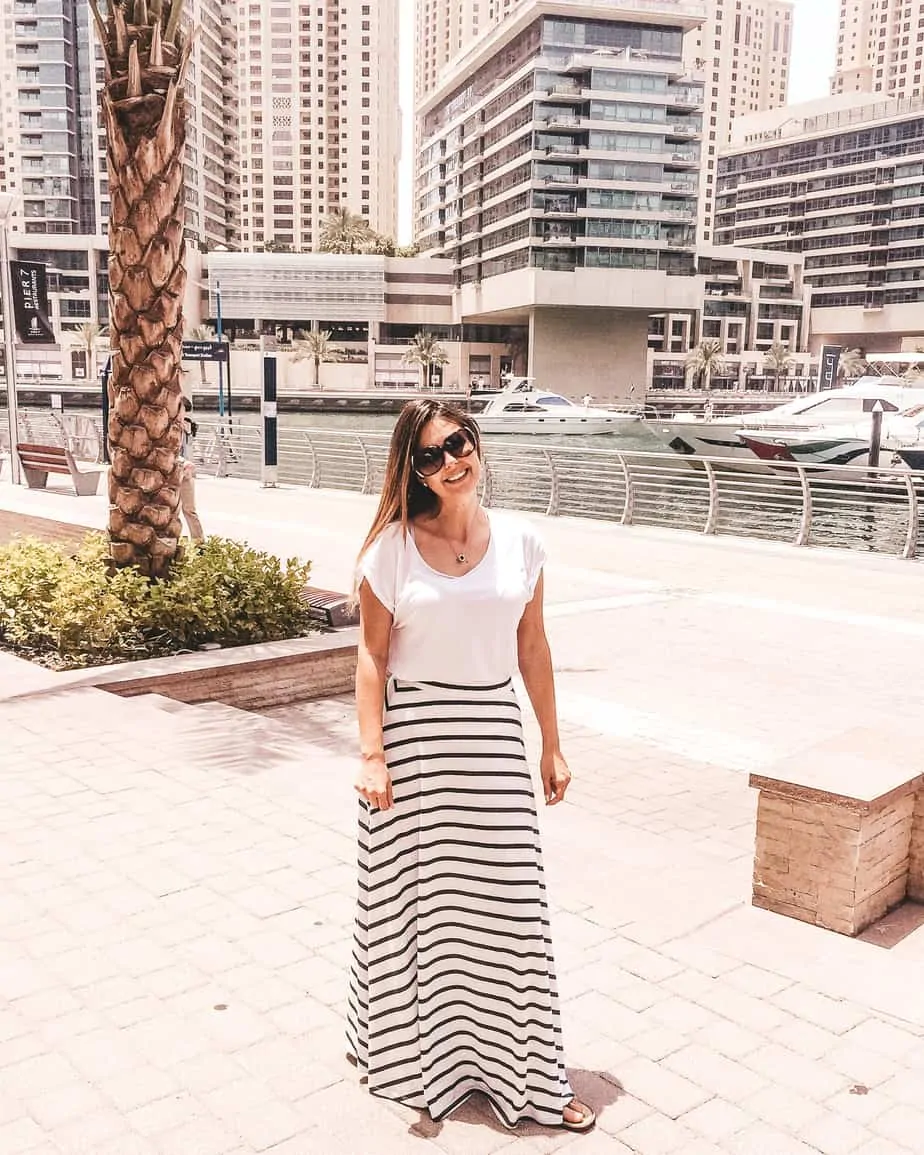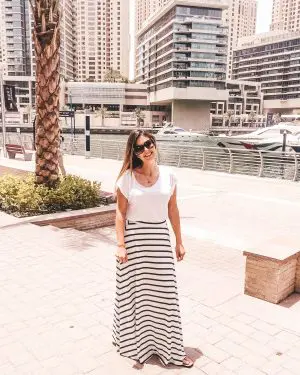 There are, however, some locations where you may want to curate a look specifically for the occasion. I'm talking about those well-known sites like the Burj Khalifa (the tallest building in the world) and the Burj al Arab (a 5-star deluxe hotel).
Burj Khalifa Dress Code
You've probably seen pictures taken at the top of Burj Khalifa all over Instagram and with good reason. It is, after all, the tallest building in the world and the view from the 148th floor is quite something.
Ticket prices vary, but as of 2020 they cost about $41, or around $61 if you go between the hours of 4pm and 6pm. If you have decided to visit during sunset and paid extra for the tickets, then that's the perfect reason to dress up in something sparkly and capture some gorgeous pictures, before heading down to the 122nd floor for dinner at At.Mosphere.
It's also worth noting that At.Mosphere operates a smart/elegant dress code at the restaurant and a smart/casual dress code at the lounge. Dress items not allowed include trainers, caps, t-shirts, sports clothing, shorts, open shoes for men and flip-flops for women.
Pink Bag / Nude shoes / Embellished Dress

Burj al Arab Dress Code
The Burj al Arab has aptly picked up the nickname of the world's only 7-star hotel. Whilst there is no actual 7-star designation by the standard rating system, the Burj al Arab was deemed so luxurious that it must be 7-star.
And for such a stunning location, an equally stunning outfit is a must. You can get away with a little more at the hotels than you may feel comfortable wearing in the city, so if you do have that summer dress you are dying to wear, the Burj al Arab is the place you can wear it.
Even if not staying here, it's worth popping in for an afternoon brunch, just to check it off the bucket list. Warning: a "7-star" hotel doesn't come cheap.
Cork Heel / Paisley linen dress / Sunglasses / Cross-body bag / Gold Plated Cuff / Shell Earrings

What to Wear to Beaches, Swimming Pools and Water Parks
Another of the common questions I've come across is 'can I wear a bikini on a beach in Dubai?' and the answer is yes! You can absolutely wear a bikini at your hotel pool or at beaches in Dubai.
A few things to note: beachwear and bikinis should be reserved for THE BEACH, and that means not on promenades, at cafes or to sit on park benches. Flip flops are also acceptable, but best not wear these around malls or to restaurants, mostly for comfort reasons.
Lastly, try not to bring your skimpiest Brazilian bikini bottoms and if you are thinking about going topless – don't.
What is a must though is a stylish kaftan that you can throw over your swimwear to lunch at your hotel's beachside café!
White sunglasses / White swimsuit / Blue kaftan / White sun visor / Beach bag / White slides

---
What to Wear to a Mosque in Dubai and Abu Dhabi
Needless to say, mosques follow a stricter guest code which should be adhered to by all visitors. For both men and women, arms and legs need to be covered to the ankles.
Clothes should be loose and opaque—nothing sheer. I would also advise going for something plain and without slogans or logos. Female visitors are also required to cover their hair.
Some mosques may even provide the abaya, and most will provide the headscarf. Remember that pashmina you packed? You might want to bring it along just in case.
The image below was taken at the Sheikh Zayed Grand Mosque in Abu Dhabi, where the abaya was provided and I was able to throw it over what I was wearing. It's also worth noting that you need to remove your shoes before entering the mosque.
Theft is highly unlikely given the consequences, but be sure to wear a pair of shoes that you are comfortable leaving unattended outside.
---
---
What to Wear to a Dubai Desert Safari
Desert safaris in Dubai are the best. (But since they are decidedly different from those in Kenya or other parts of the world, what you wear on safari will also be quite different.)
It's a whole day where you get to act like a kid again while doing adult activities. You get to experience everything from dune bashing to camel riding, before ending the evening on a campsite in the middle of the desert.
For me, the most magical moment was after dark. We laid on the blankets watching the stars, with only the sounds of the desert to disturb us.
Dubai Desert Safari Outfit Ideas
On the desert safari, you want to make sure you are wearing comfortable clothing. You can very well wear a skirt, but I'm not sure how practical that would be while riding on a camel or quad bike.
Rules are a little bit more relaxed too, simply because you will be about 45 minutes outside of town, surrounded solely by tourists. Shorts and thin strap tops are acceptable here.
Also, you may want to consider wearing sandals as opposed socks and sneakers. The sand granules are very fine and manage to get into every part of your shoes, so sandals might just make your life a little easier.
I've also thrown in a little belt bag, which is more comfortable than an actual handbag, and a sweater in case it gets a little chilly as the sun goes down.
And don't forget your sun hat and sun cream! I couldn't resist throwing in the wide-brim hat of my dreams, but totally acknowledge it is extra AF– or as my husband put it, 'more like extra wtf'.
Strappy Espadrille Sandal / Jumpsuit / Brim Hat / Belt Bag / Jumper / Aviator sunglasses

---
Abu Dhabi Day Trip From Dubai
If you have a day to spare, I would highly recommend making a trip out to Abu Dhabi. There is so much to see aside from the Sheikh Zayed Grand Mosque, and in a day, you could fit in:
Louvre Abu Dhabi

Qasr Al Watan (the Presidential palace)

Qasr Al Hosn (

the oldest stone building in the city of Abu Dhabi

)

Tea at the Emirates Palace (an uber luxury hotel where you can find crazy things like a gold ATM. I was lucky enough to stay there last year and water with gold flakes is available in each of the rooms – no, I am not kidding)

Ferrari World

Guggenheim Abu Dhabi
… and so much more. In fact, each time I go I always fly into and stay in Abu Dhabi, and make a day trip to Dubai.
I hope this cleared up any questions you may have had about packing for Dubai or Abu Dhabi. Trust me when I say it is one of my absolute favorite parts of the world and I would recommend it to anyone—both for relaxation and sunshine, yet in an international and lively environment.
Sarah is a travel, luxury and lifestyle blogger who gave up the world of high finance to follow her passions. She hopes to share her love of luxury travel, fashion, beauty and the odd piece of career advice to fellow successful women who like to enjoy the finer things in life, over on her blog Dukes Avenue.
Pin this post for later: