Denim is a closet staple during every season and life stage. In theory, black jeans should be the easiest item to style — they're classic, neutral, and literally go with everything. But sometimes seeing a little inspiration from others helps, which is why I put together the ultimate "What to Wear with Black Jeans" style guide.
These looks are super versatile, and many of them utilize things you already have sitting in your closet. Whether you're headed out on a date or trying to figure out what to wear with black jeans to work, these cute outfit ideas should do the trick.
---
16 Black Jeans Outfit Ideas
1. Style them with a white T-shirt and a black leather jacket.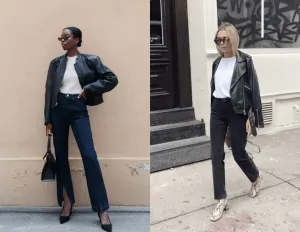 I like the proportions of an oversize jacket with straight leg jeans, so I often recommend styling your favorite black pair with a comfy white tee — tucked in — and a leather moto jacket. Accessorize with a mini-bag, sunglasses, and gold necklaces. So simple, yet so chic. Plus, a leather jacket is the perfect staple to wear throughout the fall and winter.
Because this outfit is extremely versatile, your shoe choice will help dictate the overall vibe you're going for. Dress the look up with heels, and down with white sneakers. Or contrast the edginess with a touch of sophistication by opting for a leopard print belt or snakeskin booties. A light-colored shoe will play off of the crisp white T-shirt nicely.
---
2. Pair your black jeans with shades of brown for an unexpected fashion moment.
Fashion rules are meant to be broken. Case in point? The black-and-brown combination. This unexpected pairing makes for a wildly chic look. Add some gold jewelry for a subtle pop, and the outfit will speak for itself.
---
3. Add a sweatshirt for a more casual look.
For a more casual look, pair black jeans with a trendy sweatshirt (I love Annie Bing sweatshirts).
I love playing with proportions—style a cropped pullover with high waisted, baggy jeans or slip on those skinny jeans and throw an oversized hoodie on top.
The key here is to use accessories to dictate your final look: going for something low-key? Slip on a pair of chunky white sneakers. Dressing to impress? Add strappy heels and statement earrings. And, black jeans make pretty much every sweatshirt look chic, so there's no need to buy a new one.
---
4. Go back to basics with black and white stripes.
A black-and-white striped tee is the perfect elevated basic to pair with black jeans. The polished (yet effortless) look can easily be dressed up or down with the right accessories.
Add neutral-toned accessories to break up the look without pulling attention away from the stripes. Or go all French girl chic and add a bright red lip for a classy finish.
5. Go for a sexy, high-fashion feel with dainty, strappy heels.
There's something about strappy, dainty heels that scream "fashion girl." Add black jeans and you've got the perfect outfit formula for a night out.
As the temperature drops and the layers pile on, these delicate heels make for a seamless transition for summer to fall.
You can just as easily pair them with a sweater as you can a slinky tank top. Feeling bold? Use the heels to add a pop of color to your look.
---
6. Animal print adds an edgy twist to otherwise simple black jeans.
Adding in an animal print is an easy way to take a look up a notch.
In general, I suggest keeping the rest of the look fairly subdued and neutral in order to really let that piece do the talking.
I especially love that this look can just as easily work for a chic night out on the town as it can for a casual grocery run. I'd go with a pair of statement cheetah boots for the first and a printed tee shirt for the latter.
---
7. Go back to basics with black ankle booties.
Black ankle booties and black jeans are kind of like bread and butter—both absolute classic duos. I truly believe you can never have too many black boots; there are endless styles, textures, and embellishments to choose from.
This fall, I'm all about pairing ripped, straight jeans with military-style boots. It adds an unexpected grunge twist to simple black jeans.
---
8. Pair black jeans with plaid.
Pay tribute to the '90s with plaid prints and flannels — it's a super easy trend to style, and can likely be achieved with items you already have in your closet.
If you keep the basics from the first look and swap out your leather jacket for a plaid blazer, you'll transform the outfit into a work-appropriate ensemble.
Perfect for the office, a tailored blazer dresses up any pair of jeans — black or not. Finish the outfit with a fall staple: black or brown slip-on mules.
When it's chilly, rock a long, plaid outerwear jacket, and rather than going the basic black boot route, spice up this look with western-inspired white booties and a white bag. (Don't worry—we whole-heartedly endorse wearing white after Labor Day.)
If street style is more your vibe, go with a cropped plaid puff jacket and jeans with exposed buttons. How cute does this coat look styled with a black turtleneck and cabby hat?!
As for shoes, we recommend Doc Martens, military-boots (like these), or chunky black sneakers.
---
9. When in doubt, opt for head-to-toe black.
Black on black—aka the "New York City uniform"—is one way to guarantee you'll look sleek, slim, and sophisticated. If you're dressing for the office, you can't go wrong with a black turtleneck, black skinny jeans, and a leather belt.
However, if you're planning a night out—or even trying to decide what to wear to a concert — this mesh black top, bandeau, and high-waisted black skinnies is IDEAL. If you aren't a fan of the sheer, simply layer a black tank or long sleeve underneath.
---
10. Choose an eye-catching statement boot.
Start off with a black top and black bottoms, then upgrade the monochromatic look with a pair of statement knee-high boots. These snakeskin heeled boots are incredible, but if you prefer something more subdued, Stuart Weitzman's 5050 over-the-knee boot is literally the greatest shoe on earth.
This is what I would wear with black jeans if I were headed to a party or to a cool hotel bar with a friend.
---
11. Sport a (black version) of the Canadian tuxedo.
Rocking black denim head-to-toe is much easier than trying to nail blue denim-on-denim. Trust.
First, find the perfect pair of high waisted skinny jeans. A great way to mix things up is by choosing a style that has a visible round zipper or side stripes.
Next, throw on a black denim jacket and a colorful pair of mini sunglasses. Or you can break up the black with a printed tee and bold bag.
---
12. Wear a graphic tee and a bold belt.
Ditch the jacket for a statement belt, and keep your t-shirt tucked in on all sides. When you're trying to figure out what to wear with black ripped jeans, just remember proportions: if they're on the skinny side, an oversized t-shirt works.
And if they're boyfriend-style? Go for something a bit more fitted on top.
---
13. Consider neon with black jeans.
What color can you wear with black jeans? Every. Single. Color. This outfit proves it. While a cream-colored sweater always works, push the boundaries with a vibrant statement sweater rather than choosing something basic and expected.
Just be sure to pick a bold shade that compliments your skin tone.
Finally, pull the look together with a black denim jacket. By introducing another layer of black to the look, the pop of color will become a subtle, chic surprise.
Stick with black booties or mules—your top should be the main focus of your outfit.
14. Pair a bodysuit with high-waisted black jeans.
This 'girls night out' outfit is a no-brainer. High-rise jeans work well with bodysuits, particularly because the proportion helps to accentuate the small part of your waist.
Whether you wear a spaghetti strap bodysuit, an off the shoulder style, or a puff sleeve silhouette, you can't go wrong.
---
15. Find a flirty top.
If your closet is missing a delicate blouse—think ruffles, florals, lace, or polka dots—it's time to ADD. TO. CART.
I love the contrast of dark, black denim with something more feminine, like the tops seen here.
---
16. Go for black cargo-style jeans and a crop top.
Step out of your comfort zone with a pair of black cargo pants. The utility trend is killing it right now (as evidenced by recent collections from Fendi and Givenchy).
Army-inspired bottoms feature patch pockets that will give your overall look more dimension (and more storage space for spare cash and cards). Because you'll want these pants to be the focal part of your outfit, stay away from intricate tops.
And if you're in the mood to channel your inner street-style-blogger, throw a fanny pack over one shoulder. Pro tip: this look also doubles as a cute-but-comfortable travel outfit.
---
PIN THIS FOR LATER: