I always like to change up my outfits (especially when I'm in Miami vs New York), but if there's one thing I wear religiously, it's straight leg jeans. Denim is obviously a staple in every closet, and lately, I've been having fun switching up the style of jeans that I'm wearing.
Wide leg jeans have been having a major moment and I've really leaned into that trend. However, I think that one of the most flattering jean styles is straight leg jeans. I will never get sick of them — they're basically the timeless version of skinny jeans (RIP) and they go with everything.
There isn't really a way you can go wrong when styling straight leg jeans, which is a major perk to wearing them in the first place. However, if you regularly wear them then you might feel a bit bored or uninspired by putting together an outfit.
To help you freshen things up (or to find some new pieces to pair your pants with), I'm sharing this roundup of items that you can wear with straight leg jeans. Plus, find outfit ideas and tips on how to style jeans.

What To Wear With Straight Leg Jeans
It's no secret that there are so many trendy pieces you can pair with denim. Regardless of the season or outing you're dressing for, these are some of the best additions to a straight leg jean outfit.
Bodysuits
Having a healthy collection of denim in your closet is a no-brainer. I feel the same way about bodysuits — every gal needs a good mix of them in rotation. They're comfortable, versatile, and easy to wear for a variety of occasions.
Try styling a bodysuit with straight leg jeans and your favorite pair of heels for a girls night out. It's one of the best combos for looking polished and put together while still maintaining comfort.

Off the Shoulder Tops
Another great "going out" option is to wear straight leg denim with an off-the-shoulder top. It's a flirty, fun, and feminine look that's also the perfect pick for the warmer months.
There are a ton of different tops out there that have unique patterns and textures, so try switching it up with a few different styles.

Basic T-Shirt
Perhaps the easiest everyday outfit? A good pair of denim and a basic t-shirt. Just slip into some white sneakers and you'll be set. This is the ideal look for a busy day packed with errands. It might not be the most creative outfit, but it's certainly timeless. You can make things more interesting with a graphic tee rather than something plain.
A crisp t-shirt can also be a chic addition to a wide leg jeans outfit. I'd recommend keeping some quality tees on hand so you can easily throw them on with your favorite denim.

Sweaters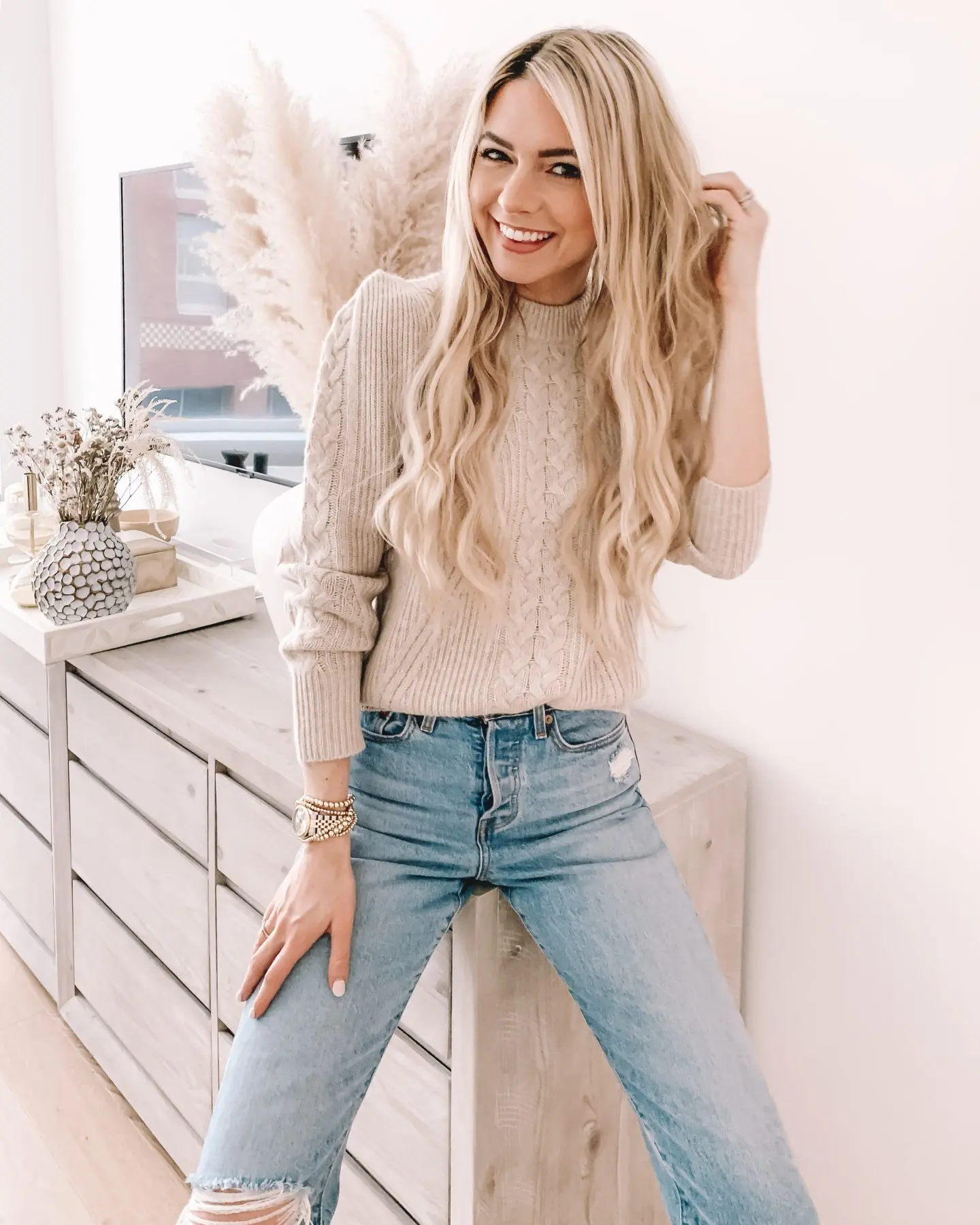 Denim is a year-round essential, unless you live somewhere that gets wildly hot in the summer. With that being said, it's generally true that jeans are even more so in rotation during the fall and winter months.
Pulling on a cozy sweater with straight leg jeans is a good go-to throughout the moody weather season. You can also wear a t-shirt and top it with a button-up cardigan. The final touch? Some leather booties and gold jewelry.

Straight Leg Jeans Outfits
There really are sooooo many outfits you could put together when styling straight leg denim. I love that you can easily dress things up or down based on what kind of top, shoes, and accessories you wear. Below, I'm sharing some of my favorite looks. Use this as inspo the next time you're feeling in a fashion rut.
For a girl's night out
One way to really make a statement while wearing basic blue jeans? Add a chic belt and go hard on your accessories. Everything from statement earrings to headbands to sunglasses — it's all fair game.
Pro Tip: I have found that jeans with a high waist are the most comfortable to wear during a long night out. High waisted jeans are flattering on a variety of body types and they can really accentuate your waist. Mom jeans and boyfriend jeans are also good options.
For happy hour
I'm not quite sure when this happened, but chunky loafers have made a major comeback and I am here for it. They look adorable with straight leg jeans and I love that they feel dressy but are actually super comfy.
For weekend errands
Like I mentioned above, you can't go wrong with high rise jeans and a white t-shirt. If you're wearing a tee that's looser fitting, you can slightly tuck in your shirt to make it look more flattering.
This is a simple look that can be worn for anything from running errands to meeting friends for coffee.
Pro Tip: I like to opt for jeans that have a light wash during the spring and summer, then switching over to darker hues during the fall and winter.
For the office
I'm clearly not in an office in this photo but I do think this outfit shows a classy way to style straight leg jeans for work. I'm a big fan of a white button-up top (especially for the office!) and think it looks really chic underneath a blazer.
I have my button-up tied in this photo, but you can tuck in your top for a more professional look.
There you have it — a handful of ideas on what to wear with straight leg jeans. I could go on and on with ideas but I think by this point, you probably get the picture.
p.s. If you need some recs on the most flattering jeans for women, check out this blog post.