For me, white sneakers are a wardrobe staple that I truly could not live without. I love how versatile they are, how many styles there are, and how many different ways you can wear them. The possibilities are truly endless when it comes to styling a cute white sneakers outfit.
Most times I'll throw them on with jeans or jean shorts for a casual look, but in the fall, I also love wearing white sneakers with a dress and jean jacket (although, in my opinion, you can only pull this off with a specific style of white sneakers—more on that below.)

My absolute favorite pairs of white sneakers (at least at the moment) are these Adidas ones (an affordable classic!), these APLs (sporty and the comfiest white sneakers I own), these Cariumas (I call them a "dainty" high-top), and these Koios (they go with everything.)
(I also have an entire blog post dedicated to the absolute best (and most comfortable) white sneakers for women here.)

If you have a pair you love, but you've found yourself wondering "what do white sneakers go with?" This post has you covered.
Below, I'll show you how to wear white sneakers with dresses, how to wear white sneakers with jeans, how to style them in the winter, and everything in between.
Read on for a list of zero-effort, easy-to-pull-off white sneakers outfit ideas.
1. Boyfriend Jeans + White Tee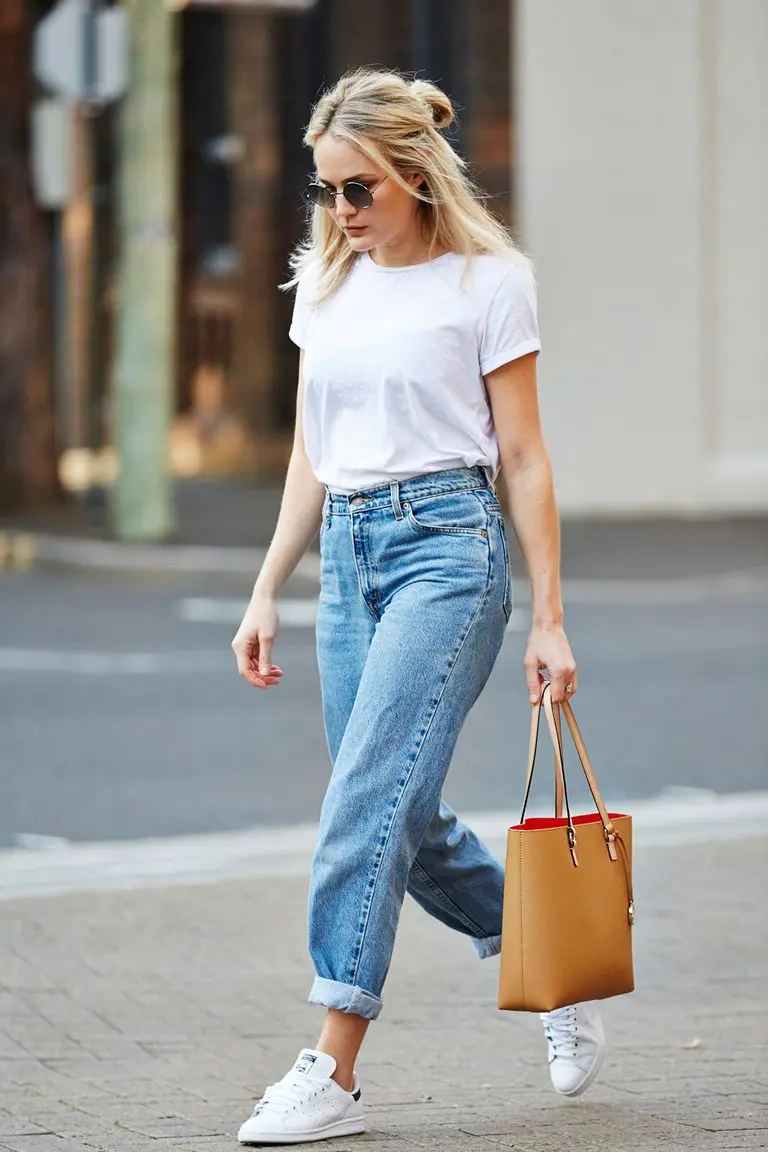 A classic is a classic for a reason. Simple, stylish, and easily dressed up or down with jewelry or accessories.
This outfit is a perfect example of why I love Adidas Stan Smiths so much—they have a vintage vibe and look so cute with everything, even if it's just jeans and a tshirt.

---
2. Casual Mini Dress + Jean Jacket
Worn with a mini dress like this, white sneakers help keep a look casual and cool. Slip on a pair of sandals or wedges come nighttime, add a denim jacket, and you've got an easy day-to-night look.
The secret to wearing white sneakers with a dress without looking ridiculous? Pay attention to proportions.
Personally, I try to avoid wearing chunky white sneakers with flowy dresses, and instead opt for a more narrow silhouette.
To me, chunkier, bulky white sneakers have more of an athletic feel, and can totally overwhelm a feminine dress.

---
3. Midi Skirt + T-Shirt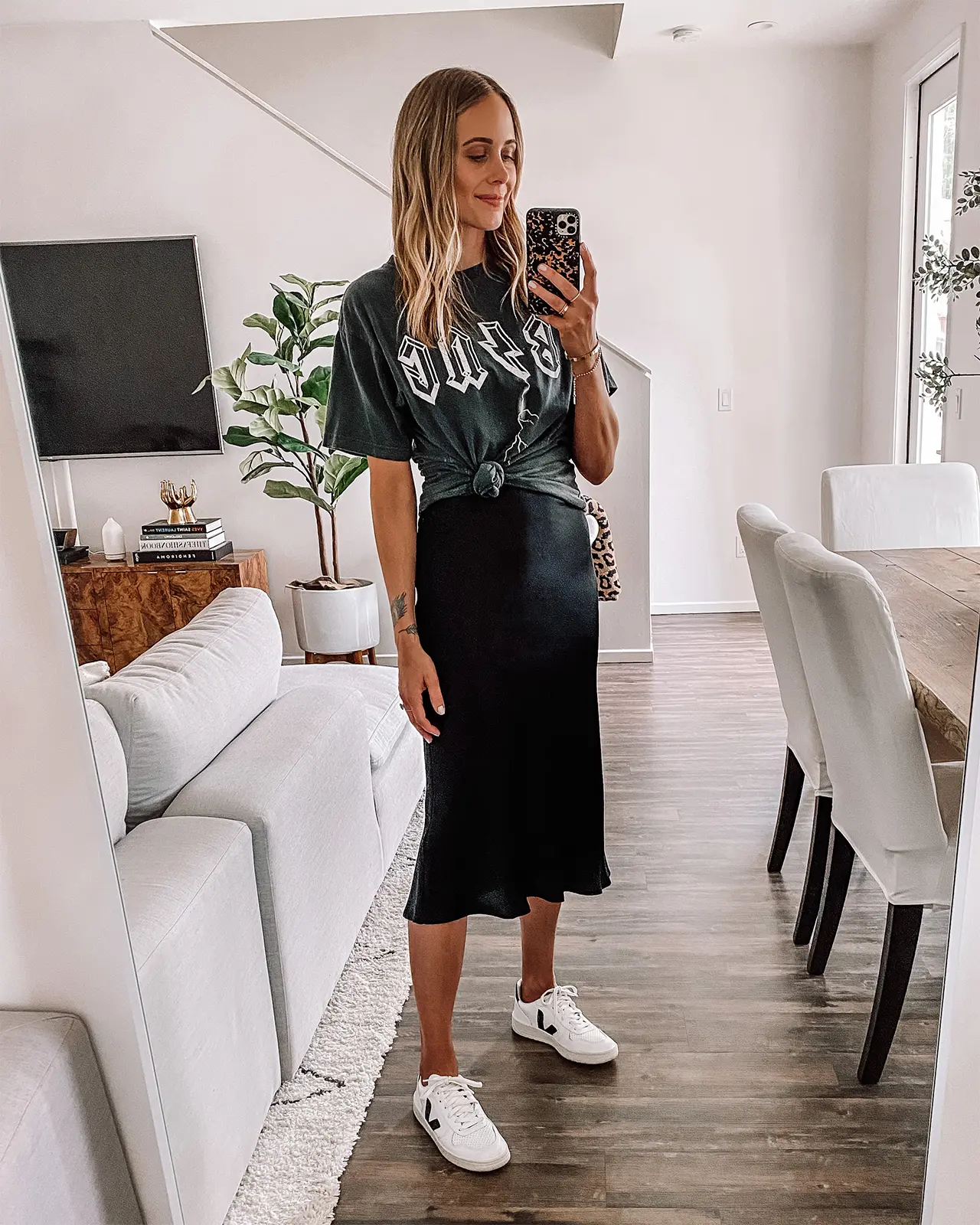 Keep a silk midi skirt casual by adding a knotted vintage tee and a classic pair of white sneakers.
The sneakers seen in this photo are insanely comfortable and were actually made popular when Meghan Markle was spotted wearing them years ago!

---
4. All Black Outfit with White Sneakers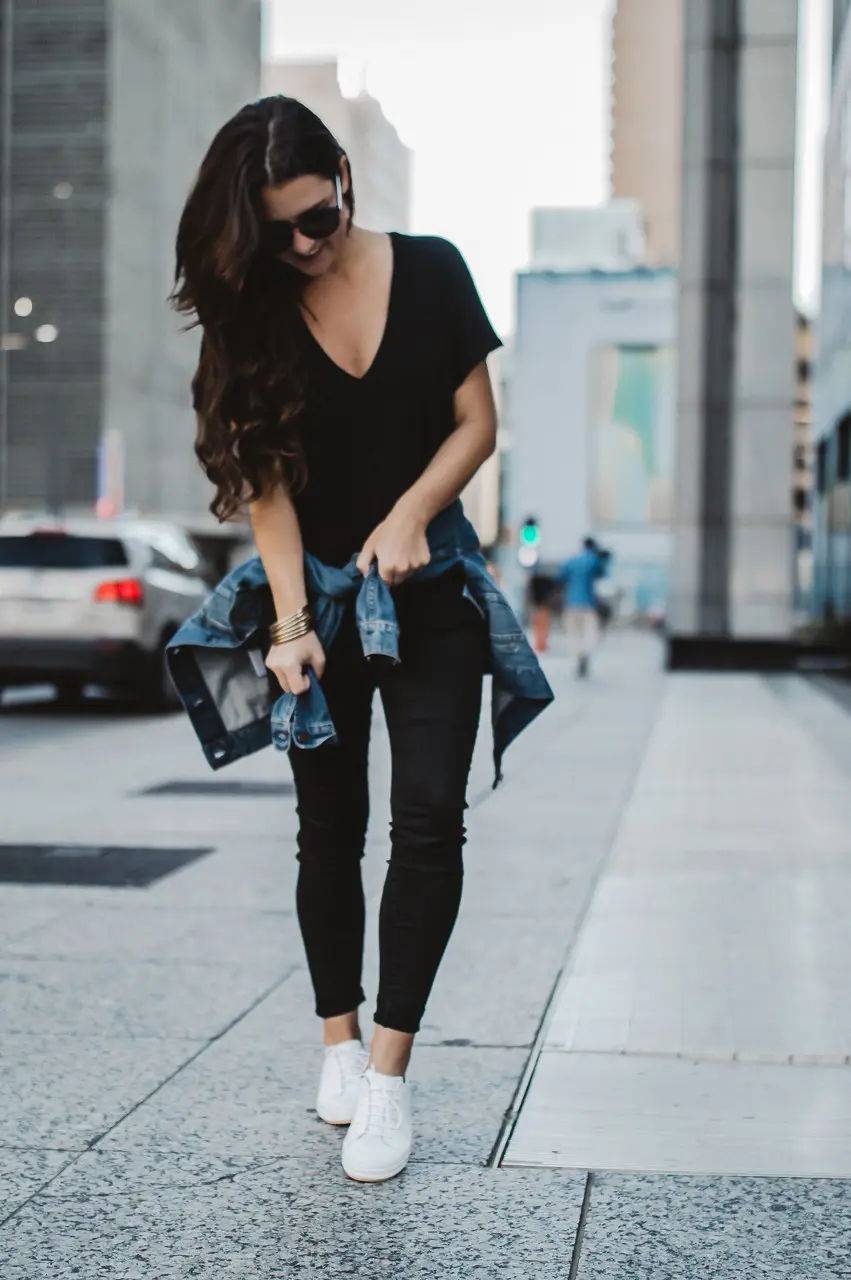 Another classic look. Pair black skinny jeans with a black v-neck tshirt. The white sneakers and jean jacket will help break up the all black in this outfit.
P.S. If you're looking for a great pair of affordable black jeans, you MUST order these. They are so flattering and everyone I've recommended them to swears by them now!

---
5. Band Tee + Biker Shorts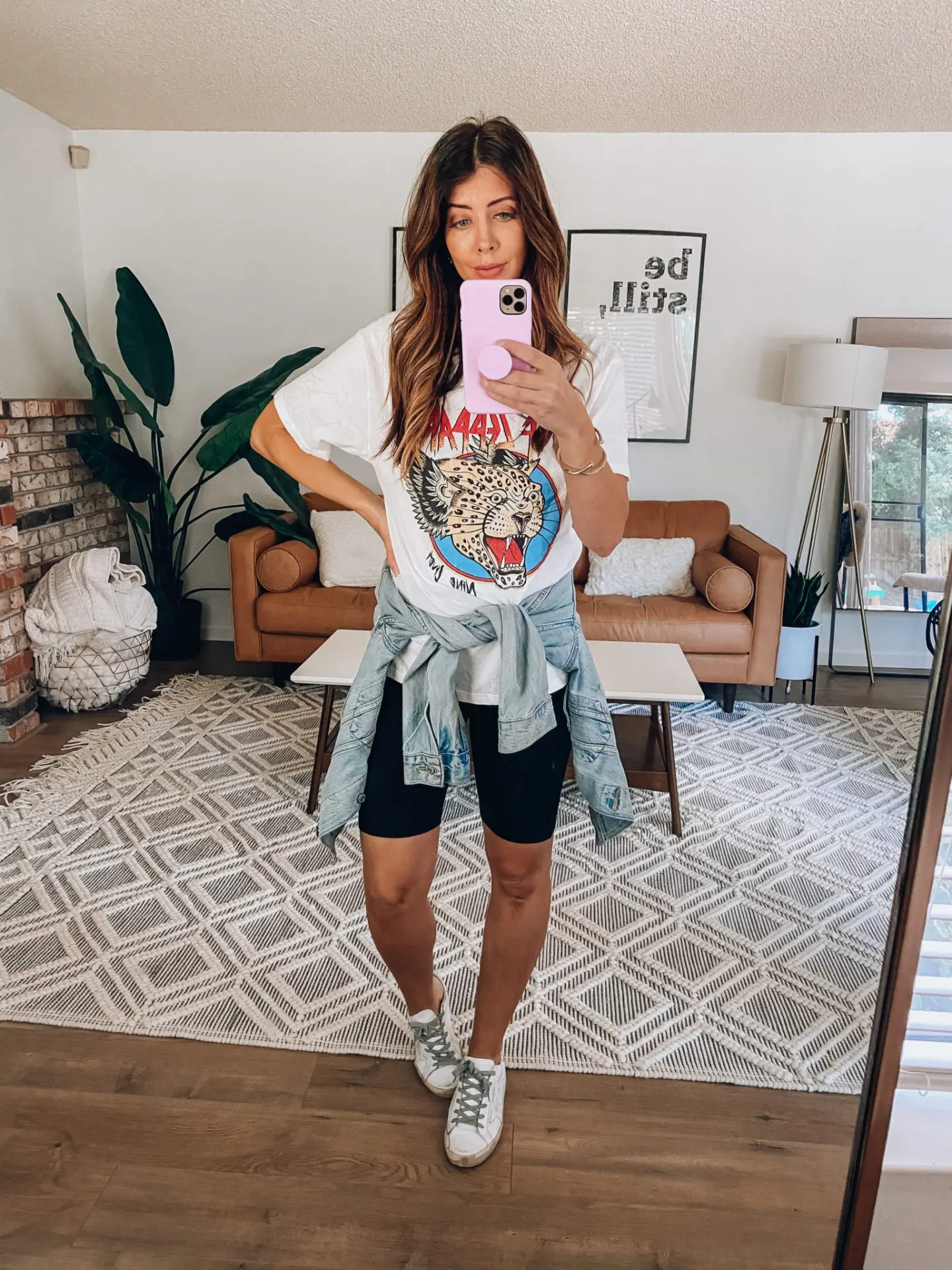 This is pretty much my summer wardrobe. Throw on a vintage tee with a pair of bike shorts, and you're good to go. Perfect for running errands or grabbing an iced coffee!
These best-selling black bike shorts from Amazon have 44,000 five-star reviews.
In terms of the white sneakers… sure, Golden Goose aren't for everyone, but you can't deny their cult following. (Personally I love them!)

---
6. Leather Leggings + Blazer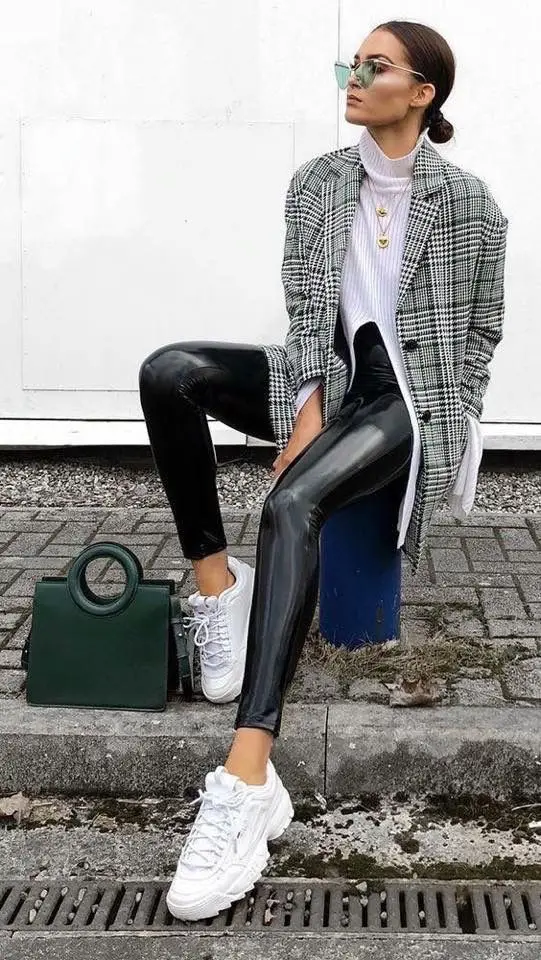 We love a good pair of leather leggings around here. Add a plaid blazer, like the one above, and you've got an A+ look for brunch with the girls.
You can pull this off with either a chunky white sneaker, or something a bit more streamlined. If you're looking for shiny leather leggings, here's the pair seen above.
I'm also a big fan of the Spanx legging (I've worn these for years!)

---
7. Matching Sweatsuit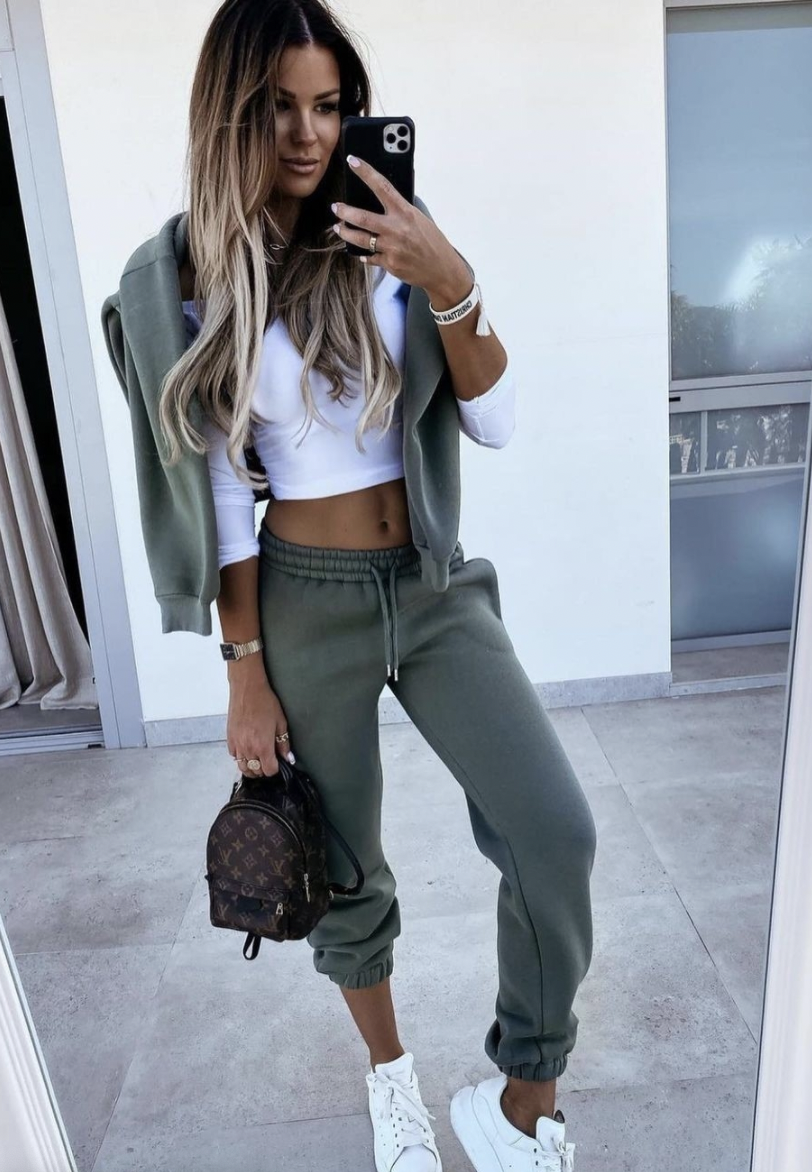 I live for my matching loungewear—it just makes sweats look a liiiittle more put together.
Currently I'm obsessed with these sweatpants, which has a matching top you can buy separately.

---
8. Printed Jumpsuit + T-Shirt + White Sneakers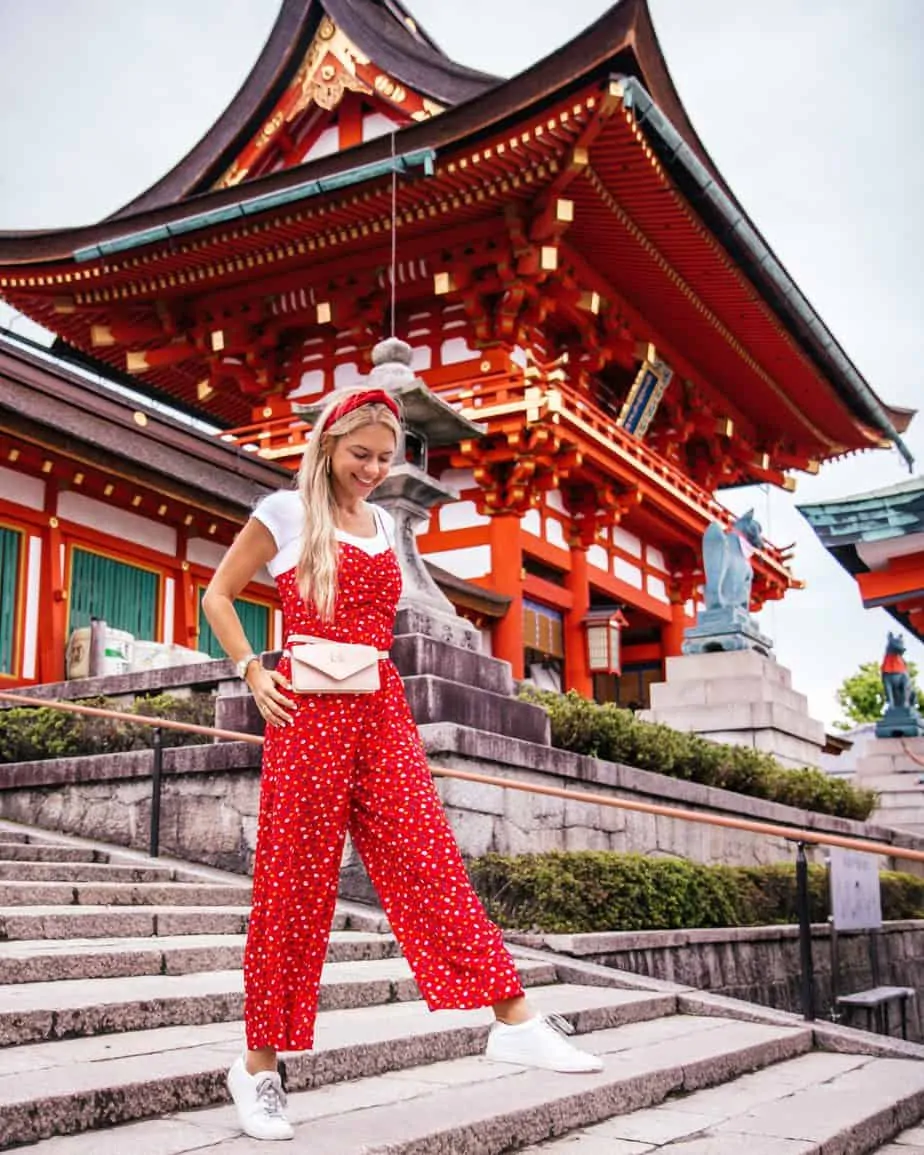 I'm into this printed red jumpsuit and white sneakers look! I will say that (at least for me) it was important to add a belt bag to this look, since it looked kind of like a tent without something cinching my waist!
The exact jumpsuit I have on is no longer available, but this one is similar!

---
9. Leggings + Long Cardigan
The addition of the gold jewelry and baseball cap makes this outfit feel put together but oh-so-effortless.
These sneakers are best-sellers for a reason. Super comfy—they feel like clouds on your feet!
Here's an awesome pair of faux leather leggings that I would recommend. And of course, the Instafamous cardigan that influencers universally love.

---
10. Blue Jeans + Camel Coat
Another classic that's polished without looking too formal. This camel coat looks adorable with fresh white kicks and black oversized sunnies.

---
11. Midi Dress with White Sneakers
I'm so excited to try this combo come warm weather. This floral midi dress is what I'm currently eyeing! It's adorable.
One thing I'd recommend if you're not sure how to wear white sneakers with a dress: always remember proportions (like I mentioned earlier!)
A fuller dress like this definitely works best with a less bulky white sneaker.
Also, I would opt for a dress that hits at the shin or above. If you get too close to ankle territory, you'll risk looking like a little grandma. (Not that there's anything wrong with little grandmas.)

---
12. Jean Shorts + Cute Tank
Alpaca not included unfortunately.
If you're wearing jean shorts with white sneakers, you have a bit more flexibility on the style of white sneaker to go for. Chunky, platform, high-top, slip-on…pretty much anything goes.
These are my absolute favorite denim cut-off shorts of all time. Just pair them with a cute, bright tank and your'e set!

---
13. Leather Leggings + Oversized Sweatshirt + Jean Jacket
If I've said it once, I've said it a million times: you can't go wrong with leather leggings.
I love pairing them with a vintage-inspired sweatshirt. I bought this one in two different styles and I absolutely love it.

---
14. Belted White Jumpsuit
I would have never thought to pair this white jumpsuit with white sneakers, but on a trip to Japan least year, I needed shoes that were comfortable enough to wear all day, so I had no choice!
And it turned out to be one of my favorite white sneakers outfits!

---
15. Monochromatic Cropped T-Shirt + Skirt with White Sneakers
The perfect, casual approach to the monochromatic trend. Love the gray cropped t-shirt (ASOS and Target have affordable ones) with the grey midi skirt and chunky sneaks.

---
16. All White Outfit with White Sneakers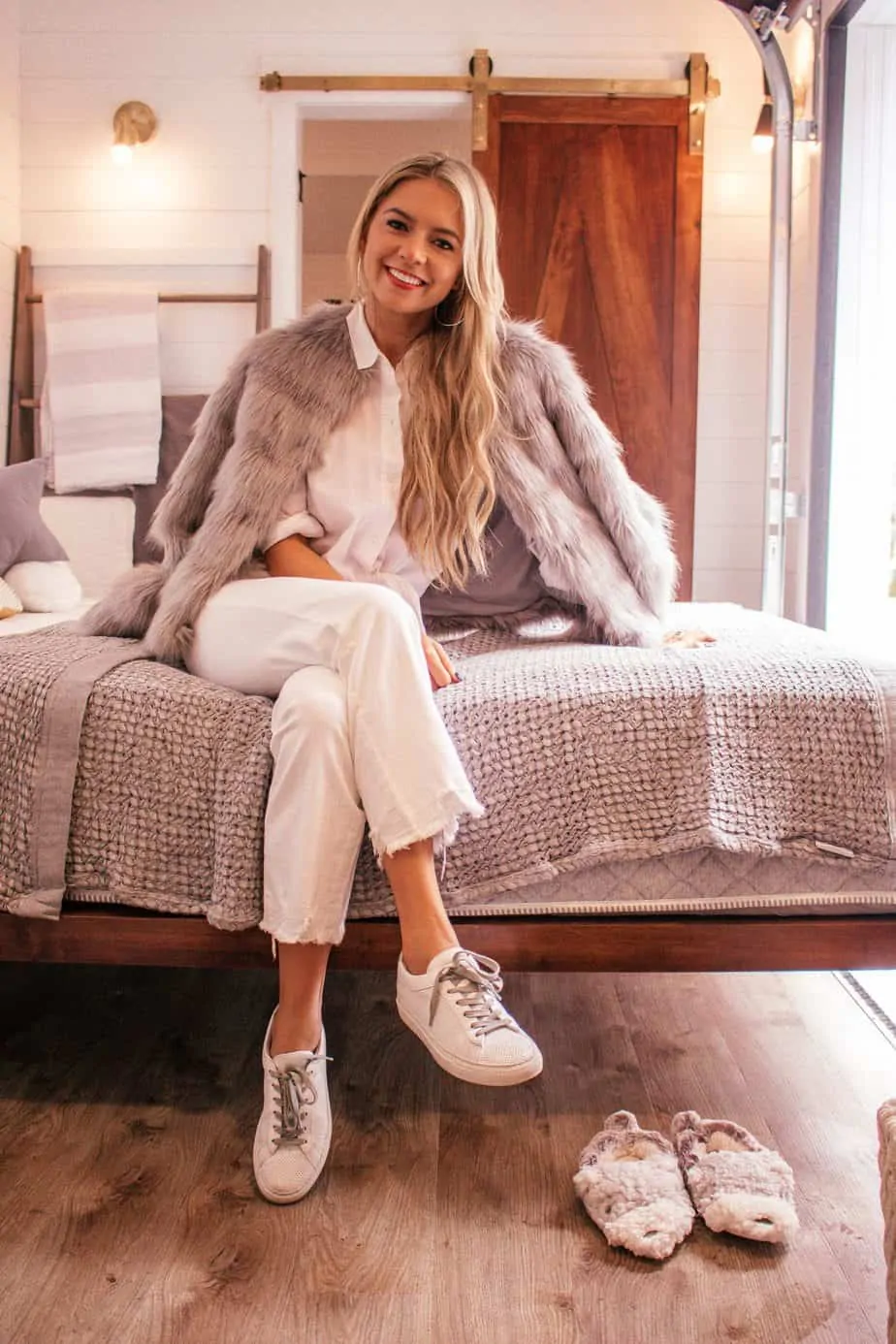 I'll end with my all-time favorite white sneakers outfit… white one white! (I'm a sucker for a white on white look.)
There's nothing chicer than a white button down and a classic pair of white jeans. If you're wondering how to wear white sneakers in winter? This is how. Winter white is everything!
Throw on a faux fur coat and you're ready to take over the world.

---
Are there any white sneakers outfits you love that I forgot to mention here? Drop me your faves in the comments below!
Pin this post for later: