For me, the love affair started with a bathrobe.
I was working as a magazine reporter just out of college, when I ended up landing my dream assignment—an interview with a major A-list celebrity in LA. My company put me up in a five-star Beverly Hills hotel (totally unnecessary, but who was I to complain) and it felt like something out of a dream.
I remember walking into the bathroom, and hanging just above the tub was the most plush bathrobe I had ever encountered. The label said "Frette." I put it on, wore it to sleep, and when I took it off in the morning, I made sure to write the name of the brand down in my phone…because I absolutely had to have one.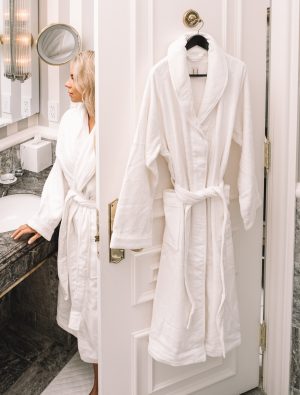 Years later, my dad bought me my very own Frette bathrobe as a Christmas gift, and I've been a die-hard fan ever since. I always say that "the sign of a good hotel is Frette linens"—and that's not an exaggeration. The iconic luxury brand creates the sheets, bathrobes, and towels that you'll find in the best properties around the world, from St. Regis to Rosewood, and Soho House to Shangri-La.
And now, thanks to the launch of their new line H by Frette, you'll be able to turn your home into your favorite fancy hotel instantaneously.
I can not even begin to tell you how excited I am about H by Frette. The products are ABSOLUTELY INCREDIBLE.
When I received my samples (of both the bedding collection and the bath linens) I hadn't yet been told the price point. I was nervous about how steep it would be, especially after seeing the stunning packaging and touching all of the fabric.
But I can now confirm that the prices are what I would call "affordable luxury"—and they will probably be the last linens you ever buy. (Bear in mind that Frette linens were originally created for five-star hotels, where sheets are still expected to feel silky smooth for every guest, despite being laundered daily in industrial washer/dryers.)
This might sound dramatic, but I'm going to say it anyway: once you experience sleeping in Frette sheets, you will never be able to go back to anything else.
The Percale Standard Bundle, which I have, is my personal favorite. The brand calls the percale fabric "crisp and cool" and that's a perfect way to describe it. Matt and I tend to get hot when we sleep, so percale is ideal for us—it's breathable and cool to the touch.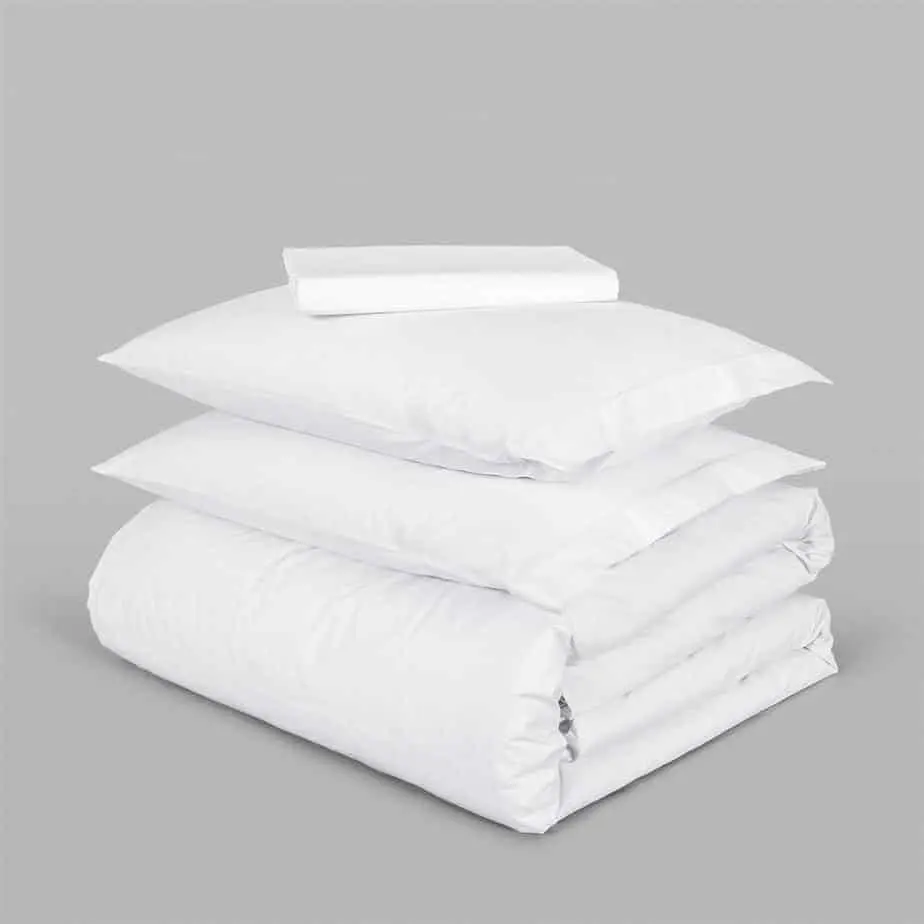 They also make the bundle in sateen, which has a subtle sheen to it, compared to percale, which is matte. (If you're debating between the two, they do a good job of explaining the difference here.)
You'll notice that everything on H by Frette's just-launched website is stark white—and that's intentional. It's what they do best. Since the brand was designed to give you the feeling of a chic hotel at home, classic white linens and towels were an absolute must.
Speaking of the towels…I can personally attest that these are fabulous. White towels were an admittedly bold move for me, but converting to them has made my bathroom feel so much more elevated. I also love that they're cozy and absorbent. (Full disclosure: I do not use my H by Frette towels if I recently got a spray tan. They deserve more respect than that.)
Anyway, now that you know the brand has my enthusiastic stamp of approval, go grab some things for yourself because the site is officially live. Or ask someone to buy you the robe for the holidays. You won't regret it.
This post was created in partnership with Frette, but even if they weren't paying me I would still tell you that I think the brand is LEGIT.