I've long been envious of my itty-bitty-tittied friends—the way they casually throw on a lace bralette or strapless dress, the daring cowl-neck tops they wear with ease, the button-up shirts that lay flat on their chests; I am deeply jealous of it all.
Alas, such pleasures are not realistic for a big-boobed lady like me. Instead, I've been doomed to a life of overflowing strapless styles, grandma bras, and rapidly sagging breasts.

And then, of course, there's the sports bra and swimsuit debacle. Finding supportive sports bras for big boobs is a challenge (one I've luckily managed to overcome), as is the task of finding swimwear for full-chests (finally figured that one out too.)
I don't mean to sound like a pessimist—there are times when I really love my tig old bitties.
Moments that almost exclusively involve the unicorn of the big-busted community: an actual well-fitting, simple bra for big boobs.
It's a concept that, in theory, should be incredibly easy to find, but years of being groped by random saleswomen and hours of trying on various styles tells me otherwise.
And so, here is my gift to you, my bosom buddies.
A comprehensive list of the best bras for full chests that actually work for me, a 32D/DD (I recognize my privilege, being on the smaller side of full), and my fellow large-chested #SilbSquad-ers.
You're welcome in advance, and I wish you well on your brave bra-hunting journey.
---
The 10 Best Bras for Big Boobs
---
Embrace Lace T-Shirt Bra, Wacoal [Editor's Pick]
As I type these very words, I am sporting my dear beloved Wacoal Embrace Lace T-Shirt Bra (size 32DD in this style, if you were curious).
It's a personal favorite that I own approximately four of, thanks to it being so damn comfortable, yet incredibly supportive and lifting the ladies juuuust the right amount.
[Pro tip: We're big fans of Wacoal's strapless bras for big boobs too.]
Fancies Idol T-Shirt Bra, Freya
Those thicker straps? Cups with extra side coverage? We love to see it.
Freya's Fancies Idol T-Shirt Bra is ideal for everyday use—it's foam-lined to provide a smooth silhouette under clothing, and features soft stretch microfibers to keep the bra comfortable all day long.
---
Andora Demi T-Shirt Bra, Simone Perele
This is my "Sort Of Sexy Bra," also known as my "Non-Grandma Looking Bra." That demi cup says it all, ladies!
It rounds breast shape without adding volume, making for a seamless, breathable bra-wearing experience.
---
Vanishing Back Full Coverage Bra, Soma
Nothing to see here—literally. This bra's seamless edges and 3-zoned panels eliminate those dreaded bra-caused bumps and lines.
Plus, the hook-and-eye closure features extra padding for maximum comfort and minimal back-digging.
---
24/7 Perfect Coverage Bra, ThirdLove
Ladies, I give you the Tempur-Pedic of bras. Yes, this bra's hybrid memory foam forms to your unique shape—and stays that way. Swoon.
And (there's more!) the ballet back design ensures no strap slippage.
---
Rebecca Underwire Spacer Bra, Fantasie [Editor's Pick]
Let the ladies breathe with this lightweight, full-fit t-shirt bra from Fantasie.
Its spacer-foam cups provide smooth shaping, while the scalloped lace adds a bit of fun we large-chested women rarely get to experience when it comes to bras.
---
Porcelain Elan Convertible T-Shirt Bra, Panache
These foam-lined cups prevent any nipple action from peeping through (which, to be clear, is absolutely not necessary but can be nice at times, i.e. when out to dinner with your boyfriend's parents).
It easily converts to a criss-cross style and features adjustable, close-set straps to minimize slippage.
---
Bliss Perfection T-Shirt Bra, Natori [Reader's Pick]
When we took a poll in the #SilbSquad Facebook group about the best bras for big boobs, this baby received the most votes.
Heads up: it tends to run large when it comes to the band; I'd consider ordering down a size.
This bra's sweetheart neckline gives the ladies a little bit of contouring for a perfectly round, natural shape. Extra points for the foam-lining around the underwire!
---
---
The T-Shirt Bra, Lively
One of the cheapest, yet most highly-rated bras I've ever found (score).
There's really nothing revolutionary here, but that's what makes it so good: it's just your average everyday t-shirt bra.
The cups are soft, yet supportive, and the J-hook converts straps to a racerback for versatility.
---
Festivité Lace Plunge Bra, Chantelle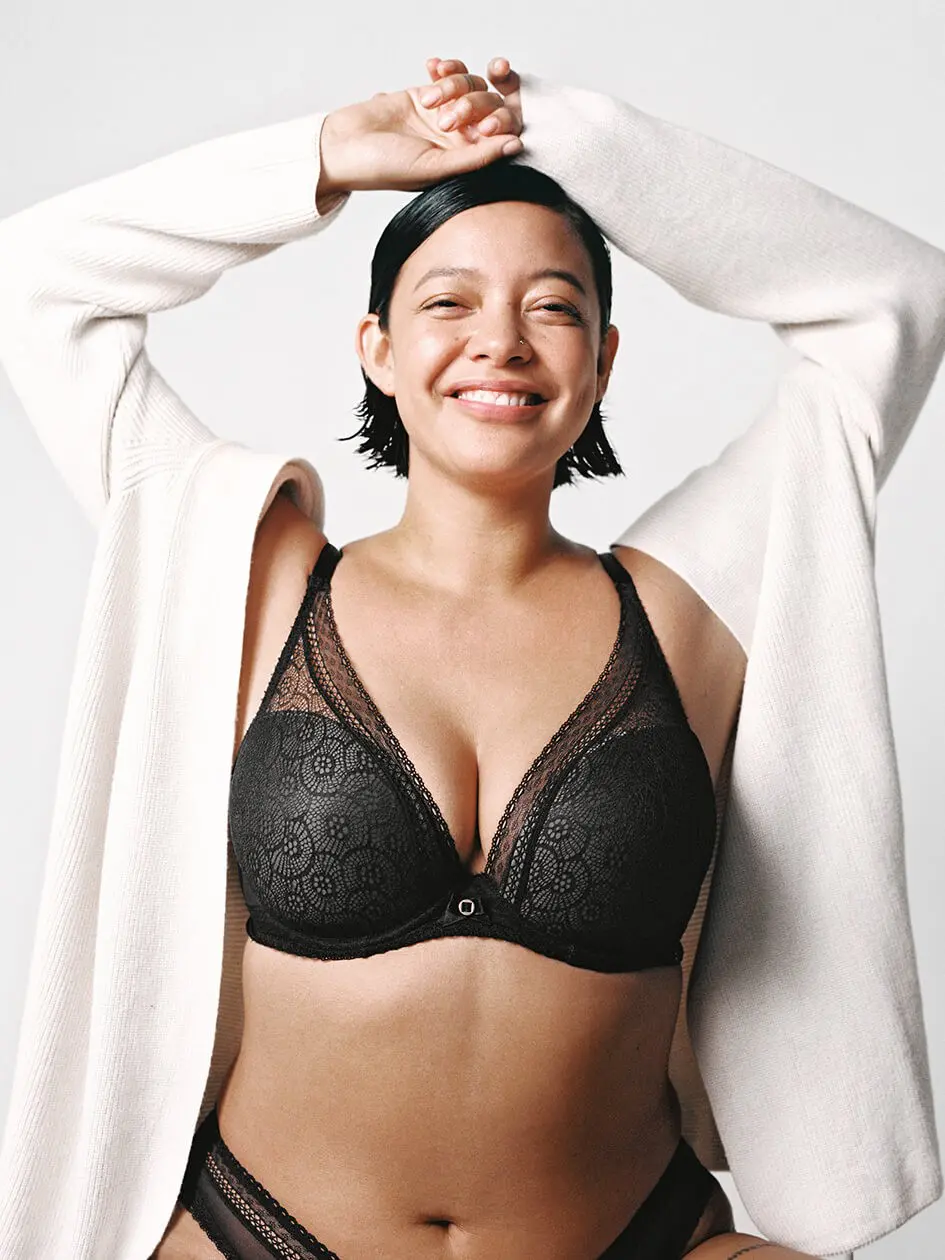 Festivité, indeed! This bra's plunging center makes it perfect for attempting the ever-risky deep V-necked top.
Light underwire lining adds lift, not volume, while the flat lace overlay adds a bit of spice, while remaining invisible under most tops.
---
Looking for more bra recommendations for fuller chests? We have you covered (literally.)
---
If you make a purchase through one of the links included in this post, I may make a small commission. As you know, I only feature products that I genuinely love.