As someone who typically focuses on quality over quantity when it comes to fashion, I've been admittedly skeptical every time I see someone post their "Amazon Fall Fashion Finds" on the gram.
But I've recently come across so many amazing Amazon finds and think it's the perfect spot to score budget-friendly clothing. Plus, if you're scrambling to order some cool-weather pieces in time for the dip in temperature, Amazon is certainly the place to shop.

I feel like there's a bit of strategy required for buying clothes on Amazon. You really need to scrutinize the reviews and see if there are photos from real women wearing the item (so you'll actually know what it looks like on).
Amazon is a go-to for things like home decor, seasonal finds, and last-minute gifts—and clothing is no exception!
I spent a few hours going down Amazon rabbit holes on the hunt for cute blazer coats, cozy plaid fleeces, turtleneck sweater dresses, and ankle booties (aka the fall uniform).
Much to my surprise, most of the clothing I've ordered from the site has been completely up to par. I've gotten so many great staples for such great prices that I find myself shopping from Amazon even more often than I already did.
Whether you live in a place that experiences true fall weather or if you'd like to pretend you do, these Amazon fall fashion finds are sure to keep you comfy and stylish all season.
The Best Amazon Fall Fashion Finds
One thing I love about fall is that it signals the start of trench coat season. I pretty much live in this camel trench coat throughout the autumn months. The quality is impressive and it goes with everything.
Pair it with faux leather leggings, a black turtleneck, and over-the-knee boots to complete the look.
---
Fall means a lot of neutrals are in rotation but I think it's nice to mix it up with a pop of color. The exact sweater I'm wearing in this photo isn't sold on Amazon but I found a similar option that I'm now eyeing!
I love that it has an oversized fit and that it comes in a bunch of different colors. Reviewers say that it's "thick, warm, and super comfortable." Three wins!
Throw on some white skinny jeans (yes, they're still in style and work best with boots) and a wide brimmed hat for a chic fall outfit.
---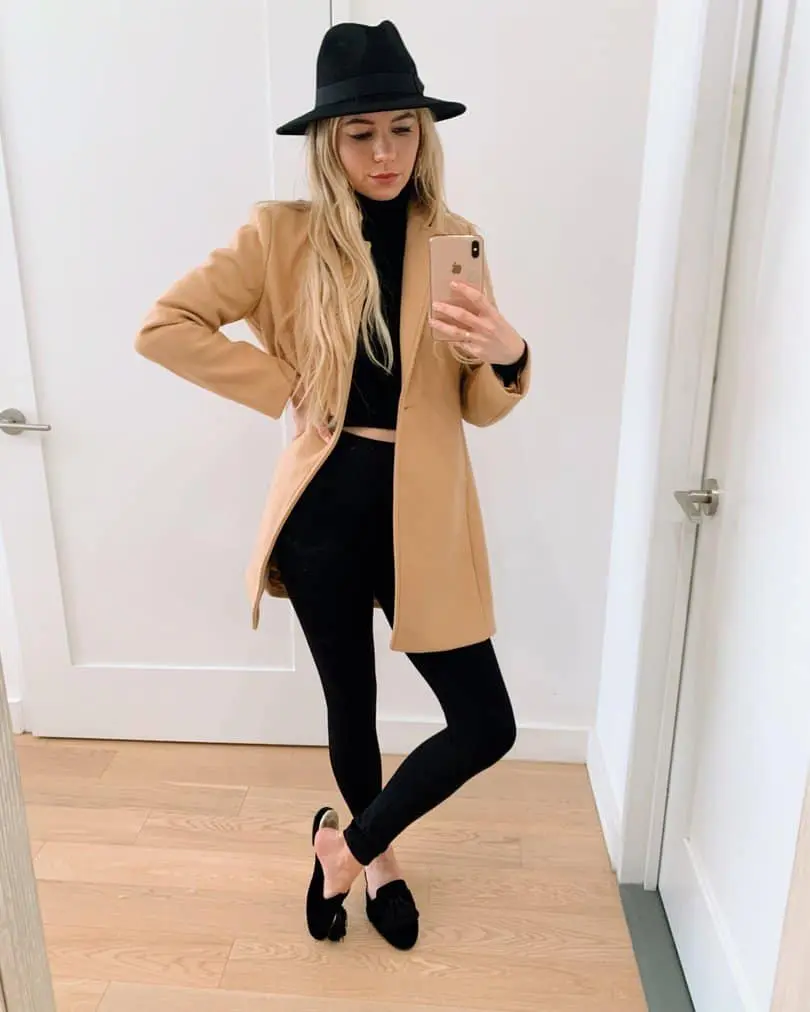 This camel blazer coat was one of my best Amazon finds to date. (The velvet slides are these Birdies. Highly highly recommend. They're some of my most comfortable shoes—feels like walking on pillows.)
The hats on Amazon are somewhat hit or miss. I'm currently eyeing this one (which is similar to the one I'm wearing above.)
Need more ideas on how to style your black jeans? I've got a blog post on it.
---
This knit turtleneck sweater was SUCH a pleasant surprise. I expected it to be gross and itchy, and it's not at all.
It also held up surprisingly well in the wash. Wearing it with my favorite Levi's (also avail on Amazon) and the ankle booties (yep, they're Amazon too.)
---
Another winner: this teddy-bear-soft fleece zip up.
---
You need this $24.99 t-shirt dress. I assumed it would be paper-thin, but it's actually double-lined and super flattering.
I love that it's basically a blank canvas and can be styled however you want.
Sadly the boots aren't available on Amazon (I got them from Stuart Weitzman a few years ago) but there's a similar dupe here.
Check out my blog post on the cutest fall and winter boot styles for women if you're in the market for a new pair!
Here's the t-shirt dress again, styled with my favorite white sneakers.
---
I've been wearing this plaid fleece pullover all. the. time.
---
Here are some other things I bought and loved that I don't have photos of me wearing!
Clockwise from top left:
Gold Beaded Bracelets | Fuzzy Slippers | Plaid Fleece Pullover (runs true to size) | White ruched t-shirt dress (runs true to size) | Pointed toe ankle booties (I had to order a half size down in these) | Fleece Fuzzy Faux Shearling Zipper Coat (runs true to size, but fit is oversize) | Gold layered necklaces
If there's anything you've found on Amazon recently and loved, drop the link below so I can check it out!

Pin this post for later:
If you make a purchase through one of the links included in this post, I may make a small commission. As you know, I only feature products that I genuinely love.